Manhattan Jaspers and Loyola Greyhounds Battle for 2nd Place in MAAC
February 25, 2012

If you looked at the schedule back in November, this game would seem meaningless—at least for Manhattan. Although Loyola (MD) was picked as the preseason No. 3, Manhattan was picked to finish in eighth place, behind the likes of Siena, Niagara and Rider.
But now, the Jaspers sit tied with Loyola (20-8, 12-5 MAAC) and Fairfield (17-12, 12-5) in second place in the MAAC entering the final game of the regular season.
Manhattan (20-10, 12-5) defeated Canisius on Friday night, 90-77, to continue its improbable run toward the No. 2 seed in the MAAC tournament and mark its first 20-win season since 2005-06.
Meanwhile, losses by Loyola and Fairfield to Rider and Iona, respectively, kept the Jaspers' chances for second place alive.
Sunday's game between the Jaspers and the Greyhounds will put the winner behind Iona as the No. 2 team in the MAAC, but the loser will fall to the No. 4 seed with a Fairfield win over Rider, or No. 3 with a Fairfield loss.
A lot will be on the line on senior day at Draddy Gymnasium, and here is what each team will have to do in order to come away with a victory:
Keys for Loyola
Control the Crowd and the Emotion
Manhattan is 9-3 at home this season, and the Jaspers have thrived when playing in front of a large home crowd. The only time they lost at home in front of a big crowd was to first-place Iona.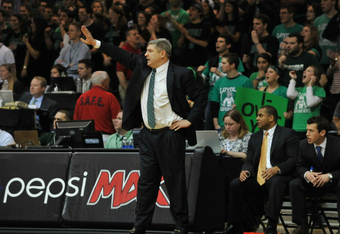 Draddy Gymnasium is not particularly large, but when Manhattan students fill it up, it gets loud and hostile.
And don't forget that this is senior day. Manhattan and its fans will come out with plenty of emotion.
If Loyola allows the hyped-up Manhattan Jaspers to open up a good-sized lead early in the game, the Greyhounds will have trouble fighting back against Steve Masiello's relentless system.
Limit Beamon, Neutralize Brown
George Beamon will score—that is a given. The junior is No. 2 in the MAAC in scoring and has scored in double-figures in every game this season. What Loyola can do is limit him as much as possible by trying to get him on the bench.
Masiello has not risked Beamon picking up three first-half fouls. Every time he has two fouls in the first half, he goes to the bench. And when Beamon is on the bench, the Jaspers' offense tends to go through tremendous struggles.
The other X-factor for Manhattan is Rhamel Brown, the MAAC's leader in blocked shots.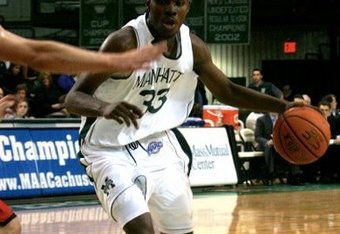 Brown will always be a defensive force with 2.5 blocks per game, but his offensive output is inconsistent. His production has been better the last few games, most recently posting 13 points against Canisius. If Brown can stay out of foul trouble, his post presence has the potential to boost Manhattan to a win.
The best way for Loyola to neutralize him is to force him to catch the ball as far away from the basket as possible. Although Brown's low-post game has improved this year, he still does not look too comfortable putting the ball on the floor.
Keys for Manhattan
Replacing Alvarado
Michael Alvarado left the Siena game a couple of weeks ago with an eye injury, and he will not return until the MAAC tournament. Without their starting point guard, the Jaspers have a combination of Donovan Kates, Emmy Andujar and Kidani Brutus in his place.
None of these replacements have been quite as good as Alvarado, but Andujar has shown promise as a point-forward all season with three assists per game, and Kates put together a career performance on Friday with 18 points.
The Jaspers need everyone to step up and help compensate for the loss of Alvarado in order to beat one of the top teams in the MAAC.
Control the Perimeter on Both Ends
Loyola occasionally catches fire from beyond the arc, but for the most part, the Greyhounds are not a great shooting bunch. Aside from Robert Olson, who shoots 46.1 percent from three-point range, they do not have anyone who shoots better than 33 percent.
Manhattan is No. 1 in the MAAC in three-point defense, holding opponents to 32.7 percent. The Jaspers need to stick to what they do well and force Loyola to score on the inside.
Also, Manhattan is No. 3 in the conference in three-point shooting (36.7 percent), while Loyola is No. 8 in three-point defense (36.4 percent). The Jaspers have a number of shooters on their squad, and they should try to take advantage of the Greyhounds' mediocre three-point defense.
Stats you should know:
Manhattan leads the all-time series, 31-21.
Brown set a Manhattan single-season blocks record on Friday night with 76 blocks.
Beamon has scored in double-digits in 44 straight games, the second-longest active streak in Division I (John Jenkins—Vanderbilt, 61).
Loyola is enjoying its first 20-win season since 1948-49.
My pick: Manhattan 73, Loyola 69
Tipoff: Sunday, February 26, 4:00 p.m. at Draddy Gymnasium