The Carlos Beltran Effect: Looking at the 2012 St. Louis Cardinals
February 24, 2012

Christian Petersen/Getty Images
Carlos Beltran officially inked his two-year, $26 million contract on December 23rd, 15 days after Albert Pujols left for Anaheim. Unofficially, the signing was seen by Cardinals fans as a move to alleviate the MVP-caliber offense provided by Pujols. However, baseball fans know that Carlos Beltran can't be anything more than, well, himself.
Regardless, Beltran will be a productive player in the batter's box and in the outfield, giving us an opportunity to examine what the signing means for both sides.
What will we see in Carlos Beltran?
In 2011, Beltran rebounded after two years of riding the disabled list with a .300 AVG, 22 HR, 84 RBI and a .910 OPS as well as an impressive 598 AB over 142 games with the Mets and Giants. According to Bill James' predictions, Beltran is expected to hit a .279 AVG, 20 HR and 84 RBI. Unfortunately, Bill James tends to put his predictions out early in the offseason; therefore, they often do not reflect team changes.
In 2012, Beltran will be hitting in hitter-friendly Busch Stadium in a lineup that boasts a possible 3:4 tandem of Lance Berkman and Matt Holliday. On the high end, it is my opinion that we can see a healthy Beltran hit a line that resembles a .285-.290 AVG, 25 HR and 85 RBI, staying consistent with James' prediction of the stat. If he has more than 10 SB though, I'll be surprised.
Beltran's effect on Lance Berkman and Allen Craig
Because of the Beltran signing and the loss of Pujols, Berkman will return to first base. It is my opinion that Berkman's 2011 offensive comeback was due to his play in the outfield. Berkman was much more mobile than he would have been at first base, causing him to train harder in the offseason as well as maintain that shape throughout the year. I hope that Berkman can continue to build upon his success from 2011; however, don't be surprised if not only his production decreases, but also his ability to stay on the field.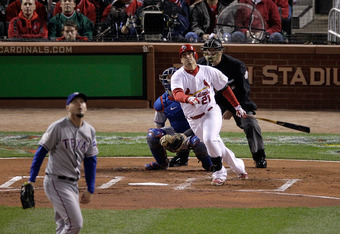 Rob Carr/Getty Images
Allen Craig also becomes affected in the signing. It was assumed that Craig would take over in right field as Berkman moved to first base. Now it seems that Craig will be serving off the bench. If it wasn't for a fractured kneecap that may limit lateral movements until fully healthy, Craig should, in my opinion, be given the second base job over Skip Schumaker.
Sure, Schumaker hits around .300, but that's about it. Schumaker doesn't hit for power, doesn't steal and doesn't get on base at an impressive rate. Craig has played second base in his career and has shown an incredible ability to hit.  If Craig was to play a full season, you could expect about a .280 AVG and 20 HR based on his 2011 performance.
Pujols was not the only first base slugger to ditch the NL Central. Carlos Pena and Prince Fielder also took off for the AL East. The addition of Beltran will not make up for the loss of Pujols, but will help maintain the Cardinals' dominance in the division.