Pittsburgh Steelers: Reason for Releases, Time to Go out with the Old
February 25, 2012

Jared Wickerham/Getty Images
When the Pittsburgh Steelers started the 2012 offseason, they were estimated to be in the ball park of $25 million over the salary cap. Steelers fans everywhere began hearing how the Steelers were done.
That kind of money over the cap could only result in the team being forced to cut many players to get under it. That would mean loads of dead money into the next few years, and the cap nightmare's that go along with it.
Not really so, because the Steelers have managed to get the estimated $25 million down to about $0, and they did so by only releasing two players.
Bryant McFadden and Arnaz Battle. Two players who the Steelers believed only two years ago could be contributors. McFadden who had a starting job in 2011, fell all the way to the bottom of the depth chart, and Battle was never anything more than a special teams player.
So, not only have the Steelers gotten to the salary cap, but they did so without any dead money into the future.
This makes the nightmare more like a fantasy, but the Steelers are a long way from being done yet.
Warren Sapp said last year that the Steelers were, "old, slow and over."  We all remember that. But, there is a reason that Sapp, along with every other person that is not a fan, sees it that way.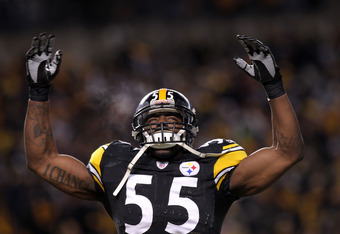 Nick Laham/Getty Images
There are old guys on the team, and because they are still GOOD, the loyalty of the Steelers have allowed that player to keep playing, instead of his younger backup.
Two perfect examples.
1. How do we know if Stevenson Sylvester is going to be ready to take over for Farrior? We don't. Not because of the lack of talent, but because Mike Tomlin can't put Farrior on the bench, because he has been there so long.
2. The Steelers have stated that Marcus Gilbert is going to be the starting left tackle next year. Is it just me, or does anyone else think that if Willie Colon would not have been injured, that we would have any idea of how good Gilbert could be?
Look, I am all for keeping players, as long as they can be solid contributors. The Steelers have done that for years. But, the loyalty also has to end somewhere, and the time for it to end is now.
Yes, Hines Ward, Casey Hampton, James Farrior, Larry Foote and Aaron Smith have been great players. However, none of them can honestly be considered top-tier players. As a matter of fact, if ANY of them became unrestricted free agents, would any team sign ANY of them to anything more than a league minimum contract?
That answer is NO. And right now, the Steelers have a total of $17 million of salary cap tied up in these five players for 2012.
That, is unacceptable, and for more than one reason.
For starters, the obvious one, we have a considerable amount of money tied into players who cannot earn the money they are making. Yes, they have been great players, but you don't pay players for what they have done, you pay them for what they can do.
Secondly, these men are taking up roster spots for players we could use not only on special teams, but to groom players for the future.
If it comes down to it, do you want Hines Ward on the team, making $4 million this year, and end the season with about 30 catches for 300 yards and two scores? Or would you rather have a player who can develop and become a serious threat in two years?
Obviously, at least to me, the roster spot are more valuable than today than what these players have done in the past. Sorry.
The third point is, we are nearing the days that we are going to have to sign our next round of super stars to their big contracts.
Ziggy Hood, who was drafted in 2008, signed a five-year contract, and it expires after 2013. That means at the conclusion of this season, the Steelers are going to have to pay him. Maurkice Pouncey is the following year, and will become a free agent after 2014, only two years away.
Need I even bring up the fact that Mike Wallace is set to become a restricted free agent in two weeks, and Antonio Brown and Emmanuel Sanders are next year?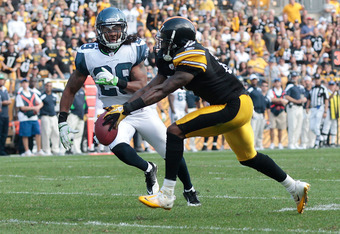 Jared Wickerham/Getty Images
My opinion?
The Steelers need to make those cuts and sign Mike Wallace to his contract extension LONG before we need to worry about a franchise tag. Then, they need to re-sign Jericho Cotchery for two to three years.
Wallace will probably earn a contract that is in the neighborhood of five years and $50 million, with a $15 million signing bonus. That would make his cap number for 2012 around $4 million. Cotchery would be worth about $2.5 million, which would give the Steelers a total of $11 million in cap room, IF they cut those aforementioned players.
With that money, they could not only sign all of their draft picks but would have enough money to actually hit the free-agent market and be able to afford an offensive lineman who could come in and start immediately.
It is either that or keep the old guys.
If the choice was yours, what would you do?