Chicago Cubs Manager Dale Sveum Strikes out Discussing Alfonso Soriano
February 25, 2012

Jonathan Daniel/Getty Images
Even though he wasn't my pick for the new Chicago Cubs' manager, I was impressed with Dale Sveum's tough-guy approach to the lackadaisical way the team played last year, and that it wouldn't be tolerated anymore.
The poster boy for the culture change needed at Wrigley Field is Alfonso Soriano. Without naming names, Sveum mentioned when he was coaching with the Milwaukee Brewers last year, he noticed how the Cubs failed to play hard and run out balls, and generally, play the game the way it's supposed to be played.
Things started so well at Cubs' camp. Sveum created a bunting contest that is the Arizona version of "March Madness," coming up with brackets and ranking the contestants until they get a winner.
While it's fun for the players and brings out the competitiveness in them, it also focuses on an important aspect of the game that the Cubs have ignored for far too long.
Even though it's a sabermatrician's nightmare, it's a fundamental that can help you win a few extra games, and it could be the difference from going home in October to making the playoffs.
Another innovation was the string for pitchers at the bottom of the strike zone to give them something to aim for. It's little techniques and ideas like these that have been missing from the Cubs, as well as accountability.
I thought that had changed, but after reading Sveum talk about Soriano's "weird habit," that no longer appears to be the case.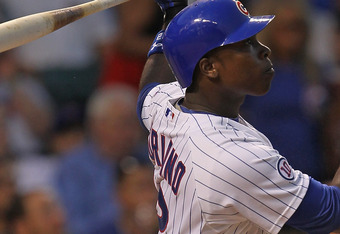 Jonathan Daniel/Getty Images
Noting Soriano's penchant for standing and admiring the flight of the ball as it ascends to the outfield, Sveum told Chicago SunTimes beat reporter Gordon Wittenmyer, "It's very hard to hit a fly ball that you think might be a home run and sprint to first base. I know fans don't like [gazing], but sometimes they have to understand that's a habit."
So is losing!
Habits are hard to break, and when it's a bad habit, it should no longer be acceptable.
Will it be okay if Soriano botches a ball in the outfield and jogs after it? That's another habit of his.
Is Sveum starting to soften even before the first spring training game?
Part of playing the right way is hustling, and standing at the plate watching the flight of a ball that falls short of the wall is not my definition of that. 
Sveum went on to say he wanted them to "be able to stretch singles into doubles, and run the bases really hard."
While that's all and good, you have to set an example, and what better way than with a veteran who is not known for any of that.
I thought there was a new Cubs' way of doing things.
Is Sveum coddling the veterans, or is he thinking Soriano won't listen to him anyway, so why bother?
Respect is earned. Former manager Mike Quade found that out the hard way last year when he pretty much let the inmates run the asylum.
I thought Sveum was going to be different. If you have a set of rules, they should be for everybody.
I'm sure if a rookie stands at the plate and doesn't run out a fly ball because he thinks it's going out of the park, he will be reprimanded. Why should it be different for Soriano?
Is it because he makes $18 million a year?
Did Theo Epstein tell him he's still trying to find a taker for Soriano, so don't ruffle any feathers right now and let him be?
I love the new ideas and the new regime. I think they bode well for the future.
It's just the remnants of the past that haunt this team, and the sooner they are gone, the better.