Ryan Zimmerman Close to Extension with Washington Nationals: Wrong Move for Nats
February 24, 2012

Greg Fiume/Getty Images
Washington Nationals third baseman Ryan Zimmerman is close to a six-year contract extension that would be worth over $100 million, according to Tim Kurkjian of ESPN (via Twitter).
Zimmerman wants a no-trade clause, according to Adam Kilgore of the Washington Post (also on Twitter), and that appears to be a major sticking point in the negotiations.
It's certainly a sign of good faith on the part of the Nationals to try to lock up their star third baseman while they build toward contention either this season or next. From a public-relations standpoint, it's brilliant.
There's also no shortage of money on hand in Washington. Still, the baseball logic behind committing to Zimmerman through 2019 (as this deal would—he's already under contract through next season) might not be as sound as it seems.
Health Questions
Though a very well-rounded player and a good athlete, Zimmerman has always battled injuries. In three of his six full seasons with the parent club, he has played at least 157 games. In the other three, though, he has managed only 106, 142 and 101.
The last two of those figures are his games played in 2010 and 2011, respectively, capturing a troubling trend. He's battled chronic injuries to his core and his trunk, muscles across the abdomen and through the upper part of the legs.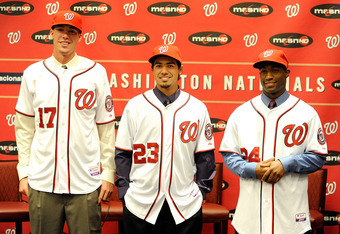 Greg Fiume/Getty Images
The Nationals asked him to change his throwing motion from third base in 2011 in order to minimize his risk of further injury, but still, fielding bunts and throwing from a bent position is a good way to aggravate those muscle injuries, or even (with those already weakened) to injure his back.
Third basemen generally have a hard time staying healthy, and Zimmerman has yet to prove himself any exception.
Value Over Replacement
Zimmerman performs perfectly well in the traditional value statistics as the sabermetric community knows them. He's a great WAR guy.
WAR, however, like all other replacement-level stats, assumes a certain kind of player will replace any given player if that guy goes down, or is unable to sustain his performance.
In the Nationals' case, long-term WAR projections mislead. That's because they got third baseman Anthony Rendon—a player not so unlike Zimmerman, really—with the sixth overall pick of last year's draft.
Zimmerman has two more years on his current deal. The Nationals should at least wait out this season before deciding to what extent they are willing to commit to Zimmerman at the hot corner, given the presence of Rendon.
Nor is Rendon an unpolished, years-off high-school prospect; he comes to the organization by way of Rice. He's not that far from the show, really.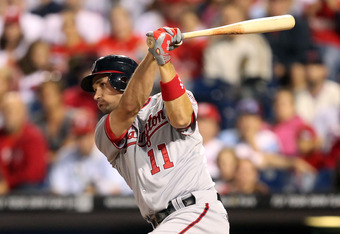 Hunter Martin/Getty Images
Third to First
Of course, Zimmerman need not be cast out in order to make room for Rendon. The Nationals have no obvious long-term solution across the diamond at first base. Adam LaRoche hits free agency after 2012, and prospect Chris Marrero is no star in the making.
Zimmerman could move over to make room for Rendon, which would have the added benefit of taking pressure off his apparently troublesome throwing motion.
If he does move, though, his bat becomes somewhat less valuable. Since 2006, Zimmerman has an .831 OPS. That ranks him ninth among players who have primarily been third basemen over that period. The same figure, though, would rank him 21st among regular first basemen in the same window.
At 27, Zimmerman has time yet to improve slightly with the stick, but strictly speaking, it's very unlikely.
Moving across the diamond might be good for him physically and help Rendon fit into the team's plans, but it would also make it very difficult for him to be worth the $18 million per year the potential extension appears to promise.
No one is saying Ryan Zimmerman is not a good ballplayer, or that the Nationals would be better off without him. In all likelihood, though, they are better off waiting a year before deciding whether Zimmerman is going to be worth this kind of dough for their organization.