The Immortals of March Madness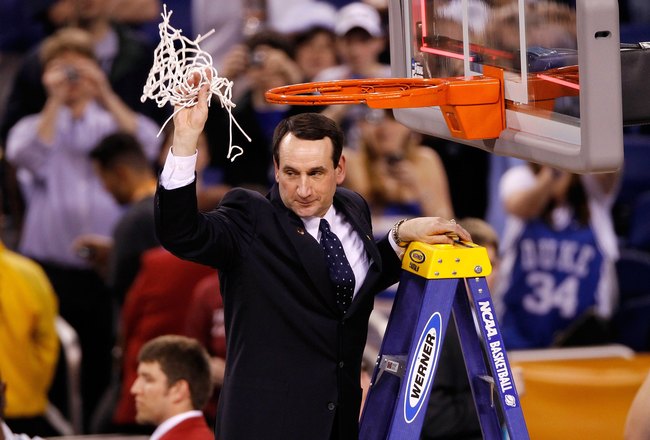 Kevin C. Cox/Getty Images
Champions live forever.
Mowing down all opposition in the regular season is meaningless. Sinking a game-winning buzzer beater in a conference-tournament title is nothing but a memory. True immortals are made in March Madness.
Now, Oscar Robertson setting 14 NCAA records is nice. Pete Maravich averaging 44.2 points per game is impressive. But as the wise philosopher Nelly once said: "Two is not a winner and three nobody remember."
College basketball legends able to utter the words I…am…number one are simply placed in another category, on another planet.
Here are the 20 greatest immortals of March Madness in the history of the Big Dance.
20. Tom Gola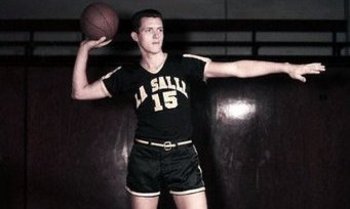 Tom Gola's all-around skill set was spectacular. His greatest skill – winning. He guided the La Salle Explorers to a land that they have yet to return to since his departure: the NCAA title.
In Gola's junior season in 1954, La Salle won it all and he was named the tournament's Most Outstanding Player. The next year, he led them back to the championship once again, but only to finish runner-up that time around.
19. Glen Rice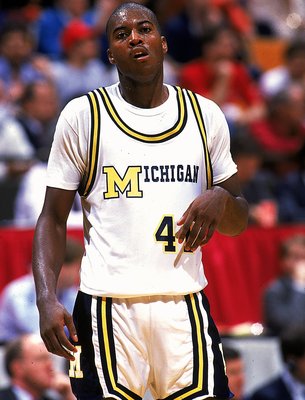 Getty Images/Getty Images
Before the Fab 5 called Michigan home, there was the Outrageous 1, Glen Rice.
In the 1989 Big Dance, one is all the Wolverines needed as he set the NCAA record for points scored in tournament play. Averaging 25.6 points a game throughout the season, Rice fried all competition en route to a national title. The Outrageous 1 was awarded the Most Outstanding Player of the tourney as well.
18. Magic Johnson
Andy Lyons/Getty Images
In one game, Magic Johnson solidified a spot on this list while eliminating another, Larry Bird.
Johnson's Michigan State Spartans knocked off Bird's Indiana State Sycamores in the 1979 NCAA Championship. Bird's squad entered the game undefeated, but Magic, the tournament's Most Outstanding Player, proved to be too much.
17. Bob Knight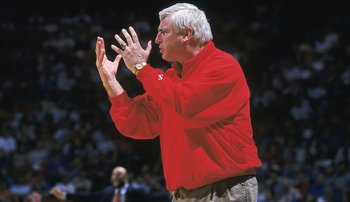 Jonathan Daniel/Getty Images
When competitors talk as much as Bob Knight, 99 percent of the time, their bark is more than their bite. Knight, though, made up for his controversial attitude tenfold with consistent success.
He won an NCAA title with Ohio State as a player back in 1960, and 16 years later, Knight raised his first of three championship trophies as a head coach with Indiana. He led the Hoosiers to a total of five final four appearances.
16. Patrick Ewing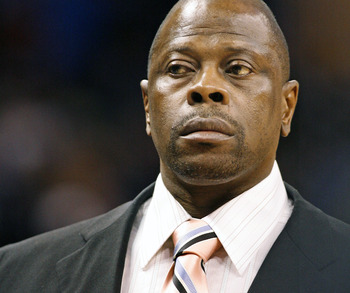 Brett Deering/Getty Images
Patrick Ewing knows heartbreak more than any other immortal on this list.
Ewing led the Georgetown Hoyas to the NCAA Championship an incredible three times. His first trip ended in a crushing loss to UNC in which Georgetown's Fred Brown accidently threw the inbound pass to the Tar Heels' James Worthy in the closing seconds. Ewing's last title was headlined by Villanova shooting an insane 78.6 percent from the field on their way to a two-point win.
The seven-footer did get his title, though, against Houston in 1984 and was named the tournament's Most Outstanding Player. Three title berths, one trophy – not a bad March Madness resume.
15. Michael Jordan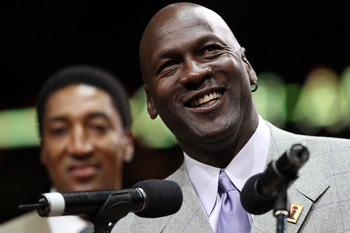 Jonathan Daniel/Getty Images
Like Magic Johnson, MJ not only propelled himself into immortalization in one game, he plummeted another player's ranking, Patrick Ewing. The Georgetown star would easily be top-10 on this list if it weren't for Jordan's heroics.
As a mere freshman, His Airness' crunch-time legacy began as he hit the game-winning shot in the 1982 national title game. Talk about a forewarning.
14. Danny Manning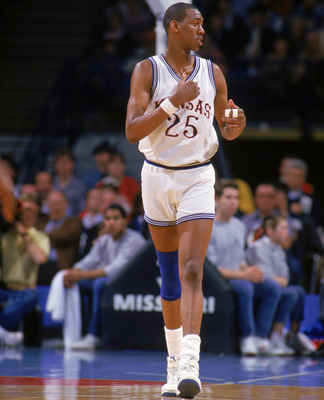 Getty Images/Getty Images
Kansas didn't enter the 1988 NCAA Tournament as the best team, but luckily for the Jayhawks, they had the best player. Danny Manning and his sixth-seeded squad flew through the competition all the way to the national title, pulling off upset after upset late in the tourney.
In the title game, Manning filled up the stat sheet dropping 31 points, pulling down 18 boards, stealing five passes and blocking two shots in an 83-79 victory over Oklahoma. Unsurprisingly, the Naismith College Player of the Year won the tournament's Most Outstanding Player award.
13. Jerry Lucas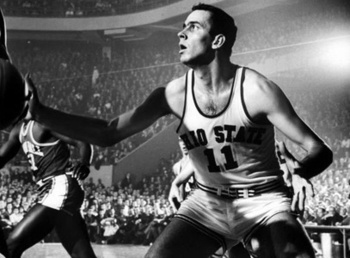 You know that championship Bob Knight won as a player that I mentioned earlier? He thanks Jerry Lucas for it.
Like Patrick Ewing, Lucas also led his team to three national championships only to come away with a victory in one. Even though the Buckeyes only won the 1960 NCAA title, Lucas was still awarded the Final Four's Most Outstanding Player in '60 and 1961. Only a knee injury prevented him from winning it once again in 1962.
12. David Thompson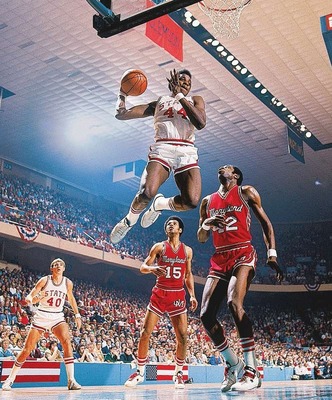 Not only did David Thompson inspire Michael Jordan, he ended UCLA's streak of seven-straight national championships. Those are two accomplishments that don't look too shabby on a resume.
NC State and the man nicknamed Skywalker ironically knocked off the evil empire in the 1974 NCAA title game. He followed up his AP Player of the Year award by taking home the Final Four's Most Outstanding Player honor.
In a time in which only the conference champion received a tournament bid, Thompson led the Wolfpack to a 103-100 victory over Maryland in the ACC title.
11. Alex Groza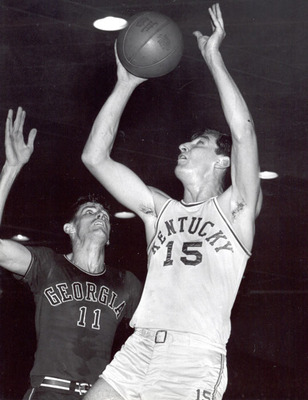 Alex Groza created a monster.
That elite Kentucky team you see today was pretty much jumpstarted by Groza. While the Wildcats' starting lineup was so talented they were called the Fabulous Five, Groza was the captain and most skilled of the unit.
He led Kentucky to the university's first two national titles in back-to-back years in 1948 and 1948. Groza was named the Most Outstanding Player of the tournament in each.
10. Adolph Rupp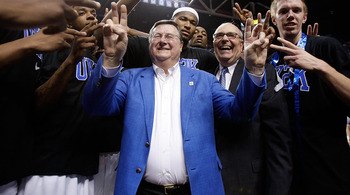 Andy Lyons/Getty Images
Sticking with UK…
Kentucky's prestigious program has Adolph Rupp's fingerprints all over it.
He guided the Wildcats to four national titles including two straight and three in a four-year span. Rupp coached Kentucky in a total of six Final Four appearances.
John Calipari has plenty to live up to.
9. Bob Kurland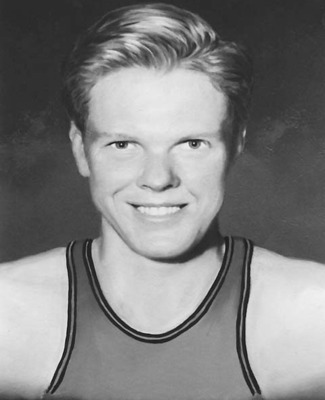 The Oklahoma State Cowboys have won a grand total of two college basketball national championships. It just so happens that Bob Kurland was in the saddle for each of them.
The seven-footer's complete control of the paint led to the NCAA banning goaltending, an effective skill of Kurland's. He put the team on his back in 1945 and 1946 for national titles, winning the tournament's Most Outstanding Player award both times.
8. Bobby Hurley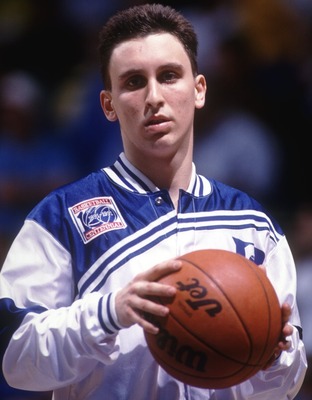 Ken Levine/Getty Images
Bobby Hurley dished out more assists than any other player in NCAA history. Not his passing ability, though, but his coolness in crunch time boost him into the top 10.
According to the Sporting News' Mike DeCourcy, Coach K labeled Hurley's 3-pointer in the 1991 Final Four against UNLV the greatest shot in Duke history – over Christian Laettner's buzzer beater. Hurley's shot sunk with 2 minutes, 15 seconds left in regulation and cut a five-point Runnin'-Rebels lead to two.
He went on to be a major component of the Blue Devils' championship that season and the year after. In 1992, he even won the award for the tournament's Most Outstanding Player.
7. Dean Smith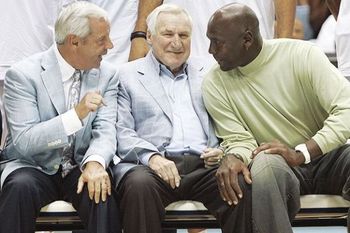 AP Photo/Gerry Broome
Dean Smith didn't enjoy too many early vacations during his 36-year tenure at UNC. The coaching legend made the Tar Heels a March Madness regular.
Smith won two NCAA tournament titles and led North Carolina to the Final Four an imposing 11 times. Even more inspiring than the countless Ws that he racked up, though, is his promotion of desegregation which went on to change college basketball forever.
6. Bill Russell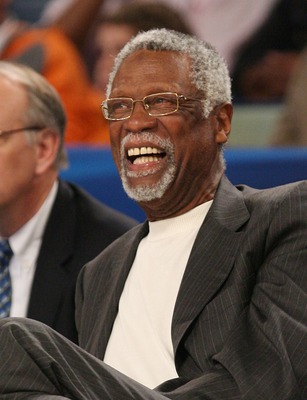 Bryan Bedder/Getty Images
It isn't difficult to fathom Bill Russell winning multiple championships…of anything.
His success in college foreshadowed his professional dominance. Russell carried the University of San Francisco Dons, a team that hasn't been relevant in over a decade, to back-to-back national titles in 1955 and 1956. That pair of championships is the only that the school's basketball squad has ever won, go figure.
In the Dons' first tournament title, Russell was named the Most Outstanding Player.
5. Bill Walton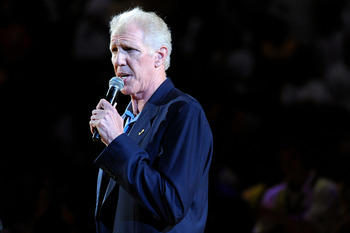 Lisa Blumenfeld/Getty Images
The Big Red Head is arguably the greatest college basketball player of all-time. Not solely because of his ability to inhale over 15 boards a game, but for his winning knack.
He carried UCLA to back-to-back national championships in 1972 and 1973. In '73, Walton racked up a total of 44 points in an 87-66 beat down of Memphis State. And in that contest, he shot an insane 21 for 22 from the field: clutch.
Naturally, he won the tournament's Most Outstanding Player in the pair of tourneys.
The color commentator with the colorful hair will never be forgotten.
4. Christian Laettner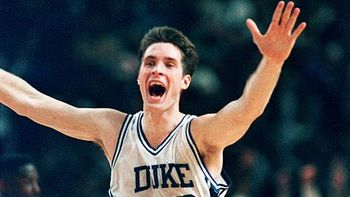 AP Photo/Amy Sancetta
The name Christian Laettner triggers the retrieval of a single image from sports fans' memory banks. The celebration is as memorable as the shot itself. Laettner's turn-around buzzer beater to send Duke to the Final Four in 1992 is nearly enough to cement a spot on this list alone, but his resume doesn't end there.
Laettner aided the Blue Devils in two NCAA titles; one in 1991 and the other in '92. He was named the tournament's most outstanding player in '91. Laettner failed to live up to the hype in the NBA, but his college basketball heroics will live on gloriously.
3. Mike Krzyzewski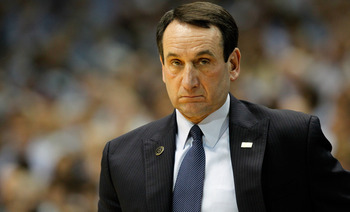 Streeter Lecka/Getty Images
While his last name is spelling-bee worthy, everyone that doesn't live under a rock knows of Coach K. Arguably the greatest active head coach in all of sports, Krzyzewski amplified Duke as the most hated college basketball team on the planet.
Why? Besides undeserving elitism and an often irritating fan base, because they win…every single season.
Coach K has won four NCAA Tournament titles and achieved an incredible 11 Final Four berths. It isn't a mystery why several of NBA teams including the Los Angeles Lakers have heavily pursued him over the years.
2. Lew Alcindor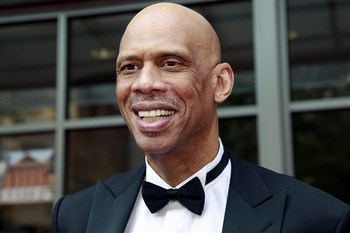 AP Photo/Alex Brandon
Lew Alcindor – aka Kareem Abdul-Jabbar – played three years at UCLA. In those three seasons, he won a trio of NCAA championships while at the same time winning the tournament's Most Outstanding Player in each. His overall record during his time with the Bruins: 88-2.
Alcindor was on another level. His paint supremacy led to the NCAA banning the slam dunk for almost a decade. In Alcindor's three title appearances, UCLA blew out their opponent by scores of 15, 20 and 23 points.
1. John Wooden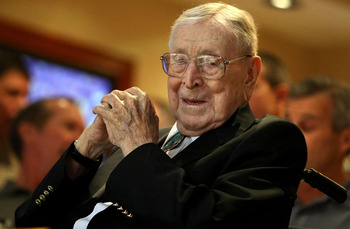 Christian Petersen/Getty Images
The Wizard of Westwood is not only the No. 1 March Madness immortal in college basketball ever – he's the greatest head coach in sports history.
Wooden won a whopping 10 championships over a 12-year span including seven titles in a row. He also cut down the nets once as a player. And an 88-game winning streak isn't too bad either.
Plain and simple: Wooden was born to win.
Skeptics will attempt to steal credit from the Hall of Famer by claiming that Alcindor and Walton were the key cogs behind his dominance. But there's a reason why his former players would take a bullet for him. Wooden didn't just know basketball; he knew people.
His Pyramid of Success translated to victories on and off the court. Wooden was a master motivator and sent his troops into battle with a mental edge over the opposition.
David Daniels is a featured columnist at Bleacher Report and a syndicated writer. Check out his 25 Most Disappointing Unfulfilled Legacies in NBA History.
Keep Reading