UFC on FX 2: 10 Early Predictions for Ian McCall, Others Fighting in Australia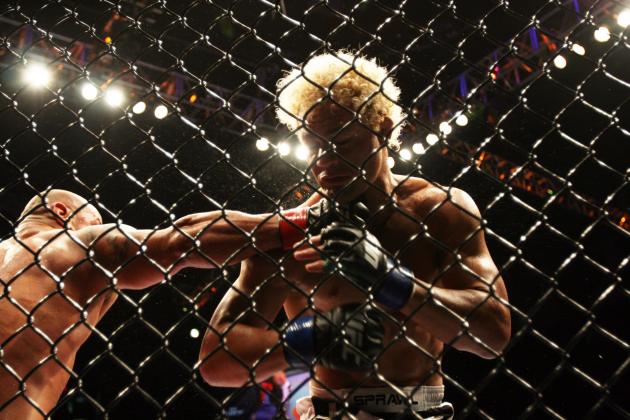 Tasos Katopodis/Getty Images

UFC 144 is in the books, and we're officially less than a week away from UFC on FX 2 live from Sydney, Australia.
Headlining the card are crowd favorites Martin "The Hitman" Kampmann and Thiago "Pitbull" Alves. Also, the event features the co-headliner of the UFC Flyweight Tournament semifinals as "Uncle Creepy" Ian McCall faces Demetrious "Mighty Mouse" Johnson and Joseph Benavidez faces the always-slick Yasuhiro Urushitani.
Rounding out the card is a clash of touted submission specialists and punching powerhouses Court McGee and Costa Philippou.
Now, if you've followed my warped mind on Bleacher Report, you know of the ridiculousness that comes with the territory, so to speak, when it comes to the majority of my predictions. As long as we've got some time on our hands, allow yours truly to get his UFC on FX 2 predictions out a little bit early.
Begin Slideshow

»
Experience?
Shawn Jordan has some, and he'll need to put it all to good use against Oli Thompson, who is 9-2 professionally, with five wins by submission.
Will he deliver on fight night?
It won't be easy, since Oli's finished three out of five fights by rear naked chokes and one of five fights by arm-triangle. However, if Jordan can slow Thompson out early and render Thompson's submission game useless, he will find himself leaving UFC on FX 2 with a big win.
Mackens Semerzier was supposed to face Robbie Peralta in a UFC on FOX 1 rematch, but Peralta had to bow out due to injury.
In his place is Dallas-born Daniel Pineda, who represents the 4oz Fight Club and resides in Houston.
Pineda is on a six-fight win streak, and will bring much momentum into the cage, but against an opponent like Semerzier, what will that momentum mean?
Semerzier wanted the rematch with Peralta after a clash of heads caused the finish which was ruled a total knockout. However, he will remain equally focused against his new opponent in Pineda, who is getting a big step up in the form of "Mack Da Menace."
So, you want an exciting fight, but you can't get Bart Palaszewski on short notice?
Come on down to Texas and get a glimpse of Legacy Fighting Championships.
That's where Daniel Pineda has made his name know in recent months. In his road to the UFC, he's even managed to overcome a four-fight losing streak, in which Johnny Bedford avenged a loss to Pineda.
Pineda has drawn Mackens Semerzier due to Robbie Peralta bowing out due to injury, but if Semerzier supporters are thinking that this kid will be an easy feat to overcome, they'll have another thing coming when they see Pineda fight, even if Semerzier wins.
Pineda will attack Semerzier with everything he's got. Even if he doesn't get a victory, Pineda's performance will at least help pull out a close fight against a game veteran.
That's right, I said it.
Jake Hecht, straight out of St. Louis and fighting out of Springfield, Illinois, will in fact do the unspeakable against T.J. Waldberger.
Actually, he won't, because "the unspeakable" against Waldberger would be a submission.
Yeah, my predictions are crazy. And submissions are always possible, but even I can't claim to know enough about the kid to justify anything outside of an armbar or a rear naked choke.
Therefore, let's point out the fact that Waldberger, despite being a Texan, doesn't take kindly to people who punch him in the face f***ing hard.
Seriously, five dudes can say they have put Waldberger's lights out by laying their hands on him.
Now, I'll be nice and say that it'll be a shot that lands behind the right ear that starts it, an elbow that puts Waldberger out on his feet and a knee that ends the fight in victory.
Will T.J. get cut open during the fight, and will T.J. know how to respond to Hecht's onslaught if Hecht does put his lights out?
Here's hoping T.J. does know how to handle that scenario. Otherwise, his night might be over before it ever begins.
Mark Kolbe/Getty Images

Kyle Noke welcomes undefeated Legacy Fighting prospect Andrew Craig to the UFC. With the focus to get back on track lies a reputation for submitting fighters.
No disrespect intended to Craig, who, as of this piece, scored his first win by submission exactly one year ago for the IXFA, but Noke is just a more polished veteran. Noke could get the hometown treatment and win the Submission of The Night bonus if he can expose an underdeveloped ground game and force a tap, likely with an expertly-applied rear naked choke.
If you know me or my predictions, you know I sometimes can lean more towards the veterans before I ever get to see the prospects, so the Legacy Fighting prospect Craig can prove me wrong. Since he's fighter who represents Team Tooke in Houston (about four or five hours from my place), I hope he proves that 2012 is the year of the "Texas takeover" in MMA.
However, if you have paid attention to the insanity behind my predictions, you know I'm likely to predict a fight ending by one of the most unlikely ways possible. In accordance with that tradition, my warped mind sees Noke putting out Craig with a Peruvian Necktie or a Brabo Choke in the first round.
Of course, that only happens IF Noke can submit the kid. Before I see the kid fight, I'd rather not count him out too much in that department.
Cole Miller is one of the skinnier fighters to have come into the UFC's lightweight division. While he never exactly underwhelmed in most of his fights, he also was never able to break through into the division.
Granted, lightweight is arguably the deepest class in MMA besides the light heavyweight division (even if Rampage Jackson lost to Ryan Bader), but Cole's time in lightweight territory was a bit of a struggle.
So was the Brown Belt match in which Albert Marchetti defeated Miller, and in the eyes of some, Miller's UFC on FX 2 fight with one "Super" Steven Siler.
The amazing thing about weight cuts is that they often tend to reinvent fighters almost completely. Many have their doubts about whether that sort of thing is a possibility for the already skinny Miller.
Somehow, one should be able to see Miller making weight, even if it takes him two or three trips to the scale for it to happen. When the former TUF 5 cast member faces the TUF 14 alumnus, it'll be the veteran Siler that falls short of victory inside The Octagon.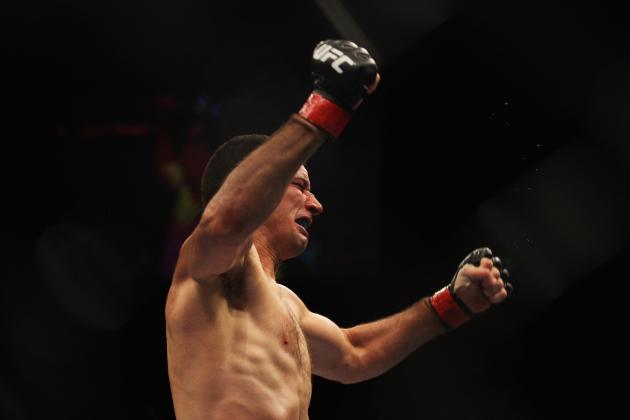 Mark Kolbe/Getty Images
Anthony Perosh
Anthony Perosh vs. Aaron Rosa?
Nobody's talking about it, but if Rosa beats James Te Huna and if Perosh beats Nick Penner, it's a step up in competition for Rosa that could happen.
Rosa's built a reputation of being an exciting fighter who can take punishment and give it just as easily, but Te Huna just knocked Ricardo Romero out of the UFC. On the other end of the spectrum, Perosh is coming off a win over Cyrille Diabate to face Penner, who is riding an eight-fight win streak.
Is this suggesting first-time Octagon jitters?
Maybe, or maybe Perosh finds a way to neutralize whatever strong point Penner presents.
As for Te Huna, he's 2-1 in the UFC, but he has been inconsistent early in his UFC career, and Rosa could come out on top of his game for all we know when it comes time to fight.
Court McGee and Constantinos "Costa" Philippou are heavy-handed in their own rights, but McGee and Philippou don't end their nights with a big shot every time.
McGee is a product of The Pit while Philippou is a product of the Serra-Longo Fight Team, so there is championship-level tutelage on both sides of this fight.
Both guys have done damage with their hands, with Philippou beating Jared Hamman in his last fight by knockout, so don't be surprised if he drops McGee.
Regardless of whether he does, both men have their Jiu-Jitsu and their overall ground games as their bread-and-butter. While someone's getting dropped, someone can also expect to tap out.
Hey, at least no one will attend their next fight and chant "You tapped out!" very loudly.
You want to know why people are buzzing about this new flyweight division?
It's for the same reason that the UFC-WEC merger was seen by many as one of Zuffa's smartest business moves ever, which is the lightning-quick pace set every time the 125-pounders are in the cage.
As you can see, Ian McCall is one such example, and appropriately so. He faces Demetrious Johnson in the first of two UFC Flyweight Tournament semifinal fights, with Joseph Benavidez facing slick counter-striker Yasuhiro Urushitani in the official co-main event of the evening.
Now, Johnson has confirmed that he and McCall have signed on to do an additional fourth round as a "sudden death" round if the judges should score the fight as either a unanimous draw or a split draw.
It's unknown what happens if that fourth round winds up being scored a draw in both, though I'll say that the rematches will be rescheduled.
If either one or both fights end in draw after three rounds, both fights will end in that sudden death round...provided Benavidez and Urushitani have signed on to do the fourth round if need be.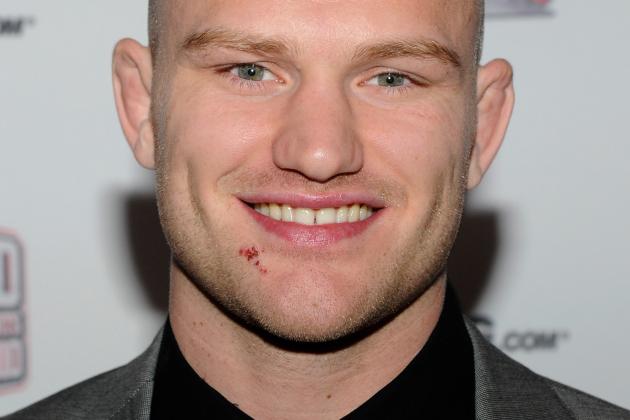 Ethan Miller/Getty Images

Originally, I was going to predict the continuation of the trend that has followed Martin Kampmann since UFC 121, when he controversially lost to Jake Shields. However, with him coming off a win over Rick Story, Kampmann seems like he's past that trend.
Meanwhile, Alves rebounded from his UFC 130 loss to Story by ending 2011 with a submission win over Papy Abedi, which makes next week's main event all the more interesting.
If you check the record books, Kampmann's lost by a total of three times by technical knockout, the first time being due to a Doctor Stoppage in his first pro loss to Andrei Semenov, and his losses to Paul Daley and Nate Marquardt were both technical knockout losses to punches, but the Daley loss was back in September 2009.
Alves hasn't lost by total knockout or any form of knockout ever since Jon Fitch dropped him with an upkick in June 2006.
Both have shown the willingness to take their opponents down and punish them on the ground, which raises the question of which one might look for the takedown first.
Good luck with that question.
Neither man is easy to get down. If both should show their takedown defense early, expect this one to end with one big shot.