WWE: 4 Reasons John Laurinaitis Finally Looks Relevant on RAW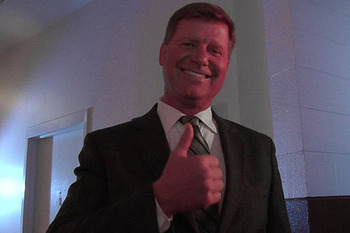 wrestlingforum.com
Until CM Punk called him a "glad-handing, nonsensical, douche bag yes-man" last June, the great majority of the WWE Universe wasn't too terribly familiar with John Laurinaitis.
Then he started appearing on WWE television.
Week in and week out, a lot of fans likened having to watch Johnny Ace to torture. His scratchy monotone bored us to tears, and his stiff personality saw him quickly edging out Mike Adamle as the absolute worst on-air authority figure WWE had ever seen.
Well not anymore!
Sure, John Laurinaitis will never be known for his positively oozing charisma or his superb acting skills...but, a lot of the time, his awkwardness is what makes him.
Here are four reasons why John Laurinaitis finally looks relevant on RAW.
CM Punk Is Focused on Chris Jericho

youtube.com/jjhhaarrddyy

Let's be honest: the primary reason no one took John Laurinaitis seriously was because CM Punk buried him 10 feet under on a weekly basis.
Punk is one of the best talkers in WWE today, and (as Chris Brown now well knows) it's next to impossible to win a verbal battle against him.
Johnny, who lacks mic skills to begin with, really stood no chance with Punk on his case.
Now that Punk is focused on his WrestleMania WWE Title match against Chris Jericho, Johnny is being given some room to grow without being belittled every time he opens his mouth.
David Otunga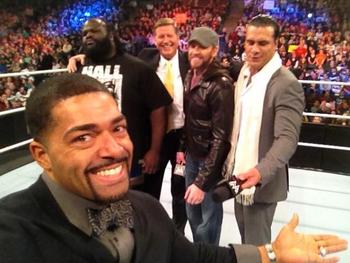 Twitter.com/DavidOtunga
David Otunga and John Laurinaitis are both working better together.
Ever since Otunga started donning a bow tie, carrying a travel mug, and operating under his gimmick as Johnny's "legal adviser," he's both rejuvenated his own as well as Johnny's character.
His suaveness and Johnny's awkwardness seem to complement each other.
If he could get a stable, or at the very least an alliance going between everyone in that glorious picture, it would absolutely delight a lot of people.
He's Loosening Up

youtube.com/WWEGalaxyHQ

Up until recently, the name "John Laurinaitis" was synonymous with "boring."
He was stiff as a board, completely and helplessly stoic, and he operated like he was in a Friday afternoon meeting at WWE headquarters rather than on worldwide television.
It was painfully obvious that he really didn't know how to effectively play a character of himself.
Now, however, he seems to be getting it.
Sure, his moniker as "Mr. Excitement" may be a bit far-fetched; but that's precisely why it works.
I think we can all agree that his imitation of Teddy Long's signature dance was utterly and awkwardly awesome.
Interim GM No More?
thewrestlingflock.com
As of right now, Laurinaitis's official on-air title is Vice President of Talent Relations and Interim General Manager of Monday Night RAW.
But is he really just the "interim" GM?
Ace has been the acting GM for almost five months now and he doesn't look to be going anywhere anytime soon.
His "performance review" was interrupted by the Undertaker and will be postponed until after WrestleMania, if it is ever going to happen at all. Furthermore, he is campaigning to become the GM of both RAW and SmackDown.
When Laurinaitis first appeared on TV, a lot of us really didn't take him seriously because we figured he would be around about as long as Kevin Nash.
But now it looks like Johnny Ace could be here to stay.
Get Ready for Mr. Excitement!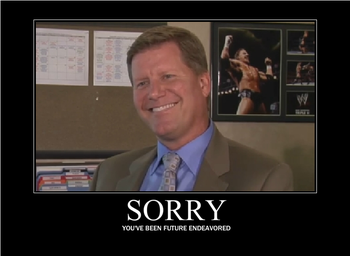 photobucket.com/maximan99
Sure, RAW has seen a lot better general managers than John Laurinaitis, but it's also seen a lot worse. Even Ace is better than e-mails read aloud by Michael Cole.
He may have been slow to go at first, but it looks like Johnny is finally hitting his stride. Again, he's not the most charismatic guy in the world, and he never will be.
But at least he's taking steps in the right direction, and his feud with Teddy Long definitely has the potential to become something interesting.
Follow Katie on Twitter @katiegregerson and subscribe to her blog, Ring the Bell!
Keep Reading