Oklahoma Football: 5 Bold Predictions for Landry Jones' Senior Season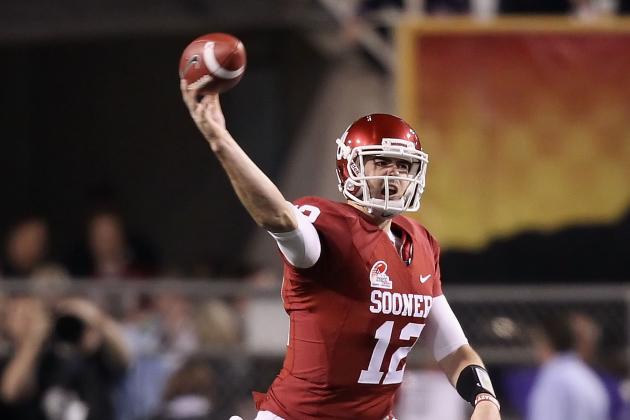 Christian Petersen/Getty Images

For Oklahoma Sooners quarterback Landry Jones, this is it.
His career as signal-caller for the Crimson and Cream has come down to one season. One last chance to achieve national glory for himself and his team.
Among OU fans and college football followers in general, he is an interesting discussion topic; some believe that he is a great quarterback, others aren't sold on him and some simply don't know what to make of the 6'4" gunslinger from Artesia, N.M.
It will be a while before we know for sure what his final campaign brings. Here, however, are five early predictions for what to expect from the senior as he prepares to don the No. 12 jersey for one more fall.
Begin Slideshow

»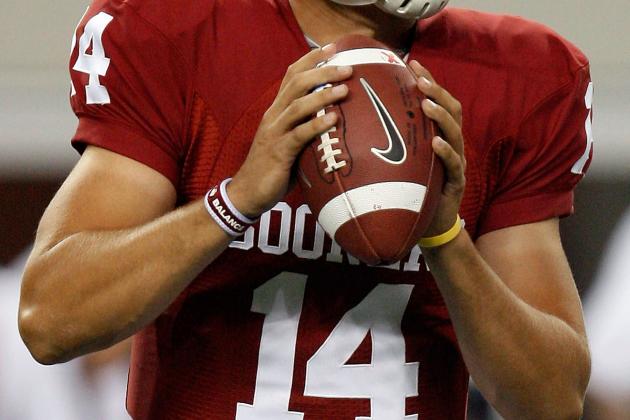 Ronald Martinez/Getty Images

Amazingly, Jones finished his first full season as a starter just two yards shy of Bradford's single-season school passing yards record of 4,720. Although he regressed last season, only reaching 4,302, Jones is due for a huge output in 2012.
With the offensive line largely intact, a solid backfield manned by Trey Millard, Roy Finch and (hopefully) Dominique Whaley and an exceptional crop of receivers, things are looking up for Jones and the Sooner offense.
Kenny Stills, Jaz Reynolds, Trey Franks and Kameel Jackson will provide plenty of firepower, but that's not all OU boasts.
Incoming recruits Trey Metoyer, Durron Neal and Courtney Gardner highlight a group that has enormous potential and should contribute immediately.
All things considered, Jones will dull critics' memories of his struggles last season by bouncing back in a big way and lighting up opponents through the air, taking full advantage of his bounty of weapons.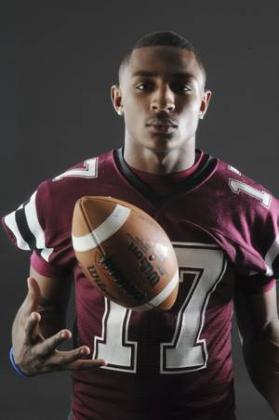 newsok.com
Kenny Stills will be at the top of the depth chart come fall, but that doesn't mean he will get the most looks.
Stills' big-play potential will result in opponents double-teaming him, forcing Jones to utilize other weapons.
Enter Trey Metoyer.
The 6'2" 5-star recruit, who runs a 4.42 according to Rivals, will blossom immediately, so much so that he will haul in the most passes of any OU wideout in 2012.
Don't expect Stills and Co. to lag very far behind in receptions, however. Jones will spread the ball around and make full use of OU's deep receiving corps.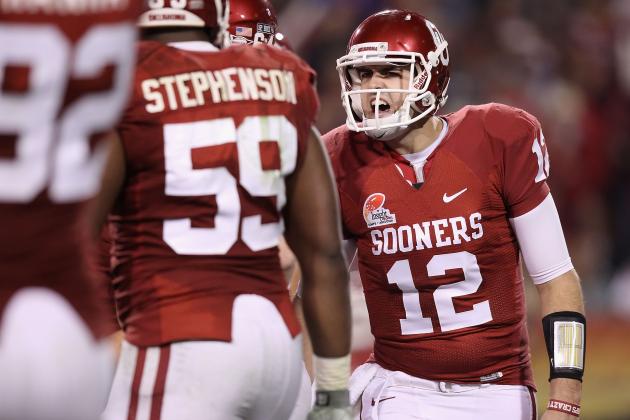 Christian Petersen/Getty Images

Jones is now 29-8 as a starter for the Sooners, putting him five victories shy of the school record currently held by Steve Davis.
Although he's been inconsistent in his time under center, his experience, fostered by a wealth of surrounding talent, will shine through next season.
This will be manifested, most impressively, in more than one come-from-behind win.
The Sooners face a tough slate, featuring trips to Morgantown to face West Virginia and Fort Worth to spar with TCU. And don't forget the date with Texas in Dallas and the always-hyped Bedlam Game.
OU is bound to find itself trailing in multiple games, and it will be up to Jones to harness all he's learned in his career in Norman and craft his magnum opus.
He won't disappoint, displaying composure and poise under pressure (skills he's lacked at times) and leading the Sooners to at least two comeback wins.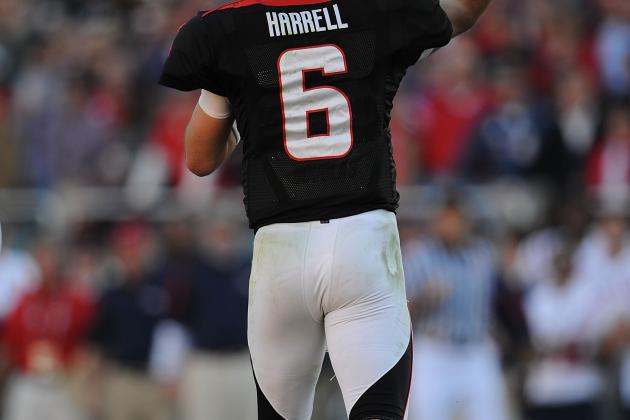 Ronald Martinez/Getty Images

This may sound a bit far-fetched, but it's not as outrageous as one may think. The Division I record for career touchdown passes, held by Texas Tech's Graham Harrell, is 134.
Currently, Jones has 92 touchdown passes, which he has amassed in 37 starts. This averages out to 2.49 touchdown passes per game.
To break Harrell's record, Jones needs to throw for 43 touchdowns, which boils down to an average of 3.3 touchdown heaves per game, assuming the Sooners play in 13 games.
It's a tall order, but it's definitely possible with the arsenal Jones will have at his disposal. Keep in mind the fact that he threw for 38 touchdowns his sophomore season.
Perhaps he will end his career at the top of the list and enjoy an honor that Sam Bradford would most certainly have attained if his time hadn't been cut short by injury.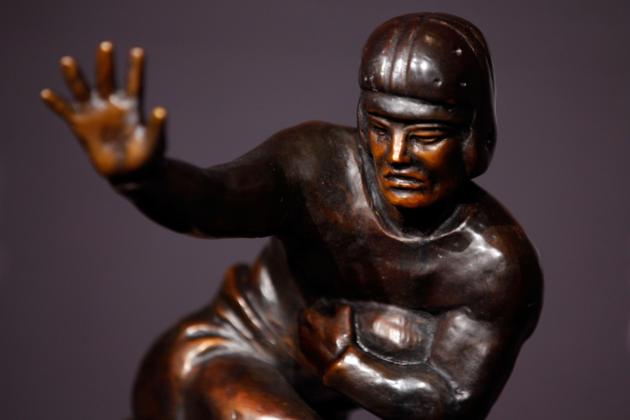 Jeff Zelevansky/Getty Images

If the preceding projections come to fruition, this won't be a surprise. But let's face it, the prospect of Landry Jones receiving Heisman attention is hard to take seriously for many people at this point.
After making the absolute most of his final season on campus, Jones will boast a sparkling resume. The Sooners will most likely have double-digit wins and possibly be in the national championship picture at season's end, thanks largely to Jones' resilience and inspired leadership.
He has the potential to win the award, but it's way too early to make any judgments about that.
Don't be surprised, however, to see him earn a trip to New York for a shot at immortality and acceptance into an elite fraternity as the sixth Sooner to take home the Heisman.