Syracuse Basketball: 5 Tweaks to Help the Orange Win a Second Championship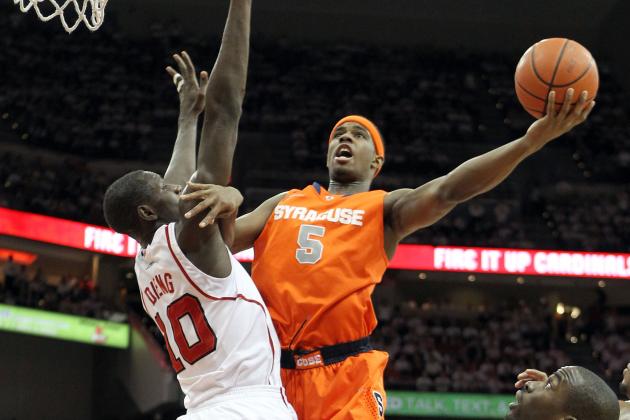 Andy Lyons/Getty Images
C.J. Fair attempts a lay in against Louisville
Second-ranked Syracuse, in its defeat of South Florida Wednesday night, clinched at least a share of its 10th regular-season Big East title. The Orange (28-1, 15-1 Big East) tied its school record for wins in the regular season with two games still remaining on the schedule.
Syracuse also guaranteed itself a double-bye in the Big East Tournament, but Orange fans are not concerned with the conference tournament and, given the choice, would probably prefer to skip the tournament altogether and go straight to the NCAA Tournament.
Syracuse is a virtual lock to get a No. 1 seed in the NCAA Tournament regardless of how the rest of the season and conference tournament play out.
The only goal for the Orange is to get tournament ready.
The strengths of Syracuse are numerous and include unmatched depth, premier transition and suffocating defense.
Syracuse has only lost one game (Notre Dame) the entire season so it would be nitpicking to reason that it has any glaring flaws. Because of its style of play, there are no statistical numbers that definitively prove a weakness for Syracuse.
If they get out-rebounded, they find ways to steal the ball. When they turn the ball over, they get timely blocks. Because of the frenetic activity of its defense, Syracuse has managed to go on massive runs, including the 26-0 run against USF this past Wednesday.
In fact, out of the 29 games Syracuse played this season, 25 included at least one run by the Orange of eight points or more. Perhaps that is the source of Syracuse's confidence. They know that they can manufacture points in a moment's notice.
The only thing that seemed to hurt the Orange this season was the absence of Fab Melo, which opened the door for its lone loss, but that's water under the bridge.
As the NCAA Tournament draws near, there are a few areas in which the Orange can help itself that should go a long way toward solidifying its chances of winning its second title in nine years.
Here are five of them.
Begin Slideshow

»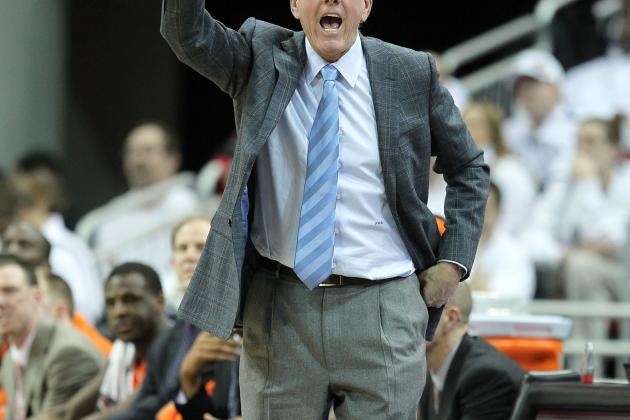 Andy Lyons/Getty Images
Jim Boeheim
In 29 games this season, Syracuse has led at the half 24 times and trailed just five.
The 24 halftime leads became 24 wins and the five halftime deficits became four wins, with the one loss coming at Notre Dame.
In scoring over 76 points per game and only allowing 60, Syracuse can score in bunches and can stifle an opposing team's offense, but one other skill it has developed is the ability to overcome a slow start. Even USF got out to a 20-7 start before Syracuse woke its offense up.
Syracuse is one of the favorites to win the tournament. Teams know they're up against the wall before they get on the court. Syracuse would do well to take the hearts of their opponents early. Every team wants to win, but not every team can. Letting a team that is inferior stay in a game builds confidence.
Syracuse doesn't need to be in the business of confidence building. They need to be in the business of dream crushing. That starts at tipoff.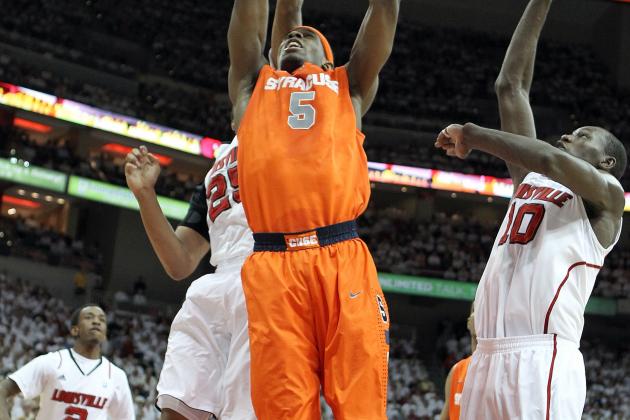 Andy Lyons/Getty Images
C.J. Fair
Syracuse has excellently mimicked the Republican presidential campaigns in that there seems to be a new flavor of the month every time you turn around.
With its incredible depth and unselfish play, the Syracuse offense isn't broke, but there is a shine coming from sophomore C.J. Fair that just isn't going away.
C.J. Fair, in channeling the spirit of Hakim Warrick, has so much finesse and offensive ability that it's hard not seeing him evolve into one of the premier forwards in America.
His mid-range jumper is excellent, he can wiggle his way to the rim like a player half his height and he, like Warrick before him, can bring down the house with a variety of monstrous dunks.
Fair seems ready to bear the weight of stardom. Even as the second man off the bench, he is still second on the team in minutes played.
Seeing more plays run for Fair can only lead to good things.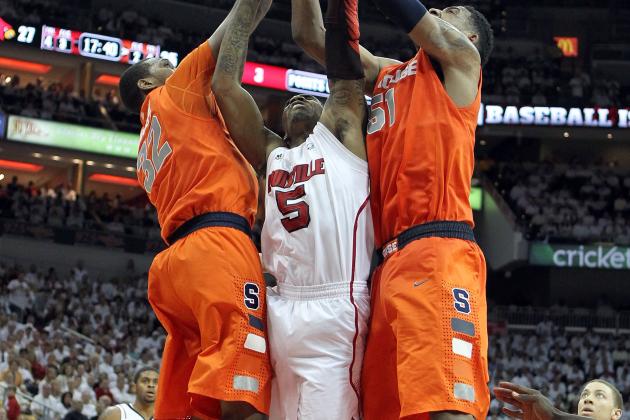 Andy Lyons/Getty Images
Fab Melo grabs a rebound
I would love to see a statistic for how many times a Syracuse player has a rebound touch his hands, only to not get the rebound, or more specifically, have it taken from him.
The tales of Syracuse's rebounding woes have been a little exaggerated. The Orange steal the ball ten times a game and block over seven shots a game.
Overall, Syracuse creates over 17 turnovers a game. That's at least 17 less times that a rebound will be created on defense. This is one of the reasons why the Orange has only out-rebounded its opponents 13 times in 29 games.
Another reason is butterfingers.
The only aggressive rebounder seems to be C.J. Fair, who is tied for the team lead in rebounds with 5.5 per game.
This should be a stat dominated by Fab Melo. Granted he shares minutes, but he gets his share of opportunities. Melo is just taking a little longer than he should at developing the Dennis Rodman mentality that a loose ball is his ball.
As for the rest of the team, their positioning is fine and they box out well, they just aren't owning the ball. I would like to see Syracuse develop a little more toughness when it comes to wanting the loose balls. They obviously have the ability to grab errant passes. This skill needs to be translated to rebounding.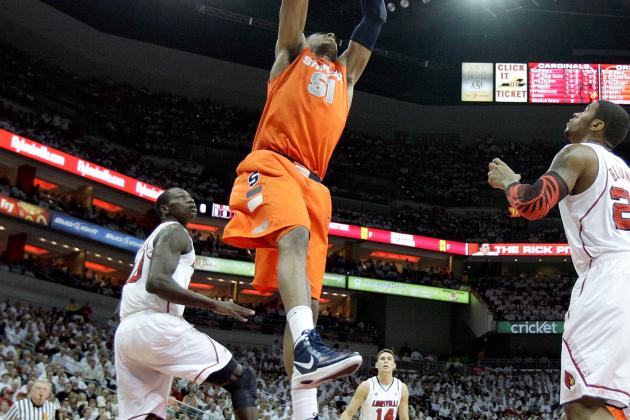 Andy Lyons/Getty Images

Part of the reason that Syracuse has started off slow in so many games is its sometimes poor shot selection.
While Syracuse has a number of players who can hit a three-point shot, only James Southerland could be considered a sharp shooter and his numbers have decreased dramatically.
Early on, Southerland shot at a 40 percent clip from beyond the arc, but now he's barely at 31 percent. This is partially due to his proclivity to shoot from anywhere on the court.
As I said, Syracuse can hit three-point shots, but it is not a three-point shooting team. The Orange shoot 34 percent from downtown, but their bread and butter is transition and mid-range daggers.
Let the Floridas of the world live and die by the three.
When Syracuse needs a three, it can hit one. This shouldn't be the first method of attack.
Syracuse is the highest percentage shooting team in the Big East at 47 percent and even shoots free throws at a respectable 70 percent.
Banging in the middle frees up the outside, not vice versa, which brings me to my last point.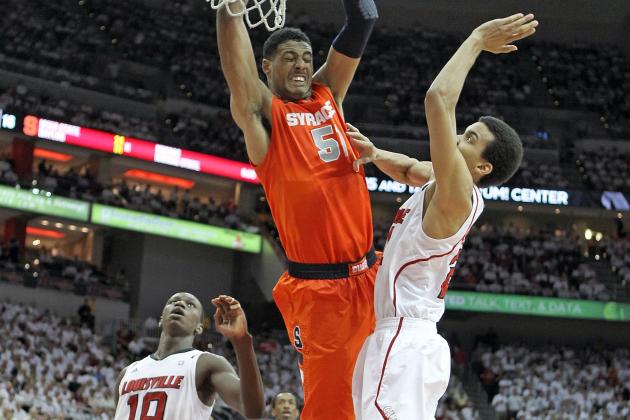 Andy Lyons/Getty Images
Fab Melo
Fab Melo is one of the great comeback stories of the year.
He's made the transition from an over-hyped freshman phenom to an invaluable piece of Syracuse's championship dream.
The 7'0" Brazilian spent the majority of his freshman campaign in Jim Boeheim's dog house, but emerged for his sophomore campaign leaner, meaner and even a little smarter.
As would be expected of a seven footer with an NBA build, Melo shoots almost 60 percent from the field. He is dangerous because he can spot up a jump shot just as easily as he can thunder a dunk home and will split his time in a game doing both.
But Melo's weight loss and game acumen aren't the only ways he's improved his game. He's also made the transformation from hack-defender to charge-taker. Melo's ability to take a charge can quickly get opposing big men off the court which can tend to open up his portion of the court offensively.
The Orange would do well to exploit this by letting Melo play more with his back to the basket and posting up. He's a 66 percent free-throw shooter, which virtually makes him the best big man Syracuse has ever had at the line.
Even if he's missing shots, using Melo to get opposing big men to second guess their aggressiveness can free up not only the lane, but the rebounding slots as well.
A year ago, it would have been a crazy thought, but now, Fab Melo has become the most important piece of the Syracuse championship puzzle.