College Football 2012: The Top 25 Heisman Candidates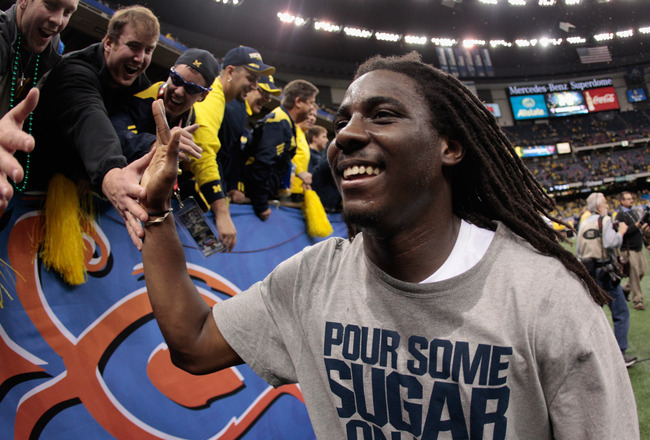 Chris Graythen/Getty Images
The Heisman Trophy is the most prestigious award in college football. You win it and your life will change forever.
Before every season, the list of potential winners is long. Some are favorites. Others are dark horses.
But the reality is, while there are many talented college football players, only a few have a chance to win it.
Here are 25 players who have the best shot at the 2012 Heisman Trophy.
25. Malcolm Brown, RB, Texas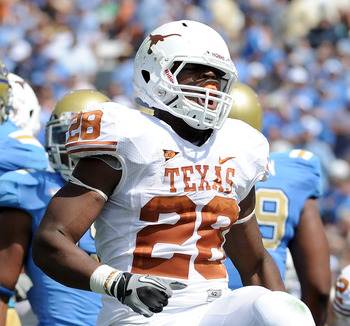 Harry How/Getty Images
Brown is one of the more talented players on a Texas team that is absolutely loaded with young talent. As a freshman last year, Brown rushed for 742 yards on only 172 touches, and that's despite missing three games.
He has a great combination of speed and power. He's in a conference that plays little to no defense, and with questions at the quarterback position, his workload should increase this fall.
He'll need to score more touchdowns. He only had five last season. But if he's able to stay healthy, he should have a solid case for the Heisman by season's end. He'll also need the Longhorns to win. They've gone 13-12 the last two seasons.
24. E.J. Manuel, QB, Florida State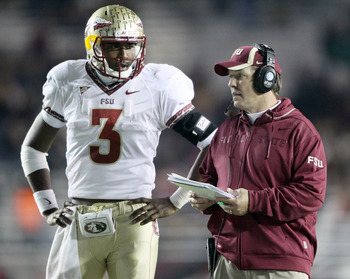 Elsa/Getty Images
E.J. Manuel has the potential to be one of the better players in college football. This will be his last chance to impress us, and with the talent around him, his chances are a lot better than they've ever been.
Manuel did make strides last year. He threw for 18 touchdowns (his previous career-high was four) and completed 65 percent of his passes. That's despite missing the game against Clemson and playing injured in several others.
The Seminoles are returning 18 starters and should be a favorite to win the ACC and a dark horse for the BCS national championship.
If Florida State can live up to the expectations and Manuel plays to his potential, he will have a shot to become the third Seminole to win the award, although his offensive line has to do a much better job of protecting him.
23. James Franklin, QB, Missouri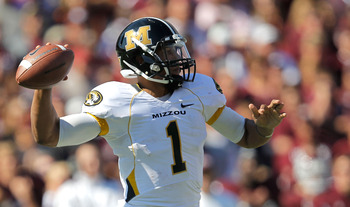 Sarah Glenn/Getty Images
After suffering a shoulder injury this spring that required surgery, there are serious questions about Franklin. It's not known when or if he'll be able to recover before the season begins. But assuming he does, he is one of the nation's best dual-threat quarterbacks.
In his first season as a starter, he completed 63 percent of his passes, had more than 3,800 total yards and scored 36 touchdowns. Franklin is a big play waiting to happen, and this Missouri team will only go as far as he takes them.
The junior quarterback will face defenses in the SEC that he never saw in the Big 12, but he is talented enough and has pieces around him to have an extremely solid year.
A lot depends on his health.
22. Dayne Crist, QB, Kansas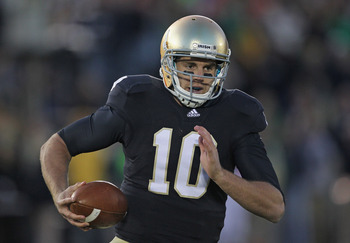 Jonathan Daniel/Getty Images
You may remember Dayne Crist as an under-achieving quarterback at Notre Dame. He was the guy who lost his starting job to Tommy Rees and eventually transferred to Kansas, where he was reunited with offensive guru Charlie Weiss.
Crist may not have lit up the scoreboard in South Bend (16 touchdowns to nine career interceptions), but he does have a lot of experience. And with Weiss running the show, he could play similarly to the stellar performance he had in the Kansas spring game.
Kansas still has a ton of work to do on defense. But if Crist can play well and improve an offense that was ranked 95th in the country last season, he should get some credit.
21. Keith Price, QB, Washington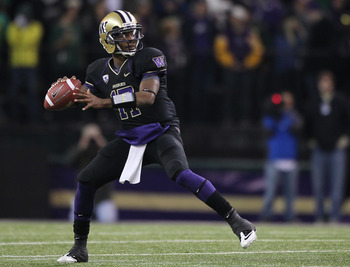 Otto Greule Jr/Getty Images
Keith Price showed what he was capable of in Washington's Alamo Bowl loss to Baylor, throwing for 438 yards and four touchdowns. In his first season as a starter, Price completed 66 percent of his passes, threw for more than 3,000 yards and scored 36 touchdowns.
With running back Chris Polk no longer in the picture, this Huskies offense will only go as far as Price takes it. He is a playmaker and could emerge as one of the nation's better quarterbacks with a full year under his belt.
With big games against USC, Oregon, Stanford and LSU on the schedule, Price will have plenty of chances to prove he deserves a shot at this award.
20. Robert Woods, WR, USC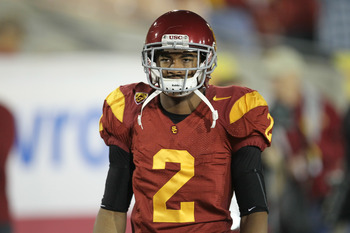 Stephen Dunn/Getty Images
It is extremely hard for a wide receiver to win the Heisman, as only two have won the award. But if there is any receiver who could do it, it is USC's Robert Woods
He has arguably the best quarterback in Matt Barkley, and they have probably the best chemistry of any quarterback and receiver combination in the country.
Last season, Woods finished fifth in the country with 111 receptions, 13th with 1,292 receiving yards and fifth with 15 receiving touchdowns. He is a true No. 1 wide receiver and arguably the top player at his position entering the season.
You shouldn't expect that production to decrease, making him the most likely wide receiver to be in contention for the Heisman.
19. Rex Burkhead, RB, Nebraska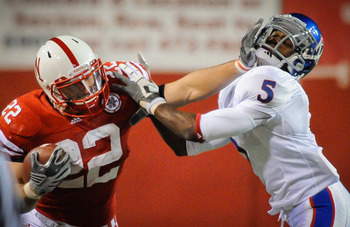 Eric Francis/Getty Images
Nebraska has as one-dimensional an offense as you can get, finishing 15th in the country in rushing yards and 104th in passing yardage last season. But that only helps Burkhead, who rushed for 1,357 last season, averaging just shy of five yards a carry and scoring 17 touchdowns.
Until quarterback Tyler Martinez improves as a passer, Burkhead should continue to receive a ton of touches and put up solid numbers.
The question is, is Burkhead a big enough name and can Nebraska win enough to make the senior running back a serious candidate?
18. A.J. McCarron, QB, Alabama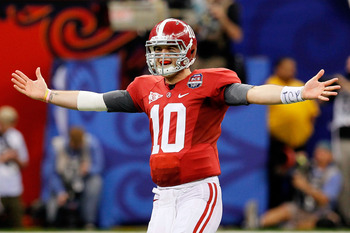 Kevin C. Cox/Getty Images
If A.J. McCarron can play the way he did against LSU in the national championship game, he will have a great shot of winning the award. In his first season as a starter, he completed 66 percent of his passes, threw for more than 2,600 yards and 16 touchdowns.
Those numbers that don't knock your socks off, but he was handcuffed for most of the season, throwing more than 20 passes only twice the entire season.
Then, in the national championship game, McCarron threw for 234 yards with no interceptions against one of the nation's top defenses. With a full year under his belt and Trent Richardson no longer on the roster, the junior quarterback's workload should increase.
We still need to see more of McCarron before we put him down as a serious candidate. But he did show flashes last year, which is good enough to receive early consideration.
17. Collin Klein, QB, Kansas State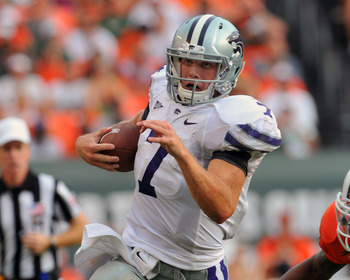 Al Messerschmidt/Getty Images
Last season, Robert Griffin III was the player who many thought could win the award, but we weren't quite sure how realistic that was. This season, that player may be Kansas State quarterback Collin Klein. Sure, the Wildcats had the worst passing offense in the Big 12 last season, but he is the guy who helped lead this team to a surprising 10-3 record.
In his first season as a starter, he threw for more than 1,900 yards, rushed for more than 1,100 and scored 40 touchdowns. That is even more impressive when you consider that Kansas State doesn't exactly recruit the best talent but still competes in the Big 12 against such talent-laden teams as Oklahoma, Texas, West Virginia and TCU.
You add that playmaking ability and the strength of schedule to Klein's resume, and you have a recipe for a dark-horse Heisman candidate.
16. Braxton Miller, QB, Ohio State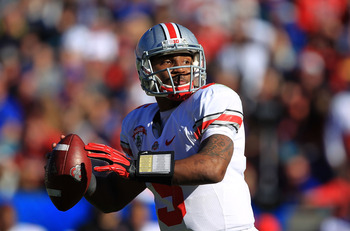 Scott Halleran/Getty Images
The Buckeyes had a terrible season, but quarterback Braxton Miller played extremely well his freshman season. Despite being thrown into the fire with very limited offensive weapons, Miller excelled.
He didn't have many turnovers and threw for a respectable 1,159 yards and 13 touchdowns. That doesn't include rushing for 715 yards and seven touchdowns.
With a new head coach in Urban Meyer, who will run the spread offense, Miller could be in for a big sophomore season. The Buckeyes need to discover a few playmakers on offense, but don't expect them to struggle as mightily as they did a season ago.
15. Landry Jones, QB, Oklahoma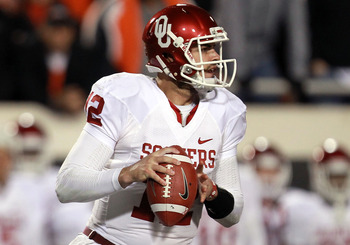 Ronald Martinez/Getty Images
After losing Ryan Broyles to the NFL draft and the recent suspension of a few other key players, I am worried about the receivers on this Sooners team. While that is a serious issue Oklahoma must address, we can't deny the Heisman candidacy of a quarterback who has thrown for more than 4,000 yards the last two seasons.
Landry Jones is an experienced quarterback who has the talent to play in the NFL. Last season was disappointing for him, but he still threw for 4,463 yards and 29 touchdowns while completing 63 percent of his passes.
With Jones' track record and several tough opponents on the schedule, including West Virginia, Texas, Notre Dame and TCU, he will have a chance to get right back in the running for the award.
14. De'Anthony Thomas, WR, Oregon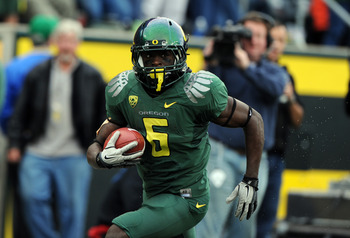 Steve Dykes/Getty Images
Is there any player in the country more explosive than De'Anthony Thomas? The answer is probably no.
As a freshman last year, Thomas rushed for 595 yards, caught 46 passes for 605 yards, returned 36 kickoffs for 983 yards and scored 18 touchdowns. He is one of the fastest players in the country and a true threat to take it the distance every time he touches the football.
There simply aren't many defensive players who can match the sophomore stride for stride.
With running back LaMichael James in the NFL, Thomas' production should increase, as he will line up at wide receiver and in the backfield. If Thomas can get around 200 total touches (rushing and receiving), he should have a convincing case why he should win the award.
13. Eddie Lacy, RB, Alabama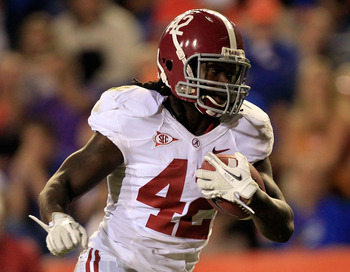 Sam Greenwood/Getty Images
Alabama is one of those programs that replaces talent with talent. It doesn't have to rebuild. So it should have been no surprise that when Mark Ingram left for the NFL, Trent Richardson immediately filled his shoes. Now that Richardson is gone, it will be up to Eddie Lacy to carry the running back position for the Crimson Tide.
Lacy has averaged more than seven yards a carry in each of the last two seasons. He has more than 1,000 career rushing yards and 13 touchdowns as a backup. The junior running back has a great combination of strength and speed, and has shown he has what it takes to carry the load in the backfield.
Alabama is deep at running back this season, but it is Lacy who will receive the most carries. If he can stay healthy and produce the way he has in the past, Alabama will once again have a running back receive an invitation to New York.
12. Sammy Watkins, WR, Clemson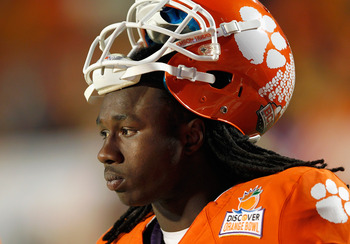 Mike Ehrmann/Getty Images
We said that Oregon running back De'Anthony Thomas was the most explosive player in college football, but Clemson wide receiver Sammy Watkins is a very close second. As a freshman last year, Watkins caught 82 passes for 1,219 yards and 12 touchdowns. He also rushed for 231 yards and had 826 return yards on kickoffs.
Much like Thomas, Watkins is extremely fast and is quickly emerging as one of the better receivers in college football. As he enters his sophomore season, the Tigers coaching staff will look to use him in many ways to make use of all of his talents.
The speedster was arrested in May on drug-related charges and may face a suspension during the season. Regardless of what happens, don't expect the consequences to be too severe. This wide receiver is way too valuable to this team to miss a significant amount of time.
11. Kenjon Barner, RB, Oregon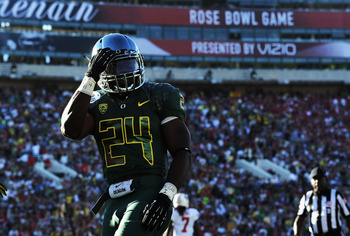 Harry How/Getty Images
De'Anthony Thomas is a serious Heisman candidate, but it would be foolish to leave off the other Ducks running back, Kenjon Barner. After all, it will be Barner who will likely get the most carries this season.
In three years as a backup, Barner has racked up 1,856 rushing yards and scored 25 touchdowns. He has averaged six yards a carry in each of those seasons. The senior running back has big-play ability and speed, similar to LaMichael James.
Last season, Barner had a career-high 152 carries for 939 yards. He is also a solid receiving option, hauling in 34 career receptions.
With all of the weapons on this Oregon team, it's hard to predict who exactly will do what. But Barner will be one of the main options and should have the best season of his career.
10. Knile Davis, RB, Arkansas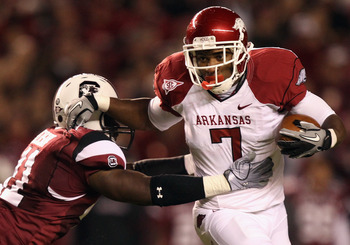 Streeter Lecka/Getty Images
Knile Davis missed all of the 2011 season due to an ankle injury. But if he regains form, he will be one of the best backs in college football this season. In 2010, Davis rushed for 1,322 yards and scored 14 touchdowns. He is one of the strongest players in the country and has a great combination of strength and speed.
As a sophomore, Davis averaged nearly 6.5 yards a rush, which led every college running back who had at least 200 carries.
With a prolific passing game at Arkansas, Davis should have plenty of running room and could pick back up where he left off in 2010.
9. Tajh Boyd, QB, Clemson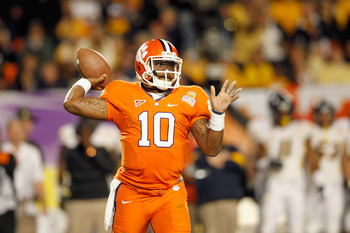 Mike Ehrmann/Getty Images
Tajh Boyd looked terrific in leading Clemson to an 8-0 start. But then a series of turnovers derailed his dark-horse Heisman campaign, as the Tigers lost four of their last six games, including a blow-out loss to West Virginia in the BCS Orange Bowl.
Regardless, Boyd still threw for more than 3,800 yards and scored 38 touchdowns in his first season as a starter. With a full year under his belt and the type of weapons he has at wide receiver, Boyd should be taken seriously as a Heisman candidate.
Clemson's schedule isn't that difficult, so an ACC title and invitation to New York isn't out of the question for the junior.
8. Tyler Wilson, QB, Arkansas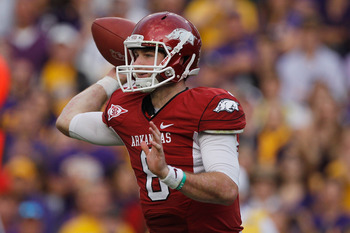 Chris Graythen/Getty Images
It took Tyler Wilson four years to become a starter, but his junior year surely didn't disappoint. He finished 2011 with 3,638 passing yards and 24 touchdowns. He quickly proved to be one of the better quarterbacks in the SEC, and getting a healthy Knile Davis back at running back will only help him improve his senior year.
Wilson still has talented receivers on this year's squad, and playing in the SEC West will give him plenty of big stages on which to prove he deserves to be the first Arkansas Razorback to win the Heisman Trophy.
7. Geno Smith, QB, West Virginia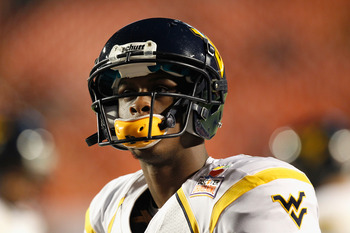 J. Meric/Getty Images
Geno Smith took a step forward in 2011 and made an early Heisman statement in the BCS Orange Bowl victory over Clemson, throwing for 407 yards and seven touchdowns. He finished his junior year with 4,385 passing yards and 31 touchdowns.
He is the leader of one of nation's most explosive offenses, one that features several speedsters at wide receiver. After all, this is a quarterback who threw for 463 yards and two touchdowns against LSU last season. Now playing in the Big 12, a conference not known for defense, Smith is set to have a monster season.
6. Marcus Lattimore, RB, South Carolina
Streeter Lecka/Getty Images
Much like Knile Davis, Marcus Lattimore is coming off an injury that sidelined him for most of the 2011 season, although tearing a ligament in your knee is a little more serious than an ankle injury.
Regardless, Lattimore has been one of the nation's most consistent players since he stepped on the field. If he is fully recovered, you are probably looking at the best back in the country.
In 2010, Lattimore rushed for 1,197 yards and scored 19 touchdowns. In 2011, despite playing in only seven games, he rushed for 818 yards, averaging five yards a carry and scoring 11 total touchdowns. He is a workhorse for South Carolina. There aren't many teams that can hold this guy under 100 rushing yards.
If he's healthy, expect to see this guy in New York at the end of the season.
5. Aaron Murray, QB, Georgia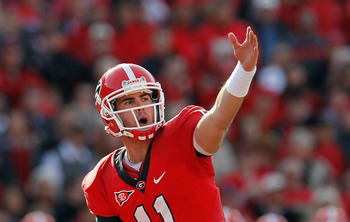 Kevin C. Cox/Getty Images
While everybody was talking about the performances of Tyler Wilson last season, I believe that Aaron Murray is the best quarterback in the SEC. If his offensive line can hold up this season, he has a great chance to compete for this award. Last season, he threw for 3,149 yards and 35 touchdowns.
He has all of the tools to have a great season, including a two-headed monster at running back in Isaiah Crowell and true-freshman Keith Marshall. Murray has the confidence, balanced offense and the experience heading into his third season as a starter.
The Bulldogs don't have a difficult schedule by SEC standards. If he can lead this team to the SEC championship, his name will be in the conversation when it's time to pick the finalists.
4. Denard Robinson, QB, Michigan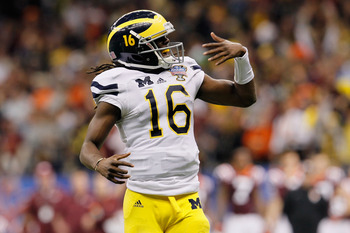 Kevin C. Cox/Getty Images
There isn't much that needs to be said about senior quarterback Denard Robinson.
He has generated Heisman buzz the last two seasons, but has failed to live up to those expectations. Still, he does everything for the Michigan offense, leading this team in passing yards and rushing yards the last two years.
Robinson is one of the more exciting players in the country, having thrown for nearly 5,000 yards, rushed for more than 3,000 yards and scored 75 touchdowns in basically two years of work.
The problem is that Robinson has thrown 26 interceptions combined the last two seasons. If he is to take that next step and receive a Heisman invitation, that is the number that must improve.
This is the last chance for Robinson, and he better come through. The Wolverines have a much more difficult schedule this time around.
3. Tyrann Mathieu, DB, LSU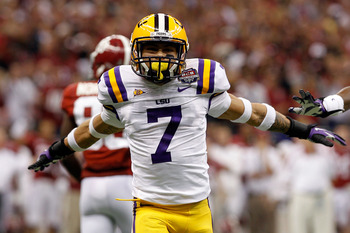 Chris Graythen/Getty Images
Only one full-time defensive player has won the Heisman Trophy. If there will be a second this season, it will be LSU cornerback Tyrann Mathieu. The Honey Badger did everything for the Tigers team last year, intercepting two passes, recovering fumbles, leading the team in tackles and returning two punts for touchdowns.
Mathieu simply has a nose for the football and seems to be in the right place at the right time to make a big play when his team needs it the most. If he can continue the production on defense and maybe be included on a few offensive plays as well, Mathieu will have a greater shot at winning the award.
Remember, Charles Woodson played a little bit of offense when he won the award in 1997.
Mathieu was a Heisman finalist last season, but will need a little more to put his chances of winning over the top.
2. Montee Ball, RB, Wisconsin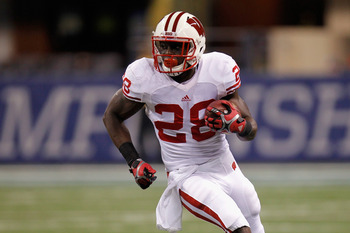 Gregory Shamus/Getty Images
Winning the Heisman Trophy has a lot to do with numbers and how impressive they are. In that regard, , not too many players were as impressive last season as Wisconsin's Montee Ball. He rushed for more than 1,900 yards and tied Barry Sanders' single-season touchdown record with 39. He broke several school, conference and NCAA records and finished fourth in the Heisman voting, although he probably should have won the award.
With quarterback at question mark for the Badgers this season, Ball should receive about the same number of touches as last season (307). While it would be crazy to expect the same production this time around, if he gets anywhere near those numbers again, this award belongs to the Wisconsin running back.
1. Matt Barkley, QB, USC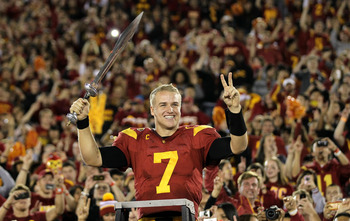 Stephen Dunn/Getty Images
How is quarterback Matt Barkley not the favorite for the award heading into 2012?
This is a quarterback who has arguably the most talented receiving corps of any QB in college football. He is coming off his best season, having thrown for 3,528 yards and 39 touchdowns. And he plays in the Pac-12, a conference that plays little to no defense. (Even if it did, it would still be difficult to stop this USC offense.)
Barkley should have received an invitation last season, but was likely blacklisted because of USC's NCAA probation. The Trojans are now eligible for bowl games, and Barkley came back for his senior season for only two reasons—to win the Heisman and the 2012 BCS national championship.
He has a great shot to accomplish both this year.
Keep Reading