St. Louis Cardinals 2012: Lineup Strong Enough to Repeat as World Series Champs?
February 24, 2012

Whitney Curtis/Getty Images
It's Mike Matheny's first year as the manager of the Cardinals. Or any other team for that matter.
But that doesn't seem to be the issue at hand going in to spring training, and why should it be?  The Cardinals front office and players both know what they can expect, for the most part, from the former Cardinals catcher.
As a broadcaster on FOX Sports Midwest following his retirement from playing, his love for the game and tremendous work ethic were evident in everything that Mike touched.
That was part of what made hiring the former player so easy for general manager John Mozeliak.
But with the saga of Albert Pujols and Tony LaRussa's departure now in past chapters, St. Louis is ready to start writing some new history, and attempt to repeat their 2011 success without two of their most iconic individuals.
With the moves Mozeliak has made so far, one at least feels that all the Cardinals need for a repeat is the same element of luck that they experienced in 2011.
The introduction of outfielder Carlos Beltran has served well to calm the frustrated mood after Albert's departure.
Although Beltran has clearly seen his production decline in several departments, St. Louis fans are accustomed to seeing aging players come to St. Louis and enjoying All-Star caliber success.
Beltran will be entering his 15th season as a major-leaguer, starting this season just opposite in the state of Missouri where he began his career, in Kansas City.
The power that Carlos still possesses will make him a factor, but just as Albert needed support of the hitters around him to attain success, so must Carlos receive the same support, if he is in fact chosen as the Cardinals new No. 3 man.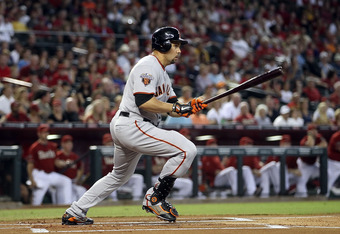 Christian Petersen/Getty Images
Lance Berkman, Matt Holliday and David Freese will all play a vital role in the offense for the Cardinals this season. And if all three players can pick up from the form they left off from in November, the Cardinals may be thinking "12 in '12", that is, their 12th franchise championship in the year 2012.
Pitching should be in good hands for the most part, as far as the starters are concerned. Adam Wainwright returns from Tommy John surgery, and Chris Carpenter returns from a wild fishing trip in the Amazon with Roy Halladay, one where they saved a man who was attacked by large snake.
As was the case last year, the bullpen will be a huge question mark coming in to the season. Jason Motte does have the closer's spot taken care of.
But that's where knowing about the bullpen ends.
We could see another situation where starters and relievers are mixed around to try and find a winning combination. But then again, maybe it won't come to that.
Hitting and pitching will be key. But if there's any single player that will have an impact on repeating 2011's success, it will be catcher Yadier Molina.
Molina has had a dip in his numbers throwing players out stealing, but don't sleep on him just yet. His offensive production was the best of his career, including a fifth-ranked on-base-percentage in 2011.
With the pieces St. Louis has to play with, the puzzle of the 2012 season may start to take shape in Jupiter, Florida for spring training.