Jeff Carter Traded to Kings: LA Bolsters Offense by Acquiring Blue Jackets Star
February 24, 2012

Justin K. Aller/Getty Images
Jeff Carter was traded from the Columbus Blue Jackets to the Los Angeles Kings on Thursday night in exchange for Jack Johnson and a first-round pick, according to Aaron Portzline of the Columbus Dispatch.
The deal is pending a physical, according to TSN's Bob McKenzie.
UPDATE: Thursday, Feb. 23 at 9:25 p.m. ET
According to Aaron Portzline, the first round pick Columbus has received from Los Angeles is a conditional draft choice.
If #LAKings miss playoffs, #CBJ get their 2013 1st rd pick. If #LAKings make playoffs, #CBJ can opt for 2012 or 2013 pick.

— Aaron Portzline (@Aportzline) February 24, 2012
This is a significant trade for the future of both teams, so let's break it down from each side.
What does it mean for the Kings?
The Kings, who are ranked dead last in the NHL in goals scored per game, certainly needed an offensive talent like Carter to help them earn a playoff spot this season. They haven't scored more than one goal in seven of their last 10 games.
Carter has scored 15 goals with 10 assists for 25 points this year in Columbus through 39 games. Prior to this season, he was in Philadelphia where he scored at least 29 goals in four consecutive seasons from 2008 through 2011 with the Flyers.
Carter gives the Kings another top line caliber center who is a reliable goal scorer and will thrive with the talent in Los Angeles.
The Kings were fortunate that they didn't have to part with young goaltender Jonathan Bernier, but giving up a young defenseman with a ton of talent plus a first-round pick is a lot for Carter, considering the season he's had in Columbus.
What does it mean for the Blue Jackets?
The Blue Jackets needed to move Carter because his contract has a salary cap hit of $5.3 million for 10 more seasons, and that's not something a small market team in a rebuilding mode needs.
By acquiring Jack Johnson, Columbus has a young defenseman capable of playing on the top pairing who can excel at both ends of the ice. Johnson has scored eight goals with 16 assists in 62 games for the Kings this season.
The first-round pick the Blue Jackets acquired will likely be toward the end of the first round, but it's still a valuable draft choice to continue the team's rebuild with.
What's are the risks for both teams?
For the Kings, the risk is that Carter struggles to play like the top six forward he's capable of being, and as a result, the team is stuck with him for 10 more years with little production.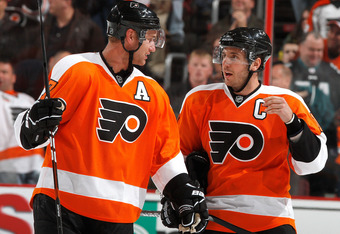 Paul Bereswill/Getty Images
There's also a risk that he might party too hard with Kings center Mike Richards, who played with Carter for several seasons in Philadelphia. Both players were traded last summer from the Flyers, and according to NBC Sports, their party lifestyle might have been one of the reasons for their departure.
If Johnson realizes his potential and becomes an elite defenseman, the Kings will certainly regret this deal.
For the Blue Jackets, there is little risk involved for them in this deal. They have given up a quality center, but have acquired some talented young players in return that will help them rebuild a team that can return to the playoffs soon.
What's Next?
The next big name on the trade market is Carter's Blue Jackets teammate Rick Nash. TSN's Pierre LeBrun tweeted that the San Jose Sharks and New York Rangers are the likely destinations for Nash if he's traded before Monday's deadline.
If LA can complete a Jeff Carter deal, that would basically leave NYR and SJ for Nash...

— Pierre LeBrun (@Real_ESPNLeBrun) February 23, 2012
Follow Nicholas Goss on Twitter for NHL news and analysis.