Post Albert Pujols St. Louis Cardinals and 8 Keys to Success in 2012 MLB Season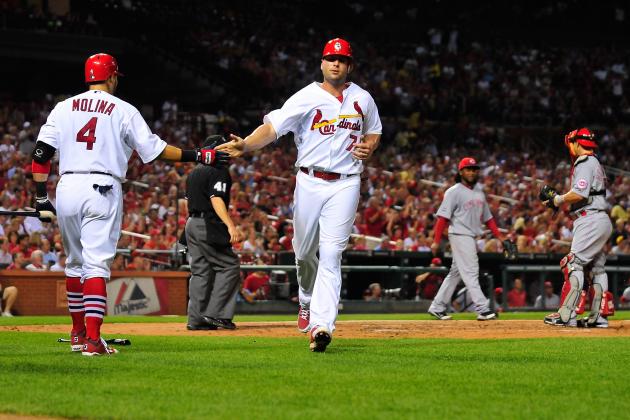 Jeff Curry/Getty Images
Yadier Molina and Matt Holliday will be key to the Cardinals' success in 2012.
December 8th is a day that most Cardinals fans would like to just as soon go ahead and forget about. Albert Pujols, an iconic symbol to not only the team, but the city in general, stunned the baseball world and signed with the Los Angeles Angels.
The devastation was felt, but not shared by all. Those who did share, had strong opinions.
"It just breaks my heart," Ben Voss of St. Louis told STLtoday.com in an interview. "I got a nine-month-old, I got him a Pujols jersey already, and I gotta go home and burn it tonight unfortunately."
Fans' sentiments were shared by the Cardinals' front office.
"We are disappointed that we were unable to reach an agreement to keep Albert Pujols in St. Louis," Cardinals Chairman and CEO Bill DeWitt Jr. said in a statement following the signing.
"Albert is a great champion and we will always be thankful for his many achievements in a Cardinals uniform, as well as his contributions to the St. Louis community. I have the highest regard for Albert both personally and professionally, and appreciate his direct involvement in this process. I would like our fans to know that we tried our best to make Albert a lifetime Cardinal but unfortunately we were unable to make it happen."
Recovery among Cardinal nation has been slow, and has gone through many phases. The latest being acceptance.
But as of now, how ready are the Cardinals for life after Albert? We examine eight different variables that will contribute to the 2012 season's success or failure.
Begin Slideshow

»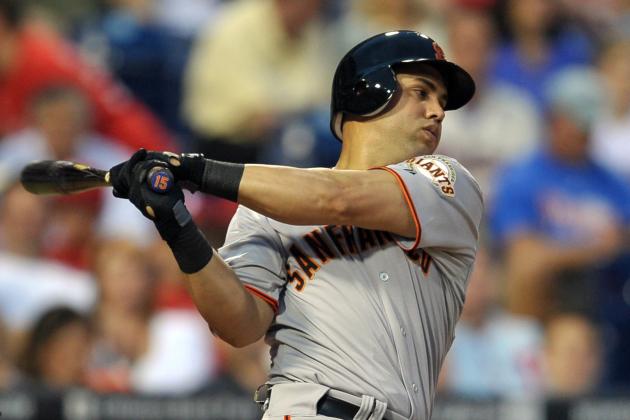 Drew Hallowell/Getty Images
Will newly signed OF Carlos Beltran be the new number three hitter?
Cardinals general manager John Mozeliak knew right away that recognizable offensive firepower was a must. Enter Carlos Beltran.
The $26 million, two-year deal to secure the services of Beltran was one of the first moves that began to heal the breakup pain many Cardinals fans were still having.
Those that might be inclined to think that Beltran is in the decline, think again.
After hitting .300 last season, Beltran had 22 home runs that was in sharp contrast to his declining numbers of seven in 2010 and 10 in 2009.
"Beltran is a proven outfielder who obviously has been a tough opponent against the Cardinals for many years," Mozeliak said in a statement. "It is going to be nice to have his bat and competitive nature working for us instead of on the other side of the field for the next couple of years."
Beltran's contract also includes a "no trade" clause, something that will have St. Louis fans at ease in that department for at least one year.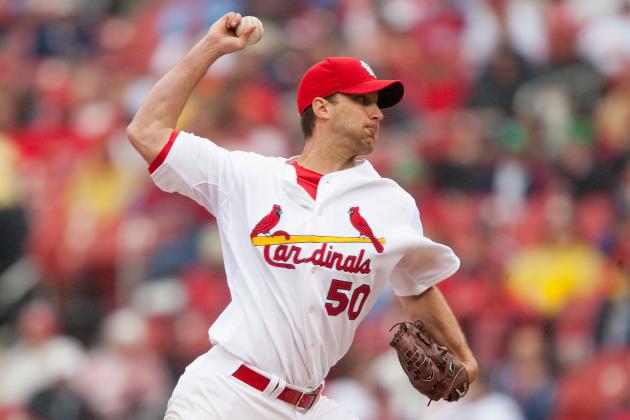 Dilip Vishwanat/Getty Images
Adam Wainwright will add to what is looking like a potentially dangerous Cardinals rotation.
Last February, the Cardinals were dealt an injury that, at the time, looked like it had single-handedly doomed the 2011 season before it even began.
Adam Wainwright had injured his throwing elbow and needed to have it reconstructed with Tommy John surgery. He probably would have never guessed he'd earn a World Series ring that year.
With the success that Chris Carpenter is clearly capable of, Wainwright's return to the rotation makes it among the most dangerous in the National League.
The league which the Cardinals will be defending not only its championship, but the championship of all of baseball.
At this time last year, Wainwright wasn't worried about baseball. "I get home at night, I'm not thinking about icing [my arm] or anything like that," Wainwright said, as reported by Sports Illustrated, "I'm wondering what time American Idol comes on. That's all."
But talk to him now, and he's a player who is ready to step back in to his Cy Young candidate form.
"I don't feel like I missed a year, I really don't," Wainwright said. "The games haven't happened yet, so I'm going to slow-play that a little bit, but I feel like I'm stepping into something that I'm real comfortable with."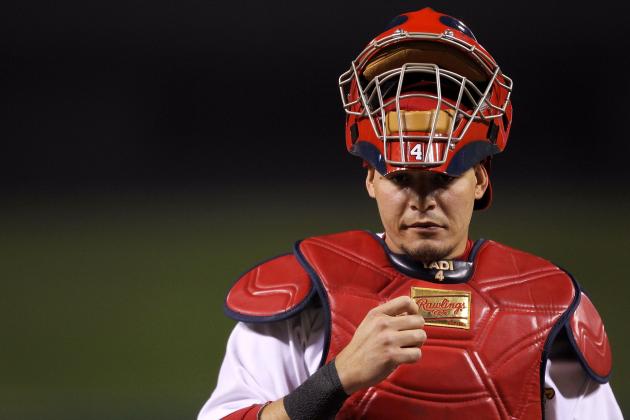 Ezra Shaw/Getty Images
Yadier Molina will have to continue to be viewed as a threat by potential base runners.
The intimidation that Yadier Molina brings to the would-be basestealer undoubtedly affects the decision to run or not. But if players are paying attention to numbers, they may begin to start testing Yadi in 2012.
According to STATS LLC, via STLtoday.com, in 2011 Molina threw out a career-low 24.6 percent of basestealers. In the six seasons before that, his combined rate was 39 percent.
Are we witnessing a decline?
Bernie Miklasz, a St. Louis Post-Dispatch columnist, points out that it could be more on the pitchers.
Opponents were successful in 15 of 15 steal attempts against Jamie Garcia in 2011. Jake Westbrook allowed 13 of 16.
Edwin Jackson also allowed all five runners that stole against him to succeed.
A catcher's ability to throw the runner out is only as successful as the pitcher's ability to recognize the tip-off sign and get the catcher the ball in a spot that will aid in his throw to the appropriate base.
Molina's defensive awareness is something that always comes in to play. But last year it was his offense that added a nice surprise for Cardinal fans.
Molina ranked fifth in baseball in overall on-base percentage and was fourth among starting catchers in generating runs.
This was in addition to his fourth consecutive Gold Glove.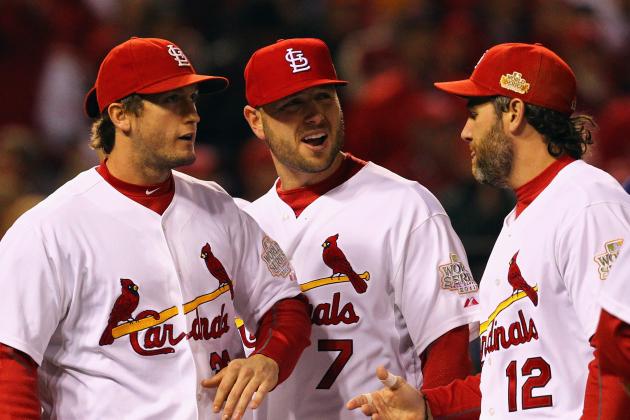 Dilip Vishwanat/Getty Images
Newly established St. Louis hero David Freese, Matt Holliday, and Lance Berkman will have to bat with success in 2012 for a return to the post-season.
David Freese hit a staggering .397 in 18 games of the 2011 MLB postseason. Matt Holliday is a dangerous .315 lifetime hitter. Lance Berkman upped his numbers to hitting .301 with 31 home runs in the regular season and hit .313 in the playoffs.
To have repeated success in 2012, what is left of the Cardinals' World Series hitting lineup will have to pick up where they left off.
Berkman fit in nicely to a cliche that older players who come to St. Louis often have success with the Cardinals. After being sold on by many analysts, Berkman now has the attention of all of baseball as a still-respected threat at the plate.
Holliday struggled in parts during 2011 but kept his numbers par with his previous success and is still hitting the ball with plenty of power and form.
Freese will be learning to deal with the impact of stardom. When Freese attended a Missouri-Texas football game in Columbia, MO, in November, Freese received a standing ovation that was louder than any excitement the Missouri Tiger football team generated that day.
Missouri won the football game 17-5.
Many feel that Freese's relaxed attitude is perfect for dealing with the hype and expectations that he will be associated with in the 2012 season.
The success of the Cardinals farm system in Memphis has kept them a winner in recent years.
The success of the players in the Cardinals' farm system has been huge for them in recent years, not only in turning up young talent that has found success on the Major League level, but rehabbing players back to par after injuries.
Current Memphis Redbirds first baseman Mark Hamilton is coming off of a year which he hit .345. Second-base prospect Jose Garcia hit .333.
Players who have come up through Memphis in the years have been plenty. Freese, John Jay, and Skip Schumaker were all on the Redbirds at some point last season, and being able to draw from the wealth of talent the Cardinals have, has never left them in the dark at any position.
Hitting isn't all that Memphis is offering up either.
Pitcher Victor Marte had a 1.44 ERA in just over 62 innings pitched in 2011. Chuckie Fick held a 2.30 ERA in just over 70 innings pitched.
And, as uncertainty looms over when pitcher Roy Oswalt will be ready, Memphis may become an option for him as he attempts to get more familiar with the Cardinals organization.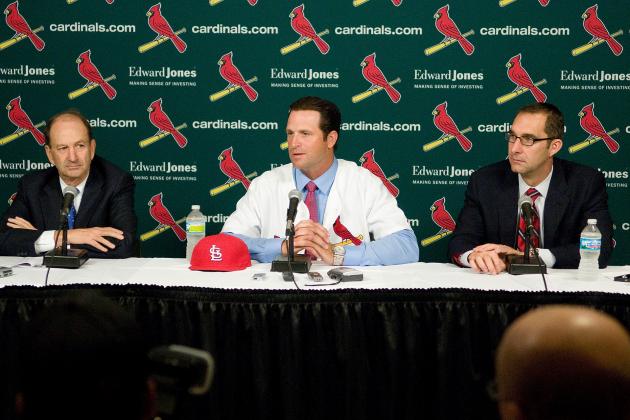 Jeff Curry/Getty Images
The impact of new manager Mike Matheny will be judged very openly by fans.
Not a big name in terms of a recognizable coaching hire. Heck, not even a little name.
But, it is a name that Cardinal fans are familiar with, and along with that familiarity is a complete pass on judgement for a former player who has no formal managing experience in Mike Matheny.
But the responses have been positive, both from fans and former teammates.
"I think he's going to be a great leader," said Jim Edmonds, a former teammate of Matheny's, in an interview with The Associated Press via ESPN.com. "If he goes out there and does what he's capable of doing and they put the players around him, he could be the manager for the next 20 years."
"He's a great leader, and an even better person," Edmonds said. "I think this is great. There's nobody that's going to work any harder than Mike."
Former Cardinals player and St. Louis radio personality Chris Duncan weighed in on the hire.
"I think Matheny will be a great manager, given time," Duncan said. "He lacks managing experience, but it shows a lot about his character that the Cardinals hired him."
Matheny, who thought of playing for the Cardinals as a privilege, likes what he has to work with so far as spring training gets ready to take off.
"If you have some speed, show it. That's going to be the philosophy. If guys have speed in their repertoire, they certainly need to display it and learn how to improve on it and take advantage of some of the special instructors we have in here," Matheny told STLtoday.com.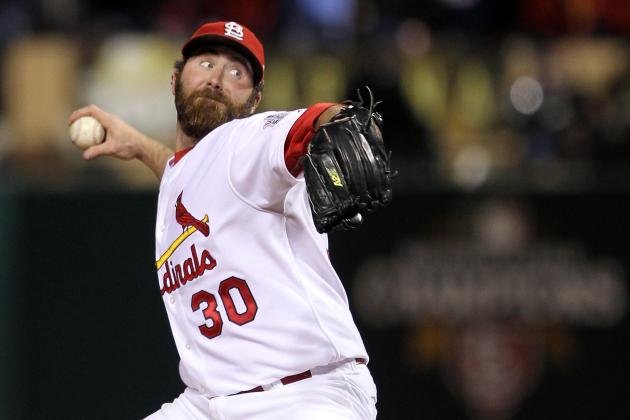 Ezra Shaw/Getty Images
The bullpen has been questionable at best for the Cardinals the past couple seasons.
This will seem like deja vu for St. Louis, who again has lingering questions to face regarding their questionable bullpen in 2012.
Only one thing seems to be for certain at this point: Jason Motte will be the man who attempts to close the games out. Other than that, it may be a free-for-all that could even involve mixing pitchers around, much like what was done last season.
Mitchell Boggs, Lance Lynn, Kyle McClellan, Fernando Salas and Eduardo Sanchez will all be trying to define their roles in the bullpen, while keeping the quality of their play good enough to not be the cause of lost games.
And this again, does not even touch on the issue of Roy Oswalt. Reports have begun to surface that suggest Oswalt may not be with the Cardinals this season.
Oswalt's agent Bob Garber says that the pitcher may wait until midseason to sign with a playoff contender.
The unpredictable success of the bullpen is quite probably the biggest "wild card" element that will play into the 2012 season. If Motte can remain a solid closer, it will enable the rest of his supporting cast to help anchor him into favorable situations.
Doug Pensinger/Getty Images
Keeping the great crowds that St. Louis baseball is known for will be big in gauging the overall success of the franchise.
The biggest thing that the average fans use to gauge the overall perception of a team is the amount of people in the seats, and Cardinals fans have always done a great job in that.
But numbers were on a slight decline in 2011. To the defense of the fan, many days this past summer were incredibly hot, and watching the games at home became an easy option.
But around three million fans, although good for sixth in overall attendance in 2011, was a decline from previous years, some of the lowest attendance numbers since 2004.
St. Louis will look to try to capitalize on the solid pitching duo of Carpenter and Wainwright, as well as the David Freese hysteria that was created in the playoffs and more specifically after Game 6 of the World Series.
Baseball's attendance overall has dropped in recent years, and many might say that it coincides with U.S. economic figures.
Whatever it is, Cardinals executives will be trying to figure out how to get people to the park, with everything from feeding off of 2011 success to interesting promotional dates.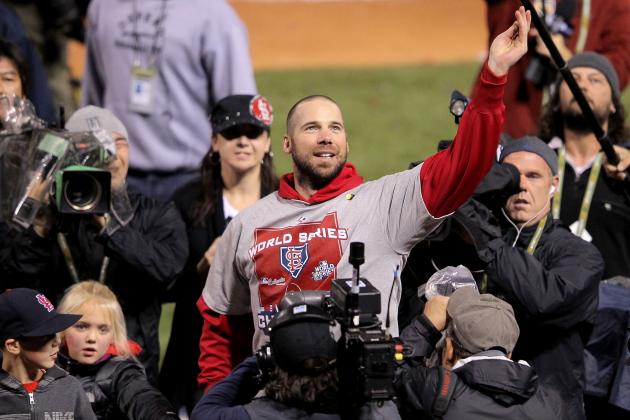 Doug Pensinger/Getty Images
Can St. Louis again find a miracle team, and make it "12 in '12"?
We've examined some elements of the 2012 season, but now it's time to hear from you.
Something in the story that I left out? Something that just doesn't make any sense? Let me know in the comments below! Until next time baseball fans.