Joique Bell: Former Wayne State Warrior Could Be Detroit Lions' Jeremy Lin
February 25, 2012

Chris Graythen/Getty Images
When the Detroit Lions signed Joique Bell off the New Orleans Saints practice squad last December, they'd just clinched their first playoff appearance in over a decade, and Lions hysteria was at an all-time high. Needless to say, the signing wasn't a huge story. 
It could turn out to be one though. Bell's underdog story is a compelling one, much like the story of Jeremy Lin.
As everyone knows, Lin came out of nowhere to spark a lethargic New York Knicks team and energize a league suffering from post-lockout apathy. Many fans had already tuned the NBA out because of boring play and boorish stars. The lockout convinced even more fans to do the same.
Lin was a godsend for the NBA. He might be responsible for single-handedly saving it—much like Magic, Bird and Jordan did in their day .
He's bringing hordes of new fans to the NBA and bringing back hordes of old ones. Could the NBA have wished for anything greater than Lin-sanity?
I'm not saying Bell is going to capture the hearts and minds of our nation or achieve Internet-fueled stardom. I'm certainly not saying Bell will save the NFL. That league needs saving like Prince Fielder needs a loan.
What I am saying is Bell's NFL odyssey thus far is eerily similar to Lin's road to the NBA. Both went to relatively unknown schools—as far as their respected sport goes—and both were overlooked for exactly the same reason.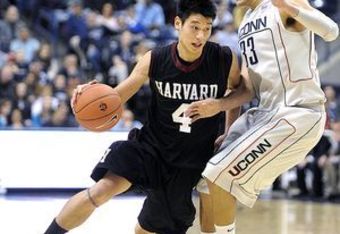 Lin had great success at Harvard making the All-Ivy League First Team his junior and senior years. His stats weren't sensational, but it was clear he could play with the big boys—he put up 30 and 25 points on the University of Connecticut and Boston College.
Many people who are considered basketball elite—Jim Calhoun, Jay Bilas and Andy Katz—extolled the virtues of Jeremy Lin. Yet, he went undrafted. 
Bell got dealt the same rotten hand. He tore up the record book at Wayne State University and won the Harlon Hill Award—Division II's version of the Heisman—his senior year. Bell proved he wasn't just a D-II phenom by having impressive performances at the 2009 Senior Bowl and the NFL combine as well. Yet, he too went undrafted.
Their impressive collegiate stats were discounted because of where they played and who they played against. No one wanted to take a chance on them.
Regardless of their setbacks, both players doggedly pursued their dreams. Lin, through hard work and a little luck, finally got his chance and he made the absolute most of it.
Bell could do the same. Like Lin, he's got the talent, and he's surrounded by an extremely talented Lions team. Particularly on offense.
Bell also has a coach that will give him every chance to succeed. Unlike Mike D'antoni who threw Lin into the starting lineup out of desperation, Jim Schwartz has always believed in Bell. It was just a matter of freeing up a roster spot for him.
For Bell, desperation might play a role anyway. The Lions have three running backs in front of him coming off significant injuries. No one knows how Jahvid Best or Mikel Leshoure will return from theirs. For this reason, it isn't hard to imagine him seeing a lot of game action.
If he does, he won't hurt for fan support. This Benton Harbor native will have Ford Field—and the whole state of Michigan—behind him. Everybody loves home-grown talent.
Obviously, the Lions aren't the Knicks, and Detroit isn't the center of the universe like New York is. The Detroit Lions are an up-and-coming team though. They've had their fair share of media attention, and several players are on the verge of superstardom. If Bell performs at a high level, he'll get noticed.
Of course in Michigan, but on a national level as well.
If that happens, the media storm might not be Lin-like, but it might be close. Who knows, maybe Bell will get his own catchphrase too.
Un-Bell-ievable sounds about right.