Patriots Release Two, Is Chad Ochocinco Next?
February 23, 2012

Offseason roster attrition has officially kicked off as the New England Patriots finalized the release of two athletes—defensive linemen Mike Wright and offensive lineman Rich Ohrnberger. 
Both veterans were reportedly let go as a result of failed end-of-the-year physicals, which are common place for players placed on the injured reserve.
Both guard Rich Ohrnberger and defensive lineman Mike Wright failed their physicals, prompting them to be cut by New England, per a source.

— Aaron Wilson (@RavensInsider) February 23, 2012
Ohrnberger, a former fourth-round pick in 2009, is currently being exposed to the waiver wires. If he remains unsigned he could be retained which would make sense considering New England traded up to select him. 
Wright's departure, while disappointing, should come as no surprise as this is the second consecutive year he's suffered a season-ending concussion.   
The former undrafted free agent had spent his entire seven-year career in New England after signing out of Cincinnati in 2005. He was scheduled to make $2.35 million in base salary in 2012. 
Wright, who discussed his unique situation and medical status back in October, sounded more like a man gracious for his health than a player looking to return.
"It's unfortunate, but at the same time a good thing that it wasn't worse than what it is. It could be so much worse. Talking with my doctor today and looking at MRIs, things can be so much worse than they are and I'm very, very, very fortunate to catch this where we've got it.''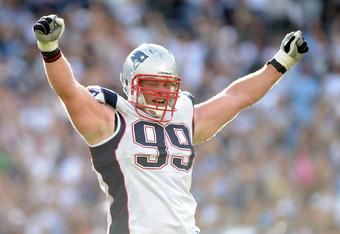 Harry How/Getty Images
Wright went on to elaborate on the importance of head-injury education and awareness, especially at the youth level. 
"Your brain is extremely important - you have no idea what your brain has to process to even stand up out of a chair,'' he said. "I think kids and high school players can learn a lot and they need to keep their ears open and they need to look out for the other guys on the field, because football is a game of toughness. Some guys feel like minor pain, minor dizziness is OK, and it's not.
And considering the severity of Wright's first concussion, one that reportedly had him waiting 3 1/2 months to accomplish tasks like reading, watching television or using the computer, it's in his best interest to seek quality of life over continuing his football career.
Chad Ochocinco Update
Ian Rapoport, of the Boston Herald, is ramping up the anti-Ochocinco bandwagon stating today that the wideout is "a likely candidate to get cut."
He fails to elaborate on that stance choosing instead to regurgitate the same general, yet vague assertion, that Ochocinco has no role with the team in 2012 and isn't worth his $3 million salary. I've discussed this situation recently and I plan on elaborating further in the future, but long story short, I don't believe Ochocinco's release is a lock.
I wouldn't put it out of the realm of possibilities, he did indeed fail to live up to expectations. However, those expectations were assigned by the media and no one knows how he graded out in-house.
I'm sticking by my stance that if Ochocinco can get on the field as the No. 2 receiver, he can be a productive element of the Patriots offense. 
Interested in reading more by this Featured Columnist? Check out more of Aaron Dodge's work on Bleacher Report.

And feel free to "Like" me on The Facebook, your support is much appreciated.