Lakers Rumors: Why the Lakers Must Trade for Michael Beasley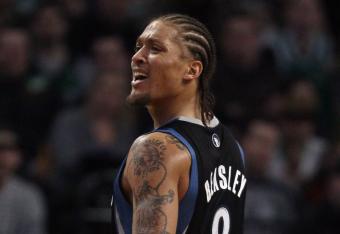 Elsa/Getty Images
The Los Angeles Lakers must trade for Michael Beasley.
The Lakers need to desperately upgrade their two weakest positions on their starting five—the point guard and small forward. Michael Beasley will definitely give the Lakers a big-time upgrade because of the inconsistent offensive play of their starting small forward, Metta World Peace.
According to the Pioneer Press's Charlie Walters, the Lakers have expressed interest in the Minnesota Timberwolves young star:
"A little birdie confirmed Wednesday that the Los Angeles Lakers have expressed interest in trading for Timberwolves forward Michael Beasley.

Whether the Lakers have made an offer for Beasley is unclear, but the Wolves aren't especially interested in acquiring more bodies. A first-round draft pick might be a reasonable trade."
A first-round draft pick for Michael Beasley is more than reasonable because the Lakers have two first-round picks that are both likely to be in the latter part of the draft, assuming the Mavericks continue to play well during the playoffs.
The Lakers are not really known for drafting great late round talent as they have missed on plenty of great talent in late rounds in recent memory—for example, when the Lakers decided that Brian Cook was better fit for their needs than Monta Ellis and selected Cook only to allow the Golden State Warriors to select Ellis...but I digress.

Beasley will bring a lot to the table for the Lakers. As a starter Beasley will be the Lakers' fourth option behind Gasol, Bynum and Kobe. Beasley will have a much easier time scoring while being a fourth option because teams will not focus on him as much as they would focus of the Lakers big three.
Should the Lakers trade for Michael Beasley?
Unless you need convincing you should realize how deadly "B-Easy" would be as a fourth option for any team. Once upon a time, he was the second pick in the 2008 NBA Draft. Although he has not lived up to the expectations of a second pick, Beasley has still produced when giving the opportunity.
As a starter last season, Beasley averaged 19.2 points 5.6 rebounds and 2.2 assists per game. Beasley has been lost in the shuffle in Minnesota because of their outrageous depth at the forward position with Nikola Pekovic, Kevin Love, Derrick Williams, Anthony Randolph and himself.
As a Laker, Beasley will automatically become the Lakers' starting small forward and would not have to look over his shoulder because both Metta World Peace and Matt Barnes would benefit the Lakers more as the "leaders of the bench." Beasley, on the other hand, will give the Lakers another scoring option at the wing when Kobe is having an off night.
Beasley will have a greater chance of gaining confidence to play up to his expected level while in Los Angeles. Beasley will definitely play much better for the Lakers than he did for the Miami Heat or the Timberwolves.
The constant pressures of being a top draft choice are a lot to deal with for some players. The pressure for Beasley will be alleviated because he will not be the main focus of the team and can contribute under the radar, as opposed to Miami where he was supposed to be the Heat's savior and Wade's sidekick.
On the Timberwolves there will still very high expectations of Beasley. He did not disappoint much in his first season with the Wolves, but he has been disappointing so far in the second season because of a lack of playing time.
Brett Deering/Getty Images
With the Lakers, "B-Easy" will be able to grow around a group of talented players. The pressure will be off of him because in Los Angeles, most of that pressure is put on Kobe's shoulders and then transferred over to Gasol or Bynum. Without the constant pressure of living up to his hype, Beasley might just be able to live up to it and reach the top of his ceiling, which would be scary for every team not named the Lakers.
With a more comfortable role and feel in Los Angeles, Beasley will thrive for the Lakers this season and for the foreseeable future. If the Los Angeles Lakers are serious about winning a championship this season and building for the future, they must trade for Michael Beasley as soon as possible.
Follow me on Twitter for everything NFL/NBA/WWE @ThaFreakness_BR
E-mail me for writing opportunities or interviews at sammysucu@gmail.com.
This article is
What is the duplicate article?
Why is this article offensive?
Where is this article plagiarized from?
Why is this article poorly edited?

Los Angeles Lakers: Like this team?