Lakers Rumors: Los Angeles Would Not Be Upgrading by Trading for Michael Beasley
February 23, 2012

Stephen Dunn/Getty Images
The Los Angeles Lakers are reportedly in negotiations with the Minnesota Timberwolves to acquire swingman Michael Beasley, according to Charley Walters of The Pioneer Press.
This half-baked potential trade reeks of desperation and it's sad to think Lakers GM Mitch Kupchak is actually giving this any real thought.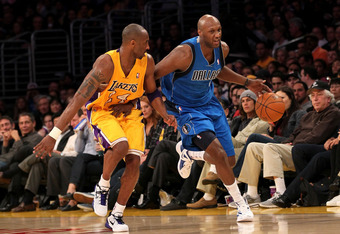 Stephen Dunn/Getty Images
If Walters' report is accurate, the Timberwolves would most likely want to acquire a first-round pick—of which the Lakers have two in 2012—for the oft-maligned small forward.
This is (unfortunately) feasible under the cap because of the $8.9 million trade exception that the Lakers acquired for Lamar Odom from the Dallas Mavericks this offseason.
Hoopshype notes Beasley makes approximately $6.2M in 2012 and becomes a restricted free agent in the offseason.
It just doesn't make sense for the Lakers to acquire a player that has had so many off-the-court issues and chemistry problems during his short career. (It's a red flag when a player's Wikipedia page has a hefty section dedicated to fines, drug charges, rehab stints and fan altercations.)
It becomes even harder to understand when factoring in that they already have a bona fide crazy person on the roster that plays the same position in Metta World Peace.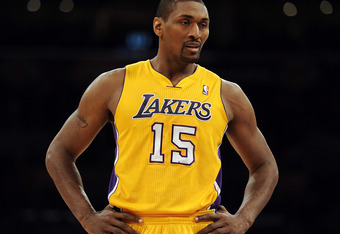 Harry How/Getty Images
Say what you will about the season stats, the fact is that both of these players are wildly inconsistent.
On Wednesday, World Peace had four points, eight rebounds, three assists, two blocks and a steal in 20 minutes of play for the Lakeshow. On that same evening, B-EZ had two points, one rebound and one block in nine minutes.
You can't trust either of them to contribute on a championship run, but at least the man formerly known as Ron Artest has before in his career.
The Lakers would be much better off using Metta—a player that is familiar with the roster, has been a model citizen during his stint in Hollywood, plays excellent defense and largely contributed to the 2010 Finals-winning team—instead of acquiring Beasley and counting on him to make any impact whatsoever.
The 2008 No. 2 overall pick just hasn't lived up to the hype and certainly has yet to prove he can handle living and working in a big city like Los Angeles while being under pressure to perform up to expectations.
Kupchak needs to call up Minnesota GM David Kahn right now and tell him he's uninterested if he knows what's best for his franchise.