Memphis Grizzlies: 5 Things They Can Be Happy About at All-Star Break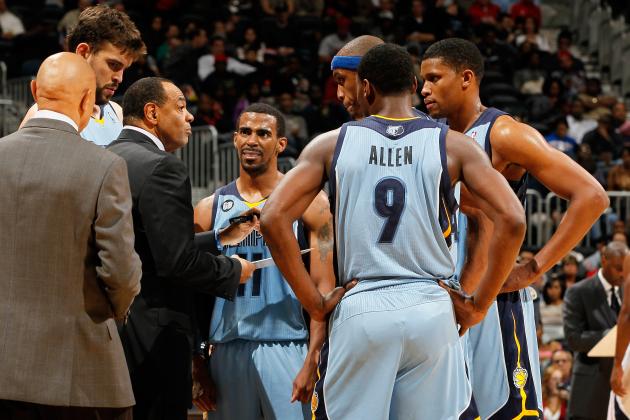 Kevin C. Cox/Getty Images

For the Memphis Grizzlies, the 2011-12 campaign has rolled along quite well. They're above .500 and right in the middle of the playoff race as they're now at the All-Star break. That's despite the loss of Zach Randolph due to a partial MCL tear.
Many had written the Grizzlies off after Randolph went down. However, selfless play and dedication to each other, the core of the Grizzlies team ethic, has helped keep them from falling into the cellar with the New Orleans Hornets and others. The Grizzlies have had players step up with Randolph out, and they've seen some clutch play by their players
The Grizzlies have much to be happy about as they sit at the All-Star break. Follow along to see why.
Begin Slideshow

»
Kevin C. Cox/Getty Images

The Grizzlies are in fantastic position. They stand 19-15 and are in seventh place in the Western Conference. They head into the All-Star break having won five of their last six games.
The Grizzlies had spent much of the first half of the season outside the top eight in the Western Conference, but roared back with their recent streak. They're a game behind the Houston Rockets for sixth place and only 2.5 games behind the Los Angeles Clippers for third place.
This is impressive considering they're without Zach Randolph. His absence was supposed to disrupt the flow of the offense and destroy their ability to score. For a team that typically skates by with less scoring than average, losing such a big scorer seemed insurmountable.
Nevertheless, the Grizzlies adapted to the loss of Randolph. They've gone to more of a transition-based offense, led by Rudy Gay. Gay and other Grizzlies players run the floor, making plays in transition. They'll make fast-break buckets off steals. Often, Gay will go wire to wire for baskets and make plays off the dribble in the half court.
Mike Conley's meager 30.6 percent assist rate is emblematic of how much the Grizzlies love to spread the floor with Randolph out.
The Grizzlies have made it without Randolph, with players rallying for the team cause.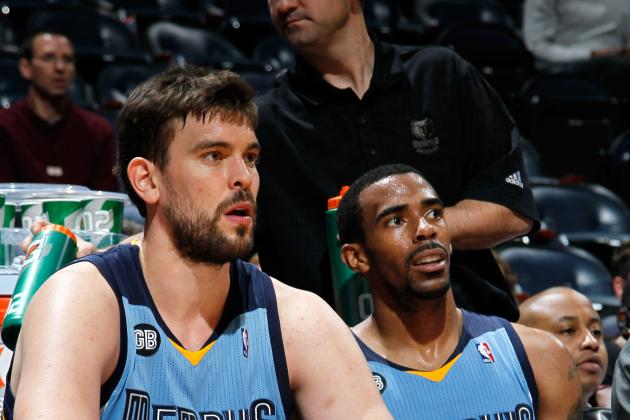 Kevin C. Cox/Getty Images

The Grizzlies have seen a few players step up with Zach Randolph out. Rudy Gay picked up his game after Randolph went down. Gay has scored 19.7 points per game and shot 46.5 percent from the field since Randolph went down. He's put the offense on his shoulders.
Marc Gasol is stepping up to become a top-10 center. He's averaging career highs in scoring, rebounding, blocks and assists. Gasol has averaged 15.3 points and 10.2 rebounds per game since Randolph went down.
Tony Allen has stepped up with Randolph out just as he did when Gay was out last season. Allen is averaging double figures in scoring for the first time in five seasons and taking the most shots in his career. Typically silent on the offensive end, Allen is averaging 12 points per game with Randolph out.
The Grizzlies never won on the scoring of a single player. They've done it with balanced scoring. Part of the reason the Grizzlies have survived this season is that they're dedicated and willing to step up.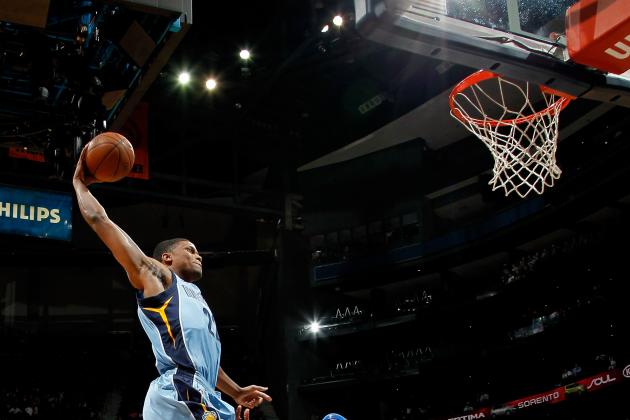 Kevin C. Cox/Getty Images

Rudy Gay is playing solid ball this season and showing no signs of rust at this point after having shoulder surgery last March. He started slowly in the first few games of the season, averaging 12.5 points per game while shooting 35.4 percent from the field and 1-of-6 from three-point range.
Since then, he's been much better. He's up to 18.9 points per game with a 45.2 percent field-goal mark and 39.4 three-point shooting figure, just a shade off his career high set last season.
Gay hasn't had any shoulder issues this season and has complained of shoulder pain. At any opportunity, Gay has been fearless running the floor and throwing down dunks.
The Grizzlies can rejoice that one of their fine young players is in prime condition after missing a significant amount of time last season.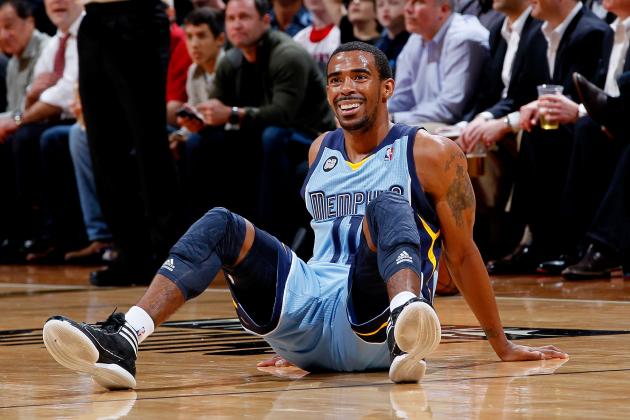 Kevin C. Cox/Getty Images

The Grizzlies struggled with injuries in practice during the season and in the first few games. They lost Darrell Arthur for the year with a torn Achilles in practice in mid-December. Xavier Henry (who would later be traded to the New Orleans Hornets in the Marreese Speights deal) suffered an ankle injury.
Mike Conley suffered an ankle injury against the Oklahoma City Thunder in late December.
Then came the Zach Randolph injury.
Some might have thought that the Grizzlies would be dealing with the injury bug for the rest of the season. However, they've been resilient since Randolph went down. Only Tony Allen and Sam Young have missed time due to injury. Allen missed three games in February due to hip and knee maladies.
Young, who hasn't been as much of a factor as last season, has dealt with ankle and back injuries.
If the Grizzlies can be healthy during the second half of the season, they'll have a significant edge in the Western Conference race. With teams suffering injuries left and right, good health can be a major advantage.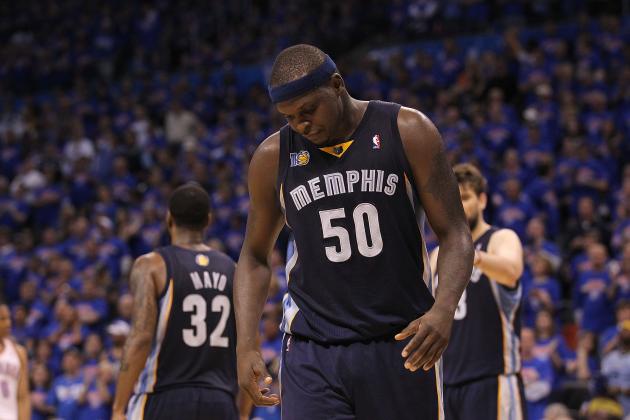 Ronald Martinez/Getty Images

Zach Randolph is progressing fantastically in his recovery. He's participated in non-contact drills in Grizzlies practice. According to The Commercial Appeal, Randolph will participate in his first contact practice after the All-Star break. He's working hard with the Memphis training staff during the All-Star break to continue improving his conditioning.
Randolph came along very well in his recovery at each stage. At each stage, he showed progress. MRIs showed Randolph didn't have any damage in his knee and didn't require surgery.
That's a huge relief for the Grizzlies. One could hardly tell how long the Grizzlies could keep up their high-flying transition offense. With Randolph coming back in early March, they'll be able to transition back to the double post offense they're used to running with Randolph and Marc Gasol. The offense will be more dynamic, better able to cope with Gasol's off games.
Further, the Grizzlies will be better equipped for the stretch run with Randolph back. They'll have a premier frontcourt combination in Randolph and Gasol to rival the best Western Conference teams. Having their core together will ensure that they'll be able to beat the best teams.