2012 NFL Free Agents: Top 5 Linebackers to Solidify Your Defense
February 23, 2012

Al Messerschmidt/Getty Images
In what looks to be a stacked free-agent class, one position in particular that promises to be represented well is linebacker. Obviously, linebackers tend to be the quarterback of the defense as they are responsible for calling plays and reading the offense, so some teams could change their defensive fortunes with impact signings this offseason.
Some of the top linebackers on the market will likely be franchised or re-signed by their current teams, making the linebackers who are available an even hotter commodity. Almost every team in the league would benefit from another playmaking linebacker, so the market is going to be very strong this offseason.
Here are five free-agent linebackers that would certainly help solidify your team's defense.
Curtis Lofton
Curtis Lofton of the Atlanta Falcons has developed into one of the league's elite inside linebackers in just four NFL seasons, and at the age of 25, some team is likely to throw a ton of cash his way this offseason. Lofton ranked fifth in the league in tackles this past season with 147, marking his third consecutive season with at least 118 stops.
Lofton also added a pair of interceptions and a sack, although the strength of his game is unquestionably running down the ball carrier. On the free-agent market there are going to be plenty of linebackers with a history of production, as well as some with youth on their side. Few players will have both, but Lofton has that benefit.
D'Qwell Jackson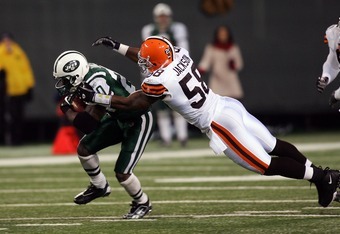 Jim McIsaac/Getty Images
After missing 10 games due to injury in 2009 and all of 2010, it looked as if Cleveland Browns linebacker D'Qwell Jackson's once-promising career was in jeopardy. Jackson returned to his pre-injury form this past season, however, and may have played better than he ever has as he was one of the league's leading tacklers with 158 takedowns, adding 3.5 sacks as well.
Jackson is only 28, so he should be entering the prime of his career. As Jackson has proved over the past two seasons, when he's healthy, there are few more productive middle linebackers in the game. Injury concerns will likely drive his value down a bit, but somebody is going to invest in Jackson, and if he can stay on the field, they'll be rewarded.
Stephen Tulloch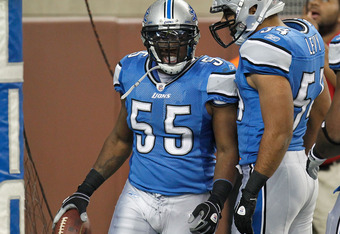 Gregory Shamus/Getty Images
Detroit Lions middle linebacker Stephen Tulloch took a big risk last offseason as he settled on a big, one-year contract with the Lions rather than seeking a longer-term deal elsewhere. While he was unable to match the 160 tackles he racked up the previous season with the Tennessee Titans, Tulloch was the leader of the Detroit defense as he totaled 111 tackles, three sacks and two interceptions.
The 27-year-old has had three consecutive productive seasons, so there is no reason why he won't finally garner a big contract this offseason. The Lions defense would likely take a big step backwards without him, so look for Detroit to make a big play, but there will be plenty of other franchises interested in bringing the compact tackling machine aboard.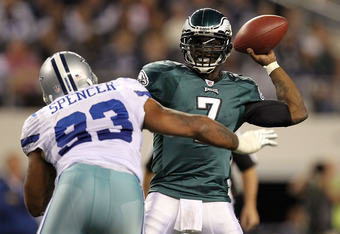 Ronald Martinez/Getty Images
The vast majority of top-tier linebackers available this offseason are of the inside variety, but Dallas Cowboys linebacker Anthony Spencer is undoubtedly the preeminent outside linebacker on the market.
While Spencer isn't going to wow anyone on the field or the stat sheet, he is as solid and consistent as they come. In each of the past three seasons, Spencer has recorded 63-67 tackles and between five and six sacks.
Spencer is also adept at stripping the ball from quarterbacks and running backs as evidenced by his four forced fumbles in 2011. Spencer is a good fit in either a 4-3 or a 3-4 defense because he can stop the run and rush the passer. Spencer may not get a ton of publicity this offseason, but whomever lands him will get a very reliable player.
London Fletcher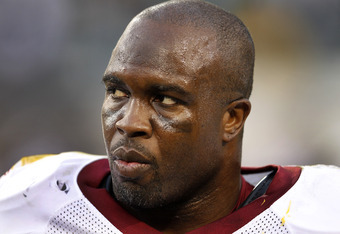 Rob Carr/Getty Images
He may be 36 years old, but Washington Redskins middle linebacker London Fletcher continues to prove that he is an ageless wonder. Fletcher has posted at least 116 tackles in every season since 2000 and has somehow managed to continually get better as he set a career high in tackles this past season with 166. Logic states that Fletcher has to slow down eventually, but it doesn't seem like it's going to happen any time soon.
Few linebackers in the league have the experience and instincts of Fletcher, so he would be a fantastic fit for a contending team should the 'Skins choose to let him walk. He won't be getting a huge, long-term contract by any means due to his age, but Fletcher remains one of the most productive linebackers in the game.