Kevin Youkilis and JD Drew: A Tale of Two Oft-Injured Players
February 23, 2012

Doug Benc/Getty Images
The be-all, end-all argument in the game of baseball boils down to production.  
While many fans are loathsome when it comes to J.D. Drew, those same fans applaud Kevin Youkilis. The question is, why?  
More often than not, the consensus is that Drew is a less than reliable player.  Questions of durability have surrounded him his entire tenure in Boston.  Just Google "JD Drew Durability" and you'll find endless results to support that argument.
Youkilis, on the other hand, is largely considered to be a tough-as-nails player that would run through a brick wall for the team.  A fan favorite since coming up in 2004, Youkilis has been a face of this franchise and a perennial AL MVP candidate when healthy since 2008 (finishing third overall in the voting in 2008, sixth in 2009).
Since Drew arrived in Boston in 2007, he has been an All-Star exactly once, while Youkilis has been on three All-Star teams.  Neither man has led the league in any major category in their respective careers, let alone since 2007, when Drew came to town.
There has been an interesting statistic being floated around since Drew's retirement and murmurs of Youkilis needing to be traded.  That statistic states that Youkilis has played in just two more games than Drew since 2010.  Youk having played in 222 games, while Drew has played in 220 games.  This obviously supports the argument that Youk is injury prone.
To broaden the search, I wanted to take a look at a couple of things.
First off, comparing the two men since Drew arrived in Boston shows a fairly telling picture.  Drew has played in 606 games with 2,379 plate appearances with 432 hits.  He has knocked in 286 RBI while walking 14 percent of the time and striking out 19 percent of the time.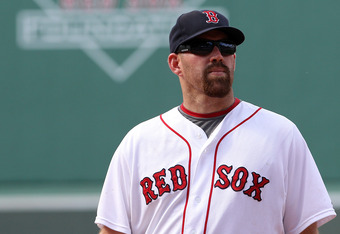 Jim Rogash/Getty Images
His BABIP is a sleek .302 with a regular average of .264, and OBP of .370, SLG of .455 and a .824 OPS.  His WAR being 13.0 for his tenure in Boston.
Youkilis, on the other hand, has played in 648 games with 2,786 plate appearances and 692 hits while knocking in 434 RBI.  He has walked 12.3 percent of the time while striking out 18.1 percent of the time.  His batting line looks like this: .331 BABIP, .294 BA, .395 OBP, .517 SLG and .912 OPS.
As you can see, the Greek God of Walks actually walked less than one David Jonathan Drew.  Across the board though, you can see that Youk was a better player overall than Drew.  That's not my argument.  
You will also note that Youk played in (on average) 8.4 more games per season than Drew.  Not as many as you would think, right?
Secondly, and more directly, I decided to expand that original two-year argument to encapsulate the 2009 season, bringing us to a three-year sample, and 60 percent of Drew's tenure in Boston.  Sox fans might be a bit surprised to learn that Youkilis has only played in just one more game than Drew in that time.  This is how the players break down.
Since 2009, Drew has played in 357 games for the Red Sox with 1,370 plate appearances and 303 hits while driving in 158 runs.  He has walked 12.8 percent of the time while striking out 19.8 percent of the time.  His batting line is: .293 BABIP, .257 BA, .355 OBP, .447 SLG and an .802 OPS.  His WAR dropped to from 13.0 to 7.1.
In that same time, Youkilis played in 358 games with 1,540 plate appearances and 372 hits with 236 RBI.  He managed to walk 13.2 percent of the time while striking out 19 percent of the time.  His batting line looked like this: .328 BABIP, .290 BA, .399 OBP, .523 SLG and a .922 OPS.  Youk's WAR also declined from 21.6 to 13.7.
The obvious: Youkilis is a better all-around player.  Duh. The funny part: Youk is never called to the carpet for his durability, yet he has been about as dependable as Drew for three seasons now.  That's not a coincidence, it is a trend.
What does this mean for Youk moving forward in 2012?  To the eternal optimist, it means that Youk will come back strong and play 145 or more games this season.  For the pessimist, it means that Youk is washed up.  For the strategic baseball hopefuls, it means that Youk needs to come out strong for the first half of the season, and get traded in July.
For me, it means getting prepared to hunker down for what could be another injury laden season while he continues to play third.  If the front office has Youk in mind for the 2013 season, it would likely be as their DH in place of Ortiz.  Should that be the case, I'm good with keeping him.  
If not, sorry Youk, I think you're time in Boston may be up.