6 Manchester United Stars Earn England Call-Up for Holland Friendly
February 23, 2012

Six Manchester United players have been named in Stuart Pearce's England squad for the forthcoming friendly against Holland.
Phil Jones, Chris Smalling, Ashley Young, Tom Cleverley, Danny Welbeck and Wayne Rooney all made the cut for next Wednesday's game, making United the most well-represented club in the squad.
Jones, Smalling and Welbeck may have had the added advantage of playing under Pearce for the England Under-21s. However, all three will be grasping at the opportunity to showcase their talents ahead of the summer's European Football Championships.
Cleverley, Young and Jones have only recently come back from injury, and will all be pleased that they have still managed to be called up despite absences.
Smalling and Jones were a solid defensive partnership under Pearce at the Under-21 European Championships last summer, and it is a wonder whether Pearce will lay his faith in the duo to start against Holland. Both have been played out of position in their international careers so far—Smalling getting two caps at right-back, Jones getting one at right-back and two at centre midfield.
At least one of them will start at centre-back as the only other named in the squad was Gary Cahill. Good performances against Ajax and Norwich will ensure that the United pair start together.
Moving up to the midfield, Cleverley has the difficult task of leapfrogging Steven Gerrard and Gareth Barry into the central midfield setup. Scott Parker has been solid for England lately, so the battle will likely be between Barry, Gerrard and Cleverley as to who will partner him.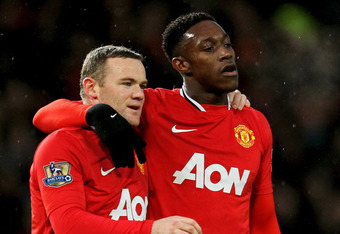 Alex Livesey/Getty Images
Realistically, Cleverley will start the game from the dugout.
Young's recent England form has been fantastic. In the autumn he forged a strong partnership with Rooney, which paid dividends for both club and country. It will be interesting to see if he has the same chemistry with Welbeck.
It is highly expected that Young will start ahead of Stewart Downing, who has not had a fantastic season.
Despite a reported throat infection, Rooney has remained in the England squad, and will be delighted to take United strike partner Welbeck with him. The two have formed quite the bromance up front for United this season, and it will be good to see them applying this at international level.
With Rooney banned for the first two games of the European Championships, Pearce may look to experiment up front, meaning that we may see Welbeck partnered with the likes of Danny Sturridge, Darren Bent or maybe even ex-United academy and Sunderland teammate Frazier Campbell.
Rio Ferdinand was United's notable exclusion from the squad. However, Pearce did say in his press conference today that he was "looking to learn" from this friendly, and said that he wouldn't learn anything from simply watching the big guns play.
One thing is for sure: all six of those selected will be working extra hard against Ajax in the Europa League and Norwich in the EPL this weekend in order to get themselves into that starting XI.