Big Ten Basketball: Who Will Win (or Share) the Regular-Season Conference Title?
February 24, 2012

Andy Lyons/Getty Images
I've said it many times this season, but the Big Ten has been one of, if not the, most exciting and competitive conferences in all of college basketball. 
Five of the teams in the conference are currently ranked in the top 25, and four teams are ranked in the top 15. 
The glory of the Big Ten year has been its continued competitiveness mixed with a sprinkle of upsets that keeps even the teams at the bottom of the conference on the national radar. 
So, who will win the Big Ten conference?
With most teams left with only three games remaining on their conference schedule, the title contenders have been narrowed down to three teams: Michigan State, Ohio State and Michigan. 
Let's take an individual look at each team and its remaining conference games and predict who will win the Big Ten. 
Michigan State (12-3, 1st)
The Spartans have been a tear in the Big Ten since losing to Illinois by one point without their star senior forward Draymond Green. 
After that tough road loss, they rebounded to beat rival Michigan and have not lost a game since, taking down No. 17 Wisconsin and stunning No. 3 Ohio State in the process. 
Draymond Green, whom the team has relied upon heavily all season, has gotten some improved support from guard Keith Appling, but the Spartans would still have some major issues (as we saw against Illinois) if Green isn't healthy.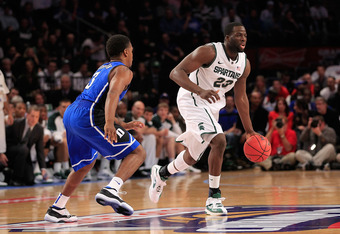 Chris Trotman/Getty Images
However, assuming things continue to go well for Green and he remains on the court, Michigan State is not only one of the best teams in the Big Ten but in all of college hoops. 
Remaining Games:
Feb. 25 vs. Nebraska: Michigan State beat Nebraska on the road earlier this season by a margin of 13, and not much has changed for both teams, so the Spartans will probably take this one by 20 points or so. This is the Big Ten, so we shouldn't underestimate the Cornhuskers, but the odds are stacked very highly against them. WIN
Feb 28 at Indiana: The Spartans took the early-season matchup between the two at home, but it's a completely different story with the tables turned and the game in Bloomington. Indiana has continued to be mediocre after a monumental start, but the Hoosiers don't lose too often at home. It'll be a close game, but Indiana should probably take this one. LOSS
Mar. 4 vs Ohio State: The first matchup between these two makes this sequel a very hyped game. Ohio State will come in determined to pay back Michigan State for beating it on its home court. This is a very difficult game to predict, but the game plan that Tom Izzo brought out for their first matchup was brilliant, and he probably has something up his sleeve for this game as well. WIN
Predicted Record: 14-4
Ohio State (11-4, 2nd-T)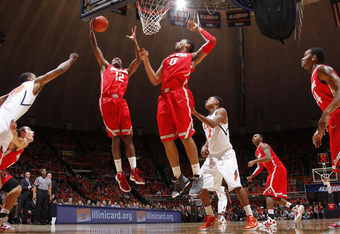 Joe Robbins/Getty Images
After dominating the top spot of the Big Ten standings for most of the season, Ohio State has found itself dethroned and currently tied for second place with Michigan. 
After posting a six-game winning streak that followed a tough road loss to Illinois that included wins over Indiana, Michigan and Wisconsin, the Buckeyes have struggled to hold their ground in the Big Ten. 
They recently lost a big game at home against Michigan State and then lost to Michigan on the road the following week, exposing their vulnerabilities to Big Ten opponents. 
Despite the recent obstacles, Ohio State still has arguably the best starting lineup in the conference and will still be a major threat come tournament time. 
Remaining Games: 
Feb. 26 vs. Wisconsin: Ohio State matches up well against Wisconsin and shouldn't have any problem beating the Badgers at home after beating them on the road earlier this season. Wisconsin hasn't done well on the road against the top teams in the conference this season, and this game will probably follow the same pattern. WIN
Feb. 29 at Northwestern: The Wildcats shouldn't be underestimated at home, as they defeated Michigan State earlier this season on their home court. However, if Ohio State plays at its normal level, it should overpower Northwestern and dominate the game. It isn't a given that the Buckeyes will win, but if they show up to play, they should emerge victorious. WIN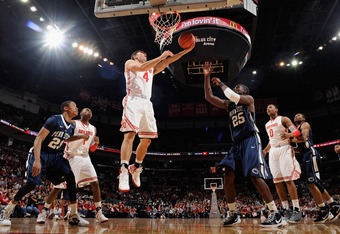 Jamie Sabau/Getty Images
Mar. 4 at Michigan State. The Buckeyes want revenge, that's for certain. Losing at home to Michigan State wasn't conceivable to Ohio State until it happened, and it certainly altered the Buckeyes' chances at a Big Ten title. They'll come out hard in this game, but home-court advantage will probably prove too much for Ohio State, and the Buckeyes will conclude their conference schedule with a loss. LOSS
Predicted Record: 13-5
Michigan (11-4, 2nd-T)
The Wolverines have made a crucial surge on the back end of their Big Ten schedule to come within reach of a Big Ten title. 
Michigan is currently on its longest winning streak in conference play (four games, previously two) and recently earned a key home victory against No. 6 Ohio State. 
The Wolverines have a strong backcourt but have seen inconsistency from Tim Hardaway Jr., who some analysts have tagged as a streaky player. 
Nevertheless, Michigan will be a very competitive team in the NCAA Tournament and has a chance to win its first regular-season Big Ten title in 24 years. 
Remaining Games: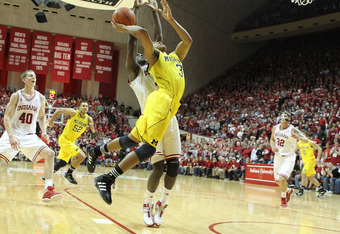 Andy Lyons/Getty Images
Feb. 25 vs Purdue: Michigan has all the odds in its favor with a perfect home record and a previous road win against Purdue this season. In addition to the Wolverines' home court advantage, Purdue has recently lost two of its players (one was released from the squad, the other suspended), which is a huge detriment this late in the season. WIN
Mar. 1 at Illinois: This is a huge game for Michigan, as its Big Ten title hopes depend upon it. Illinois has been a resilient team this season despite a 5-10 conference record, and the Illini have beaten Michigan State and Ohio State at home. However, the Fighting Illini have found themselves on a six-game losing streak including home losses to Northwestern and Purdue. WIN
Mar. 4 at Penn State: The Nittany Lions haven't fared well this season, especially against top Big Ten talent. While Penn State will certainly put up a fight on its home court, Michigan should be able to pull away a win relatively easily. WIN
Predicted Record: 14-4
Conclusion
If the predicted results go as follows, then Michigan State and Michigan would be tied for first place with identical 14-4 records, and Ohio State would be in second place. 
This scenario could thicken if Michigan State wins at Indiana but loses against Ohio State, leaving them with the same record but also leaving Ohio State with a 14-4 record (assuming the Buckeyes win against Northwestern and Wisconsin). 
A three-way tie for the Big Ten regular-season championship?
That would be quite the ending to a spectacular Big Ten season. Who would have imagined that potential scenario at the beginning of conference play? 
It's madness. Pure madness.