Detroit Red Wings: Todd Bertuzzi Has Found a Home
February 23, 2012

Christian Petersen/Getty Images
As reported by the Detroit Free Press, the Detroit Red Wings and Todd Bertuzzi have agreed in principle on a contract extension that will keep the rugged veteran in a Wings' uniform for another two years.
Bertuzzi is finishing the second year of a two-year deal, and the new contract employs Bertuzzi with Detroit through 2014—when he will be 39 years of age.
The terms of the deal are reported to be a back-loaded salary structure that comes with a cap-hit of $2.2 million per season, a raise on the $1,937,500 million cap-hit currently attached to Bertuzzi.
The signing is expected to be officially announced before the end of the week.  
Ever since the NHL lockout and the infamous Steve Moore incident, Todd Bertuzzi, 37, has bounced around the NHL—including stops in Vancouver, Florida, Detroit, Anaheim and Calgary—before rejoining the Wings in 2009. However, in Detroit he has found a home and a role he enjoys.
Bertuzzi is no longer the 40-goal scorer he was in Vancouver. He hasn't been since the lockout. However, with Detroit he isn't expected to lead the team in scoring. Instead, he has settled in as a role player that embraces a tough, gritty game—while also possessing the necessary skill-set to play on all four lines.
Although starting the season on the third line, Bertuzzi has skated on Detroit's top line since November, alongside Pavel Datsyuk and Johan Franzen—solidifying a combination that possesses an impressive blend of skill and size. However playing on the top line in Detroit means committing to a defensively-sound system—a challenge Bertuzzi has embraced.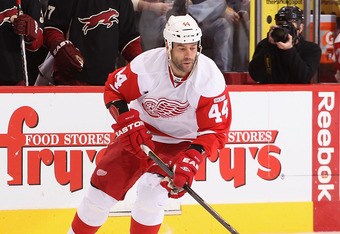 Christian Petersen/Getty Images
"My whole thing is just trying to win the Stanley Cup. The points aren't always going to be there. But as long as you can still contribute in some ways—whether it's creating space or being big in front of the net—and the team is being successful, that means you're doing something right," Bertuzzi told the Detroit Free Press.
Bertuzzi has also found a role as a clutch-shootout performer, scoring four goals on six attempts so far this season—good for the fourth-highest scoring percentage in the NHL amongst players with at least six attempts.
But Bertuzzi, who was born in Sudbury Ontario (only about eight hours from Detroit and four hours from Michigan's upper peninsula), is as comfortable off of the ice as on the ice in Detroit—and so is his family.
"It's kind of like home here," Bertuzzi said.
"My kids are established at school here. My son plays for Little Caesars. My daughter plays for Belle Tire. They're my focus. I'm just fortunate that I get to play in an unbelievable situation, too, being here in Detroit. Even when practices are tough, you have fun doing it, and you like to show up and play." 
Bertuzzi has found a home in Detroit, and the fans have also found an appreciation for his game. There is no greater evidence than the fact he is being awarded with the highest honor a fan base can bestow on a single player—his own bobblehead.
And now it appears there may be more Bertuzzi bobbleheads to come in the next two years.