2012 Daytona 500: Is It Time for Jeff Gordon To Take a Stand in Daytona?
February 23, 2012

Tom Pennington/Getty Images
After a successful 2011 season, Jeff Gordon is going into 2012 with momentum and presence in the championship hunt that he hasn't had since 2007.
After struggling to win races for the last few seasons, Gordon broke through with a three win season last year.
Gordon showed aggression and was a contender throughout the season for the title. It looks pretty obvious that car owner Rick Hendrick's decision to switch crew chiefs and crews proved to be the spark Gordon needed to get back into victory land.
Gordon's crew chief, Alan Gustafson, went into the 2011 season having to prove that he belonged as a crew chief at Hendrick Motorsports.
Gustafson had a strong 2009 season with Mark Martin, winning five races. Then the team went winless in 2010 and missed the Chase.
In 2011, Gustafson took the opportunity to pair up with Gordon and they made the best of it.
While Gordon and Gustafson earned three wins during the regular season, the team struggled in the Chase and fell out of contention.
One of the things that the No. 24 car needs to improve on this season is coming to the track prepared. There were weeks where Gordon looked strong and other weeks where he simply could not keep up with the other cars.
With that, Gustafson needs to make better adjustments earlier in the race so that Gordon isn't playing catchup all weekend.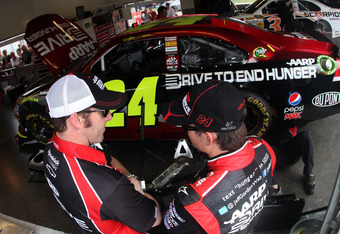 Todd Warshaw/Getty Images
That's something that will get better with time.
Going into Daytona, the No. 24 car looks strong. Gordon made a great showing during the Bud Shootout last weekend. His car was strong and he could have gotten the lead, but it went downhill when Gordon ended up on his roof towards the end of the race.
NASCAR's changes to bring pack racing back has benefited Gordon to race at Daytona like he use to.
As long as he stays out of trouble, look for Jeff Gordon to be a contender for the Daytona 500 and the Sprint Cup Series title.