Miami Basketball: Jim Larranaga's Comments Regarding Mid-Majors Upsets Many
February 23, 2012

First-year Miami coach Jim Larranaga created something of a firestorm this week with his comments regarding mid-majors and the NCAA tournament.
Larranaga, who was being asked about his team's chances for an at-large NCAA Tournament bid, said this, "I would say this, having been at the mid-major level for 25 years, and I still follow that closely, this has been a year where the non-conference performance of the high majors far exceeds what the mid-majors were able to do."
Okay, then. While Larranaga may not have meant to offend mid-major schools, he surely did. Having spent the past 14 years at George Mason, Larranaga is best remembered for taking the Patriots to the Final Four in 2006.
There was much debate in 2006 when George Mason received an at-large bid. Famed announcer Billy Packer was adamant that George Mason shouldn't have been in the tournament. Interestingly enough, where has Packer been the past several years?
George Mason's success paved the way for schools like Butler and Virginia Commonwealth (VCU) in recent seasons. George Mason was the first true mid-major to make a Final Four.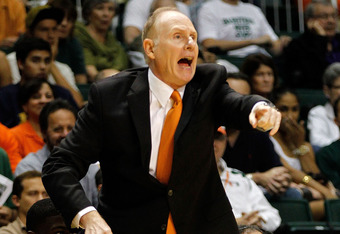 Mike Ehrmann/Getty Images
In the past five years, Larranaga has been somewhat of a voice for the mid-major schools. In 2010, the New York Times interviewed Larranaga, where he discussed the possibility of a 96-team NCAA Tournament so more mid-majors could be involved.
To the shock of many, Larranaga accepted the Miami head-coaching job in April. Larranaga leaving George Mason wasn't as much of a surprise as the timing of it. Many felt Larranaga would depart shortly after he took them to new heights, feeling his stock would never be higher. Perhaps the bright lights of the ACC were too much for Larranaga to resist.
Keep in mind, Larranaga was only speaking up for why his school should be in the NCAA tournament. But, by mentioning there should be fewer mid-majors in the tournament this year, he upset fellow coaches and the folks at George Mason.
Clearly, Larranaga's departure from George Mason was less than amicable. Otherwise, he wouldn't feel the need to make such comments. While Larranaga currently has Miami at 16-10, the Patriots aren't missing a beat under former Georgia Tech coach Paul Hewitt. As of now, George Mason is 23-6 overall and 14-2 in the Colonial Athletic Association.
It's extremely doubtful the NCAA committee will take Larranaga's comments into consideration next month when they gather for Selection Sunday. It is just as unlikely that his comments will help Miami into the Big Dance. The end-of-season RPI results will largely determine the field of 68.
What makes Larranaga's comments even more puzzling is that 12 schools that would be considered mid-majors rank among the top 35 of the RPI. His Hurricanes haven't exactly been stellar against top competition. Miami is 1-6 versus teams ranked in the RPI top 50.
With just under three weeks remaining until the Field of 68 is revealed, this will not be the last time we hear of Larranaga's comments. Much to the chagrin of Larranaga and others, the mid-majors are here to stay; and that's great for college basketball.