Alabama Football: Who Will Be the Tide's MVP in 2012?
February 23, 2012

Butch Dill/Getty Images
Alabama has a lot of standout players that will earn team, conference and national MVP honors in numerous games, yet there will be only one guy on the team that stands out so much that it becomes obvious that the team could not get by without him.
Barrett Jones was the team's MVP in their hearts last year, but it was Trent Richardson that ran away with the recognition and nearly a Heisman Trophy.   
Jones' value in 2011 was most evident as the team struggled against LSU in November 2011 after he was hurt and stopped moving the ball at will, which it did despite having no touchdowns.
The true MVP isn't always the guy with gaudy numbers, double-digit touchdowns and triple-digit tackles, but a someone that plays such a crucial part regarding all aspects of the game. 
The MVP is a game-changer, even if they are not always consistent. The MVP comes through when it counts the most. The MVP is the player the team cannot get by without, much like the Indianapolis Colts (perennial Super Bowl contenders for a over a decade) did in 2011 without Peyton Manning.
Tyrann Mathieu was LSU's MVP in 2011, even though he seemed invisible at times—especially against Alabama. But he provided the momentum changes that his team desperately needed numerous times.
Football is a team game and no program holds true to the word "team" better than Alabama does. There is no room for showboaters at the Capstone.
Here's a look at who I think are the most likely candidates to be the team's offensive and defensive MVPs of the year in 2012 in alphabetical order, though some have better chances than others.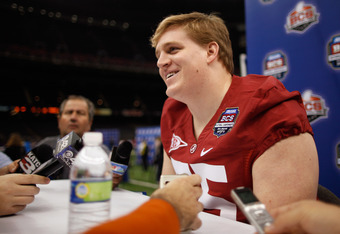 Chris Graythen/Getty Images
Offense
Demetrius Hart, Running Back, 5'8", 190 lbs.
Dee Hart has yet to play a single down for the Tide after a torn ACL last summer, but he's ready to make waves.  
He won't be the back that the coaches cram between the tackles on every other play, but he's got a shot a making some very clutch plays, especially on running back screen passes and other receptions out of the backfield. 
What could truly make him the team's offensive (I consider return duties part of the offense) MVP is his ability to return punts and kicks. I expect him to get substantial return duties and if he makes a few splash plays to save the day he could be the MVP. It's how the Honey Badger made a name for himself.
Barrett Jones, Left Tackle/Center/Right Guard, 6'5", 311 lbs.
Heisman finalist Trent Richardson ran behind Barrett Jones as often as possible last year, and his successor Eddie Lacy will look to do the same.
He played left tackle last year out of pure necessity as the Tide had a rookie quarterback in A.J. McCarron. He'll be back between the tackles in 2012.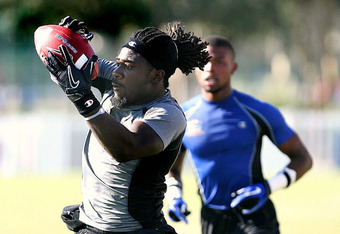 Some believe he'll be moving back to his original position at right guard, but the team has a glaring hole at center that can only be filled by Jones or an inexperienced underclassman that isn't nearly as strong as William Vlachos was when he took over at center in 2009. 
Alabama loves to pull their center to the outside on runs and screen passes and Jones can do that better than most linemen in the country, and he can also plow a hole straight through the middle for short-yardage situations that often turn into explosive plays. 
Wherever he plays, Jones will be the Tide's most important lineman in an offense that will be expected to pick up the slack for a young defense.
Eddie Lacy, Running Back, 6'1", 220 lbs.
Eddie Lacy is going to be the next starting running back for the Tide, and he's ideally built to be an every-down back. 
His ridiculous spin move had many wondering if he was better at gaining yardage than Trent Richardson was, but only time will tell if it was a valid idea or not.
'Bama relies heavily on the run, though not as much as some would think. Nevertheless, Lacy will be expected to grind it out and keep the opposing defense on the field and Tide punter Cody Mandell on the bench.
Under Nick Saban, Alabama has become a team that revolves around their running back. Lacy will be a valuable player for the team, but will he come through when it counts to be the true MVP?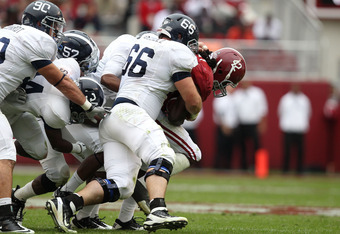 Mike Zarrilli/Getty Images
A.J. McCarron, Quarterback, 6'4", 205 lbs. 
At most schools and in most games, the quarterback is almost always the offensive MVP. Since Saban arrived at Alabama, that has not been the case. 
A.J. McCarron could change that. With a young defense, the Tide may need to play catch up at times against opponents with the leading score.
McCarron proved he was capable of this all year in 2011 and capped it off with his finest performance of the season in the national title game against LSU. 
The days of Alabama having a "game manager" under center may be temporarily over with McCarron at the helm.  
Will he become a gunslinger unlike Brett Favre (the NFL record holder for most career interceptions) and lead his team to victory with minimal turnovers?
He's looking more and more like Tom Brady every day with his arm and vibrant emotions. 
Kevin Norwood, Wide Receiver, 6'2", 193 lbs.
With muscle added from another year of training under strength and conditioning coach Scott Cochran, Kevin Norwood is very close to having a build very similar to that of two-time Biletnikoff winner Justin Blackmon.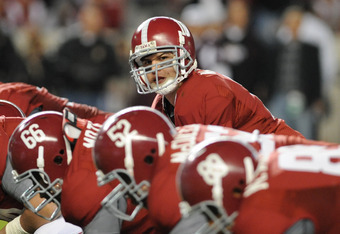 Al Messerschmidt/Getty Images
Norwood has already made a name for himself at various times in the past two years, and I believe he's the most likely candidate to become McCarron's go-to receiver. 
A.J. McCarron needs a target to make plays at long range, and if Norwood can do that at key moments, he could be that invaluable player the Tide will need next season.
Michael Williams, Tight End, 6'6", 270 lbs.
If there is one player that can make big impacts all season long and get little recognition, it's tight end Michael Williams.
He's not notorious for his receiving ability, but he has a knack for making key catches at the most unexpected moments.
On top of that, he's a monstrous run-blocker, better than some of the Tide's starting offensive linemen. 
Williams will need to to step up and haul in passes at key moments, and Eddie Lacy and the running back squad are going to need him to punish defenders and clear paths.
Williams will never get official MVP honors, but he'll play a bigger part in the team's offense than most realize.  
Defense
Nico Johnson, Middle Linebacker, 6'3", 245 lbs.
Johnson will enter the 2012 as the Tide's most valuable linebacker experience-wise. He will be called upon to maintain the Tide's trend of having a stud middle linebacker rack up close to 100 tackles.
In the Tide's system, the linebackers are expected to make all the plays while the defensive linemen manhandle multiple opposing offensive linemen. 
Nico Johnson has a full college career's worth of experience and if he can live up to the title of "starting middle linebacker at the University of Alabama" he could easily be the Tide's defensive MVP. 
What could really make him the MVP is the fact that his experience will enable him to be a key leader on the defense. Without a knowledgeable and vocal field general at middle linebacker, the defense collapses. 
Robert Lester, Safety, 6'2", 210 lbs.
Turnover machine Robert Lester has three primary duties in 2012.
First, he must be a defensive leader. Second, he must make some big plays and create turnovers. Third, and possibly most importantly, he must make certain his new wing man at free safety develops properly for future seasons. 
That man will likely be true freshman Vinnie Sunseri, and under Lester's tutelage, Vinnie is certain to be a legend in the making.
If Lester can execute all three of those duties to the letter, he'll be the Tide's defensive MVP.
DeMarcus Milliner, Cornerback, 6'1", 196 lbs.
At times, Dee Milliner has seemed overly emotional when he brings the heat, but he will be the Tide's most important—and most experienced—cornerback in 2012.  
He has had extensive playing time in his first two seasons, and the former 5-star recruit will be needed to become a true playmaker and create his very own "Milliner Island." 
Every team has a go-to receiver, and if Milliner can shut each and every one of them down throughout the season, he just might be the unsung hero and MVP.
The upcoming cornerbacks are far too inexperienced to carry the team, but Milliner is not.
Jesse Williams, Nose Tackle, 6'4", 320 lbs.
Jesse Williams played at left defensive end in 2012, but that was due to depth at nose guard and lack thereof at defensive end. 
Make no mistake, Williams will play nose guard next season. He is rumored to be the strongest player on the team now that Josh Chapman and William Vlachos are graduating, and that's what the Tide needs to anchor their defensive line.
No one, including intriguing prospect Brandon Ivory, is as capable of doing that as well as Williams. 
His job lacks the glamour and bravado of other positions, a fact that is invisible to Williams. 
He will be forced to take on double-teams and avoid the bench like the plague on every single defensive play.  
He has the muscle and the motor to produce, but he will never the recognition deserved unless he blocks two field goals like former Tide nose guard Terrence Cody did.  
Williams' success can be gauged by how beastly the linebackers perform.