Detroit Lions: 5 Players Who Need a Big 2012-13 Season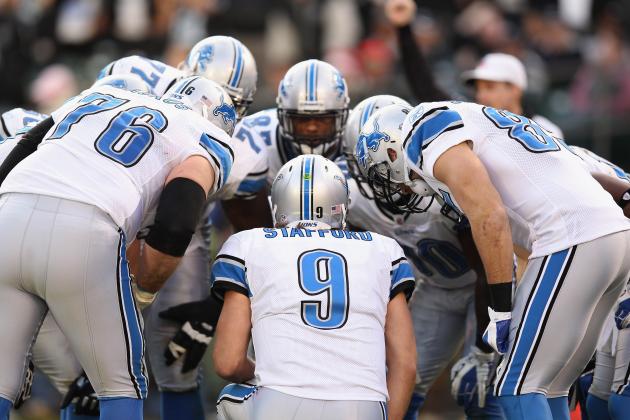 Ezra Shaw/Getty Images

The only thing more impressive than a breakout year is a follow up performance with the same product.
After a 10-6 record, and the first playoff birth since 1999, the bar for next season will be set pretty high for the Detroit Lions.
This young Lions team is on its way to rewriting the history book of this franchise. With the foundation players set, and the right leaders on and off the field, it's time for the team to take positive steps to success.
Lions such as Matthew Stafford, Calvin Johnson and Cliff Avril had star-studded campaigns last season. Stafford and Johnson will continue to be the building blocks of the franchise, but the Lions can't rely on another 5,000 yard passing season to take the next step as a team. There are still many obvious holes on offense and defense Detroit must improve to become a legit contender in the NFL.
Here are five specific players who must come up big next season to put the Lions in Super Bowl contention.
Begin Slideshow

»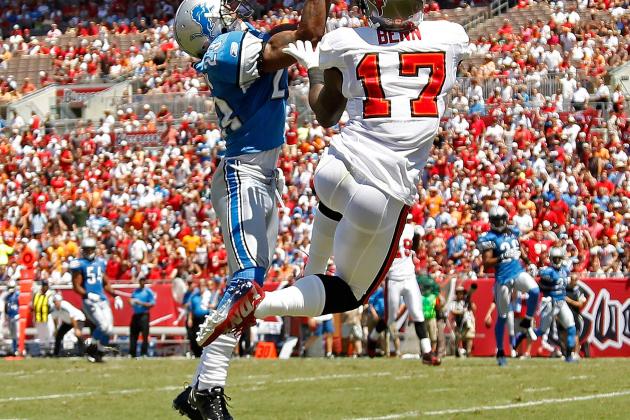 Mike Ehrmann/Getty Images

With the overall play of the secondary being far less than good this season, it's hard to applaud anybody who played in the back four. There were some bright spots earlier in the season, especially during the 5-0 start. As the year went on, and as injuries came along, plus a lack of depth and talent, the Lions showed their true colors.
Chris Houston started hot as the Lions' No. 1 cornerback playing at a Pro Bowl level. Houston recorded three interceptions in the first four games of the season. He had some typical mental lapses, but he always came up with a clutch play when the Lions needed it most. Most notably his one-handed interception vs. Dallas that helped spark a comeback win for Detroit.
Houston is as fast as any corner in the NFL, but still at times struggles with locating the ball, and missed too many open field tackles leading to bigger gains. Houston didn't miss many games, but he did spend many times during the season limping off the field unable to finish 100 percent.
Houston injured his knee against the Packers on Thanksgiving, putting him out of action for the next two games. With the secondary as shaky as it is, the Lions can't afford to have their No. 1 guy on the sideline at critical moments of every game.
Entering his contract season, Houston must right those wrongs to earn himself the contract he's capable of receiving. The Lions helped revive Houston's career when trading for him in 2010 with Atlanta. Houston's been the most consistent Lions defensive back since his arrival, but he needs to stay healthy and on the field to help improve stability in the secondary.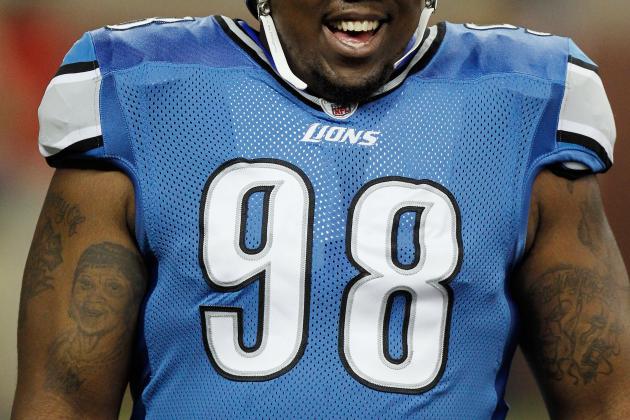 Gregory Shamus/Getty Images

Fans, coaches and analysts project a star when they see Nick Fairley as a Detroit Lion. If that's the case, the first-round defensive tackle has a lot of ground to make up, and it has to come next season.
Fairley came into the 2011 Draft as a potential No. 1 overall pick. Factors of a questionable worth ethic, a bad attitude and only one productive season in college caused his draft value to decrease. Also considering a high bust rate for first-round defensive tackles, NFL GMs became scared to death to pull the trigger on Fairley.
Defensive tackle wasn't an area of need when Martin Mayhew drafted Fairley with the 13th pick last offseason. The Lions have a star in Ndamukong Suh, a solid veteran in Corey Williams and a great role player off the bench in Sammie Lee Hill.
With glaring needs in the secondary and offensive line, and players who would've been smarter picks over Fairley (Florida guard Mike Pouncey, Colorado tackle Nate Solder, Nebraska cornerback Prince Amukamara), Mayhew took a gamble with the selection, and it must start paying off as soon as next season.
Fairley's rookie season got off to a rocky start injuring his left foot before the preseason began. The nagging injury put Fairley on the shelf for the first four regular-season games, and forced him to miss six games total.
Fairley never played to the level he's capable due to the injury and lack of chemistry with his teammates on the defensive line. With a healthy full offseason this year, he will have his chance to make up for that lost time last season.
There were signs of greatness in games such as Week 13 vs. the Saints by Fairley in Ndamukong Suh's absence due to suspension. However, there were boneheaded penalties, struggling against double-teams and a lack of production in games like Week 10 at Chicago. The Lions need the Week 13 Fairley to show up on a consistent basis.
This draft pick will either be hit or miss for the Detroit Lions. Corey Williams isn't going to retire a Lion due to his age and the depth at tackle. The defense is looking for Fairley to form a dominant one-two punch with Ndamukong Suh on the defensive line.
Inconsistency from Fairley, or serving as a role player isn't good enough based on his talent and expectations. The big man needs to show up in 2012-13.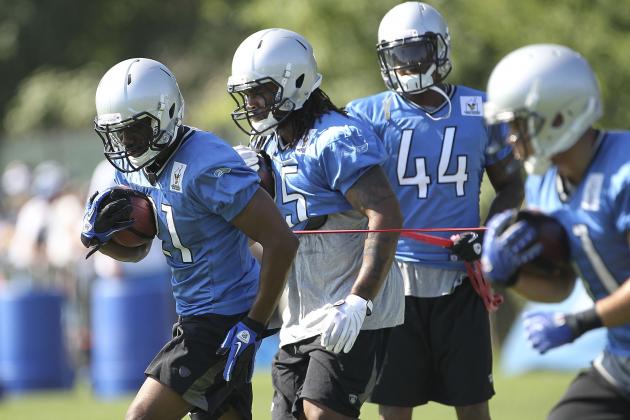 Leon Halip/Getty Images

The Lions were fifth in total yards averaging 396.1, and fifth in total points with 474 over the season. Sadly, the Lions had little help from the run game and became a one-dimensional attack relying heavily on the pass.
The offense also ranked fourth in passing yards with 300.9 per game, but the run game came up short ranking 29th in the league with 95.2 yards a game. With Matthew Stafford under center, and Calvin Johnson split out wide, the Lions will always be a pass-first offense. But they have to find some sort of production from the run game.
Next season is a very critical one for Jahvid Best and his career in the NFL. Best has missed 11 games due to injury in his first two seasons, including 10 last year. Best entered the NFL with hopes that his concussion and durability issues were behind him. They unfortunately haven't gone away as Best's production has taken a major hit due to injuries.
Expect Mikel Leshoure to become the workorse of the backfield next season, pending his health throughout training camp. Leshoure suffered one of the worst injuries for a running back by tearing his left Achilles tendon before the start of preseason, missing an entire year of action. Considering Leshoure's injury occurred so long ago last season, plus a successful surgery has given him more than enough time to heal correctly.
Martin Mayhew traded up in the second round to add Leshoure to the Lions backfield. With Jahvid Best's health becoming a major concern, he'll more than likely be used in special packages as a change-of-pace back.
Kevin Smith and Maurice Morris likely have seen their last bit of action with the Lions. Smith came in after the bye week and did as much as he could after being released last season. Smith dealt with plenty of injuries of his own bouncing in and out of the Lions lineup, and giving limited production.
Leshoure and Best will be the focal point of the Lions run game, but expect to see a good dose of Wayne State product Joique Bell next season. Jim Schwartz said the Lions had their eye on Bell during the Senior Bowl three years ago, seeing a quality back that could fit with the Lions. Bell is a tough runner, with great vision and instincts. He could be one of the bigger surprises next year for the Lions.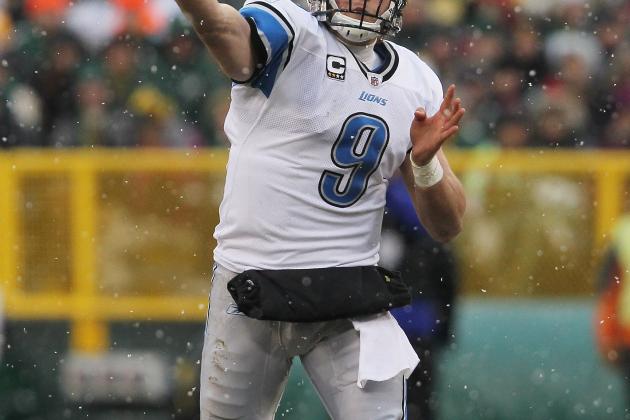 Jonathan Daniel/Getty Images

No, it's not unfair to put Matthew Stafford in this discussion.
The franchise quarterback had statistically the best season in Lions' history. Stafford threw for 5,038 yards, 41 touchdowns, a playoff birth and 10 wins, but a one-time showing isn't good enough.
Every quarterback should have a goal of not repeating the one-hit wonder career of Derek Anderson, who led the Cleveland Browns to a 10-win season and a Pro Bowl appearance. Anderson has struggled mightily since then being bounced around to the Arizona Cardinals, and currently the Carolina Panthers. Lions fans are terrified history will repeat itself with Matthew Stafford.
Stafford's numbers were a bit inflated playing in a pass-happy offense with a non-existent running game. 5,000-plus yards isn't the ideal season for Stafford to have. Luckily, he was able to take care of the football throwing only 16 interceptions on the season, including an impressive ratio of 19 touchdowns to four interceptions in the first eight games.
The Lions would like to Stafford's numbers between 4,000-4,500 yards, with around 30 TDs. With Mikel Leshoure and Jahvid Best hopefully playing healthy all next season, the Lions will become more balanced and will have less pressure on Stafford's shoulders.
If the passing game struggles next season, and Detroit falls short of the playoffs, Stafford will be the instant source of blame. No matter how the defense plays or if the running game is improved, Stafford will be the goat or the hero. In the NFL, the quarterback either gets all the blame or all the glory.
Jim Schwartz has placed the Lions franchise on the back of Matthew Stafford saying two years ago the "team will go as No. 9 (Matthew Stafford) goes". It would be a stretch to expect a repeat performance of last season by Stafford, but he will have to be a big reason for the Lions' quest to progression again, and again.
With a more balanced offense with the running game, and maybe an upgrade among the offensive line, the Lions QB should be good enough to get the job done again next season.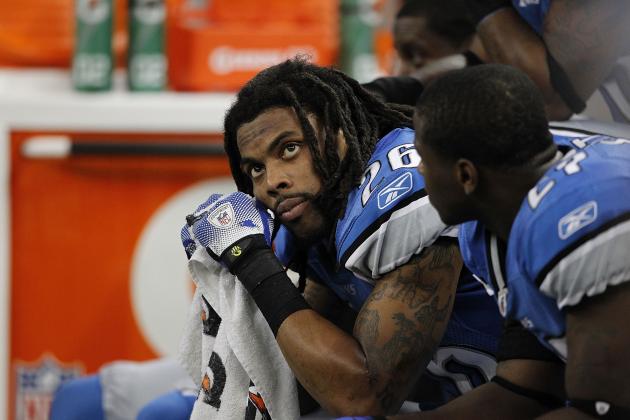 Leon Halip/Getty Images

This picture is a brief illustration of what Lions fans are used to seeing, Louis Delmas spending more time on the sideline than the field.
Fans and coaches have crowned the 2009 second-round free safety as the heart and soul of the Lions defense. If that's the case, that's not a great sign for the team, and a change needs to be made as soon as possible.
No way is that a suggestion of replacing Delmas as the Lions free safety. Delmas is without question an elite talent, and plays at a top end speed when flying to the ball. He's as vocal as anybody on the team, and makes everybody else around him better, especially in the secondary.
In the beginning of the season with Delmas in the lineup, the Lions were top 10 against the pass defensively. After injuring his knee on Thanksgiving against the Packers, Delmas missed the last five games of the season. The secondary played horrid finishing 22nd against the pass.
Delmas played all of 2010 with a groin injury. Health and durability has yet to be on his side so far in his three-year career. Delmas draws some less tragic Bob Sanders comparisons, extremely talented, but consistently struggles to stay healthy.
With all that being said, Delmas has to play better. Delmas time after time catches himself out of position taking a bad angle to a ball carrier, or missing a tackle going for the home-run hit instead of wrapping up and getting the sure tackle. Delmas also has lacked in creating turnovers only recording two interceptions and two forced fumbles with the Lions.
With Calvin Johnson being the main talk of players in their contract year, people easily forget that Delmas' contract expires after the 2012-13 season. The coaches love Delmas' energy and potential, which helps his case in that situation but his play will ultimately decide his fate. The defense goes as Delmas goes, they need him healthy and productive next season in hopes to move forward as a team.