NBA Rumors: Denver Nuggets, Don't Match Toronto Raptors for RFA Wilson Chandler
February 23, 2012

Marc Serota/Getty Images
The last NBA player to comeback from China is good…but he's not that good.
Wilson Chandler is a restricted free agent of the Denver Nuggets and has the opportunity to sign with another team, but his current team has the ability to match any offers.
Chandler was seen in the GM's suite for Monday's 103-101 OT win over the Memphis Grizzles and told Aaron Lopez of NBA.com that he would love a new deal with the Nuggets:
I like being in Denver. It's a great team, a great young team. They're playing hard. The injuries have been tough, but it's still a pretty good team. I'm looking forward to being back. 
Nuggets executive vice president of basketball operations Masai Ujiri went as far as to say "I hope we get him back."
So then what could the holdup be for the 24-year-old to return? Other suitors like the Toronto Raptors. Sports Illustrated's Sam Amick reports that Chandler went to Toronto for a visit on Wednesday:
Wilson Chandler is visiting Toronto to discuss a possible pairing with the Raptors, according to his agent, Chris Luchey.

—Sam Amick (@sam_amick) February 22, 2012
 The 6'8'', 225-pound Chandler has averaged 13.9 points and 5.3 rebounds a game while providing strong defense in his four seasons in the league. He is a terrific fourth or fifth starter on a championship contender…but he isn't an essential commodity. He is a luxury.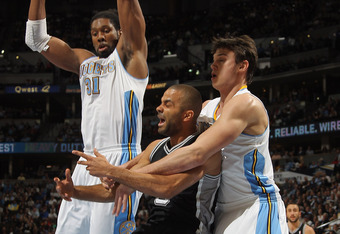 Doug Pensinger/Getty Images
His shooting percentage is 45; he isn't a playmaker and isn't exactly a unique service in the NBA. The Nuggets are already 10 players deep and don't have a ton of minutes for him unless they make a trade (Chris Anderson?) before the March 15 deadline.
The Nuggets are currently in the midst of a 4-10 skid as Nene, Danilo Gallinari, Ty Lawon and Rudy Fernandez nurse various ailments and need Chandler right this second.
But Chandler still hasn't been granted his release from the Zhejiang Lions and likely won't be able to play for at least another one or two weeks if not longer.
On the Raptors, Chandler could instantly start and play 35 minutes a game, but his role in Denver would be nothing more than something in the 10 point, three rebound neighborhood.
That's not worth a multi-year deal worth $8 million per season.
Unless the Raptors are just bluffing and the Nuggets can sign him for a low-risk deal for the rest of the season, Chandler isn't the guy to save The Mile High City. There is no need to further tie up the payroll after already giving big money to Gallinari, Nene and Arron Afflalo in the offseason.
It's no secret they need a star, somebody that can take and make the final shot with the game on the line. Right now it's an Achilles' heel that Chandler won't be able to fix. Denver needs to save up now and figure out how to acquire one.
In the NBA, it's all about stars and having one with three good role players beats having seven capable starters.