Mike Stanton, Bryce Harper and Other Players Who May Have a Breakout Season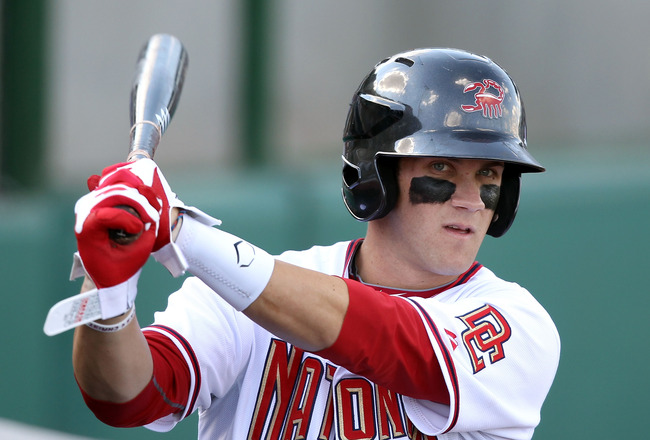 Christian Petersen/Getty Images
Every year there are a ton of young players who are waiting to be crowned the future superstars of baseball. Not all of them reach that peak. The ones who do will be on covers of magazines, video games, commercials and cereal boxes. However, to do that, they must have a breakout season that sets them apart from their peers.
Spring Training is the launching pad for those types of seasons. Some of these players have never been in the Majors and some others have been there for a little while. The Spring Training of 2012 will be the time when we see boys become men. This is my predictions of who will have a breakout season this year.
Jesus Montero-Catcher/Designated Hitter-Seattle Mariners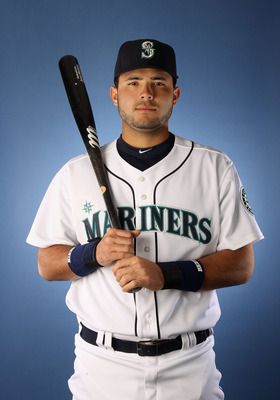 Christian Petersen/Getty Images
Jesus Montero was toiling in the Yankees Minor League system for a couple of years. Not because he couldn't hit; according to scouts, his bat has been Major League ready for over two years. It has been his less than stellar defense at catcher that has kept Montero out of the Majors. When he was called up last year by the Yankees, he did quite a bit of damage in the very little playing time he saw.
He had four home runs, drove in 12 men and hit .328 in just 28 games. He was traded to Seattle for Michael Pineda in the offseason. At just 22 years old, Montero is too young to DH, so the Mariners may have to put up with his defensive issues for now.
Mike Stanton-Outfielder-Miami Marlins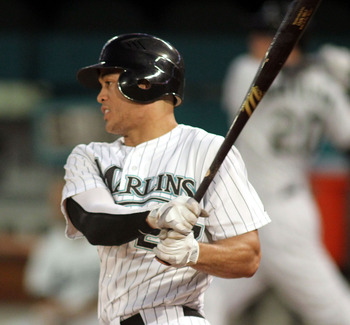 Marc Serota/Getty Images
Mike Stanton isn't even 25 yet, but he has already become one of the National Leagues best power hitters. In just two seasons, he has hit 56 home runs and driven in 146 men. In 2011, he improved dramatically when he hit 34 home runs good for fourth in the NL. According to HomeRunTracker online, the average distance of Stanton's home runs was 416.6 feet. They also said of those 34 home runs, 15 of them were no doubters, which was the most in the Majors. If Stanton stays healthy, he has nowhere else to go but up.
Jay Bruce-Outfielder-Cincinatti Reds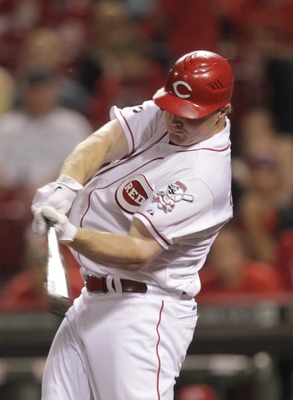 John Sommers II/Getty Images
Bruce has hit at least 20 home runs every year he has been in the Majors. His best season offensively came last year when he hit 32 home runs and had 97 RBIs. He was also elected to his first All-Star team last year, as well. What makes Bruce so promising is that his home runs and RBIs have increased every year. Can Bruce hit 40 homers this year? Only time will tell, but it wouldn't surprise me if he did.
Bryce Harper-Outfielder-Washington Nationals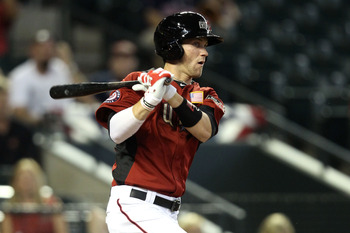 Christian Petersen/Getty Images
The way some scouts have been talking about Bryce Harper, you think they were talking about the Second Coming. Harper may not be the Second Coming, but he and starting pitcher Stephen Strasburg just might be the saviors of the Nationals franchise.
Harper maybe very talented, but he has been a bit immature at times. In a game last year, Harper blew a kiss to a pitcher after he hit a home run off of him. If Harper does that at the Major League level, he'll become a target for pitchers. Some people have speculated that Harper will make it to the big leagues right out of Spring Training this year, but I doubt that will happen. He just might be called up in September though; but there's still the outside chance the Harper could be called up in the summer.
Buster Posey-Catcher-San Francisco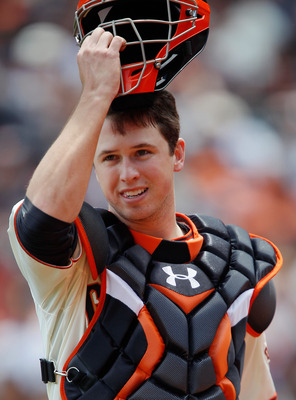 Brian Bahr/Getty Images
The 2010 Rookie of the Year had his 2011 season cut short after a brutal collision at home plate left him with a broken fibula and torn ligaments in his ankle. Buster Posey looks to bounce back in a big way in the 2012 year. Last year the Giants could not give a lot of offensive support to their pitchers. Because of that, they missed the playoffs, and the Arizona Diamondbacks won the NL West. Posey will give extra offensive support for Giants pitchers and will form a unique one-two punch combo with Pablo Sandoval.
Neftali Feliz-Starting Pitcher-Texas Rangers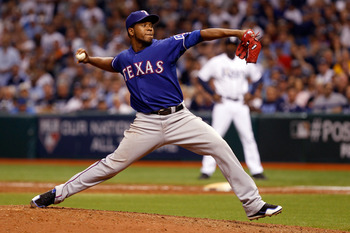 Mike Ehrmann/Getty Images
After dominating as a closer in the American League, Feliz was moved to the starting rotation by Rangers management. The Rangers and Feliz are hoping he carries his success as a closer to the starting rotation. The Rangers are in the need of an ace after C.J. Wilson signed with the Angels in the offseason. If Feliz is effective, then the Rangers will be headed to the playoffs once again.
Trevor Cahill-Starting Pitcher-Arizona Diamondbacks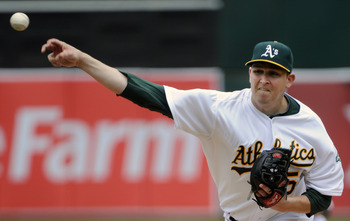 Thearon W. Henderson/Getty Images
Sinkerballer Trevor Cahill will make his debut with the Diamondbacks this year, after spending his first three years in Oakland. In 2010, Cahill won 18 games and posted and ERA under 3.00. In 2011, he slipped up a bit and posted and ERA above 4.00. That didn't stop the Diamondbacks from acquiring him in the offseason. Cahill will probably be start behind Ian Kennedy who won 21 games last year. Cahill should be a very good pitcher for years to come. It's a shame Oakland couldn't hold on to him.
Mark Trumbo-Infielder-Los Angeles Angels of Anaheim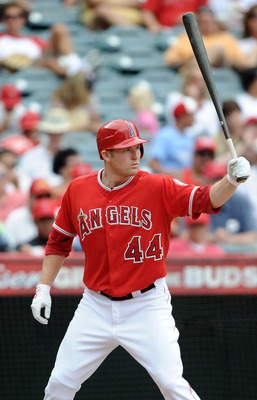 Harry How/Getty Images
After leading his team in home runs and RBIs as a rookie, Trumbo finds himself in an interesting position. Trumbo played first base last year, and if you can recall, the Angels signed Albert Pujols who is a first baseman. After being the best power threat on his team, Trumbo now has to compete for a third base job. If Trumbo can maintain his power stroke from last year, he should have the position with no problem.
Adam Dunn-Designated Hitter-Chicago White Sox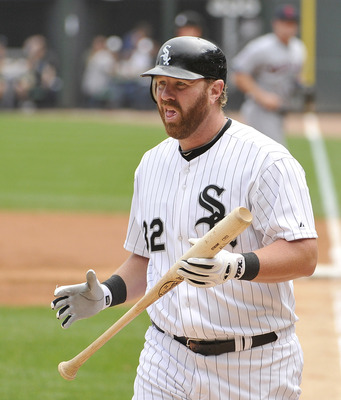 Brian Kersey/Getty Images
This may seem like a bit of a curveball but Adam Dunn really needs to prove he's worth that four year $56 million contract, and hitting .159 isn't exactly giving the White Sox their money's worth. Dunn needs to get off to a hot start this year if he intends on quieting any critics. If he doesn't, then the baseball press's criticism of Dunn's performance will get even uglier.
Andrew McCutchen-Center Fielder-Pittsburgh Pirates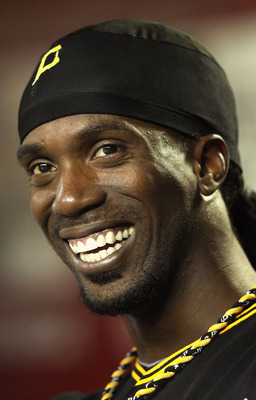 Christian Petersen/Getty Images
McCutchen hit 23 home runs and stole 23 bases last year. McCutchen also became an All-Star for the first time as well. Can he increase that total and become a 30-30 player? Its a safe bet he can do that as he is a perfect combination of speed and power. If McCutchen increases his batting average as well, he'll be one of the most intimidating players in the game.
That's all folks. If you have any suggestions for players who'll have a breakout year; leave a comment in the section below. I'll try to respond to them as quickly as I can.
Keep Reading