NBA All-Star Weekend 2012: Underappreciated Stars That Will Shine in Orlando
February 22, 2012

Kevork Djansezian/Getty Images
7:00 P.M. Eastern Time, TNT will stream the 2012 NBA All-Star game live from Orlando, Florida. This will be the cherry topping to an ice cream that is the weekend of NBA All-Star Festivities: A weekend that will hopefully provide flashy thrills and the best of skills in an atmosphere that's very tropical (that last "ill" sound doesn't really come off as I intended, and for that I apologize).
Yes, this All-Star game should be a great time for the players (who will reside just outside of Disney World) and fans alike. The players are grateful that not only have they received an opportunity to put on a lop-sided offensive show on a silver platter, but some of the players will have the opportunity to show off their basketball capabilities to a larger market (that being, the entire nation).
Players that have been cyber hand-picked out of horrid markets like New Jersey, Portland and Minneapolis will be able to display their game on a national level and hopefully collect some appreciation to rid themselves of "sleeper" status.
Here are some of those unforeseen stars that will establish a bolder name for themselves in Orlando:
LaMarcus Aldridge, F - Portland Trailblazers
The 6'11", 240-pound mammoth quietly spots 22.3 points on a nightly basis in the city of Portland. He scores more than any other power forward in the Eastern conference on average and is the highest-scoring power forward in the league that isn't named Kevin Love. He's the sixth most efficient player in the league (he holds a 23.2 efficiency rating, according to NBA.com), which is more than Pau Gasol, Marc Gasol, David Lee and Josh Smith.
He also contributes 8.3 RPG for the Trailblazers and is 26 years old. Unfortunately, due to the lack of TTP caliber production (Top Ten Play), his well-deserving play goes unnoticed by many. Plus, Portland isn't exactly a mecca of basketball.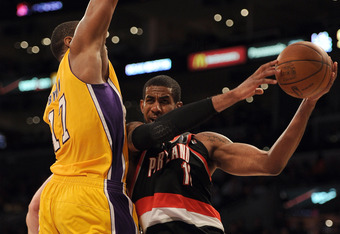 Harry How/Getty Images
Deron Williams, G - New Jersey (Can't Wait 'til it's Brooklyn) Nets
In the midst of Linsanity that has temporarily blinded basketball fans across the globe, D-Will is a cool cat that has gone unnoticed as of late. Sure, he has wowed us in the past in his years under Jerry Sloan in Utah, but this year, he has quietly tacked 22.2 PPG on jumbotrons across the nation.
Williams also calmly shoots above 85 percent from the free throw line. His assists numbers have declined compared to years past as he has averaged just over eight assists a game, but who could blame him? He plays for the New Jersey Nets! Who should he going to dish to? Johan Petro? Please.
Steve Nash, G - Phoenix Suns
Sweet damn, how does this man still play at a higher caliber than youngsters like John Wall, Tyreke Evans and Kyle Lowry? Nash, a 180-pounder at 38 years of age and 15 NBA seasons tolled onto his body still manages to lead the league in assists with 11.0 a game.
He does this with a supporting cast that includes Jared Dudley and Channing Frye. Their best scorer on the team? Marcin Gortat. Really Phoenix? You're going to surround the two-time MVP/face-of-the-franchise (that unfortunately, has no rings to show for it) with Frye, Dudley and Gortat as the best viable scoring options? Oh yeah Phoenix! Channing Frye's 9.3 PPG are straight gaudy!
But back to the main point here, although Steve Nash is relatively a household name, people have seemingly dismissed his game over time to an extent because of age-profiling. Don't. The dude's biological clock just keeps going and going and...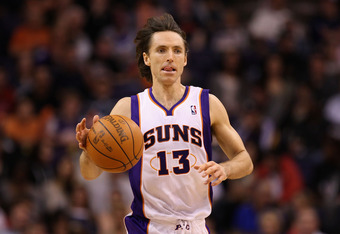 Christian Petersen/Getty Images
Kevin Love, F - Minnesota Timberwolves
"What are you crazy Nick Ambolino? How can you say that Kevin Love is underappreciated Nick Ambolino? He's the best rebounder in the western conference Nick Ambolino! How can he be under appreciated Nick Ambolino?!"
And look, all 382,578 people inhabiting Minneapolis (as the 48th most populated city in the U.S. Ouch), I hear you. I understand you have the privilege of witnessing Kevin Love compete night after night, but the rest of America doesn't necessarily tune into Minnesota Sports.
And, in our nation, flashy dunks and supernatural abilities are what collect recognition. That's the single reason why Blake Griffin is starting over Kevin Love in the first place, despite the fact that Kevin Love gathers more rebounds, outputs more points, has a better jump shot (that we'll witness in this season's three-point competition) and is the second most efficient player in the NBA (only behind Lebron, Love has a 28.8 efficiency rating).
One statistic that Griffin has out-performed Love in is dunks. Interpret it any way you want America, but in the words of Michael Smith of ESPN, "Numbers Never Lie." America, we screwed it up this time. Blake Griffin should not be starting on this Sunday at Orlando. Even with past POSTERizations on Kendrick Perkins, and Timofey Mozgov, he doesn't deserve to start.
I know I'll be tuned into Chuck, Shaq and the gang this Sunday. Hopefully, all you readers (thanks, by the way, for ya' know, reading) will tune into TNT this Sunday as well and realize some of the talents these guys have that we have all maybe taken for granted, or haven't really noticed until then.