Since the end of the Steelers' season, we have heard countless times how much trouble they are in based on their salary cap.
Most reports estimated that the salary cap wasn't going to change much, so it was estimated that the Steelers would be in the neighborhood of $25 million over the spending limit.
The Steelers have made quite a few roster moves and have dropped that number significantly over the last few weeks.
To start, the Steelers restructured two contracts they signed last year, with arguably two of the most important players on the defense, LaMarr Woodley and Lawrence Timmons.
Woodley and Timmons agreed to simple restructures, which is really giving them their entire yearly salary, minus the league minimum, as a signing bonus which spreads the total amount over the remaining years of the contract.
With these two moves, the Steelers trimmed a total of $11.7 million from that $25 million number, bringing the total to $12.3 million over the cap.
Next, they did another restructure with Ike Taylor, also another contract they signed last offseason, which cleared up another $3.28 million, bringing the total down to about $9 million over the cap.
They aren't done yet, doing even another simple restructure with Willie Colon, which brings the Steelers a cap savings of another $3 million, bringing the total down to $6 million.
In addition to that, the Steelers have released Arnaz Battle and Bryant McFadden. Bringing the total over the cap money down another $3.5 million and bringing the total over the cap down to around $2.5 million.
Ezra Shaw/Getty Images
Still room to move.
With two other highly paid players on the Steelers already saying they would agree to the simple restructure, both Ben Roethlisberger and James Harrison, the Steelers will be able to easily get under the salary cap before the start of the league year in March.
Roethlisberger, who is set to make $11.6 million this year, would provide the Steelers with nearly $5 million in cap relief by a simple restructure. Harrison, who is scheduled to make just over $5.5 million, could reduce his cap number by around $3 million.
Those two moves, would not only put the Steelers roughly $5 million under the cap, but it would do so with the only people from last year's team to be released are Battle, who was a special teams player and McFadden, who never saw the field after he was outplayed by Keenan Lewis.
The Steelers still have decisions to make, namely which older players are they going to keep around, and which ones are they going to show the door.
Hines Ward, who is slated to earn $4 million this year, is trying to convince everyone that he is still wanting to stay in Pittsburgh, and is willing to take a pay cut to get there. If he is wanting anything over league minimum, then he simply isn't worth it.
Don't believe me? If you take the $5 million under the cap the Steelers could be (Roethlisberger and Harrison simple restructures) and the $4 million Hines Ward is due, you would only need another $250,000 to be able to put the franchise tag on Mike Wallace.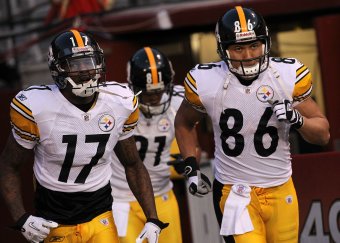 Karl Walter/Getty Images
Then we have the James Farrior/Larry Foote debate. Farrior is due $2.83 million, and Foote is due $3 million.
Some may argue that neither of them are worth that kind of money, and BOTH could end up released. I think the Steelers will keep one of them, either way, clearing up another $3 million.
Aaron Smith is as good as gone, which frees up another $2.1 million, and Chris Kemoeatu would free up another $3.5 million. That is a total of $5.6 million more.
Casey Hampton is also due to make close to $5 million next year, and coming off his ACL injury, odds are, he will not be on the Steelers next year.
What this means is the Steelers need to make the following moves:
Simple restructures for Roethlisberger and Harrison: plus-$8 million
Release Hines Wars: plus-$4 million
Release James Farrior: plus-$3 million
Release Aaron Smith: plus-$2 million
Release Larry Foote: plus-$3 million
Release Casey Hampton: plus-$5 million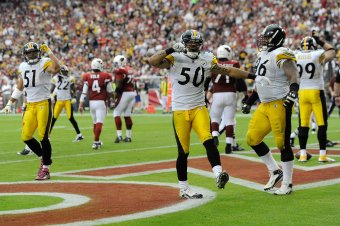 Karl Walter/Getty Images
Release Chris Kemoeatu: plus-$4 million
That is a total of $29 million, while we are currently $5 million over the cap. That would bring Pittsburgh to plus-$24 million.
And what does Pittsburgh lose to get to these numbers?
Ward: The team's fourth WR option
Farrior: Liability on defense; his best days are behind him
Smith: Injury has ended his last three seasons.
Foote: Depth only
Hampton: Injured and won't be playing anyway
Kemoeatu: Save about four penalties per game and about two sacks a game as well
NONE of these moves hurt the Steelers, and ALL of them help.
What to do with that money? Simple.
Franchise Mike Wallace. Sign him to a contract similar to what Santonio Holmes signed—a five-year, $50 million, $25 million guaranteed. His base salary in 2012 would be near league minimum (due to signing bonus), but his take home this year would be $10 million, with only $3 million against the cap.
This leaves the Steelers at $21 million.
Suddenly, all of those nightmares don't seem that bad, do they?
UPDATE: According to Ed Bouchette of the The Pittsburgh Post-Gazette, Ben Roethlisberger has restructured his contract, giving the Steelers an additional $8 million in cap savings.