New York Mets: Ranking Sandy Alderson's 10 Most Hilarious Tweets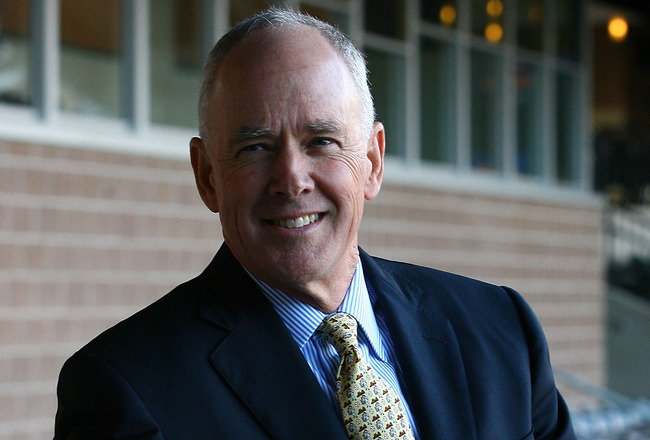 Andrew Burton/Getty Images
Ever since he created his Twitter account, Mets general manager Sandy Alderson has been creating headlines for himself through this unique and creative tweets. He has been tweeting since early February, but it seems that with time, Alderson will become more and more active with the website.
Alderson created his account to keep in touch with Mets fans everywhere and to provide a direct form of breaking news to those devoted Mets fans. He will also get on periodically to answer questions from fans.
Here are Alderson's 10 best tweets—so far.
10. Can't Decide on Valentine's Day Gift for My Wife: Spa Day or IHOP Gift Card?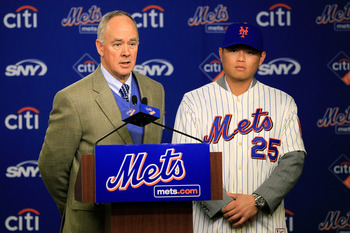 Chris Trotman/Getty Images
Some people probably found it funny that Alderson was having trouble coming up with a Valentine's Day gift for his wife. Usually, most people would keep those kinds of topics to themselves or within their families, but it seems as if Alderson was trying to gauge the public's opinion on which gift would be better.
To follow up, Alderson made the following tweet on Valentine's Day:
"Wife was not happy with the gift card. Should've bought her a box of chocolates."
Again, not too many people would even be willing to share such information about their personal lives, but Alderson apparently is not too concerned with giving out such knowledge. Some may have found these tweets to be amusing, while others may not have cared, or may have thought it was silly for him to make those tweets in the first place, but the quirkiness itself is what really makes this funnier than it actually is.
9. For Those of You Who Asked: Here's a Picture of Buddy Relaxing in Back Seat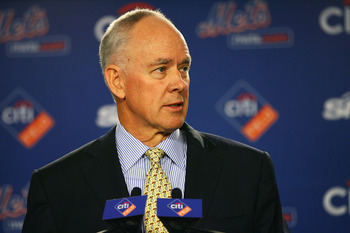 Andrew Burton/Getty Images
It's simply funny that some Mets fans are curious enough to ask Alderson to post a picture of his dog, as if the dog itself presents some sort of significance to the Mets.
This is one of those tweets that are funny because of how irrelevant they are to the Mets themselves. It's a nice gesture for Alderson to post the picture upon the requests of the fans, but Alderson should honestly just stick to taking care of business as a general manager.
Alderson needs to present to the fans the image that he is always on the job trying to turn the Mets into World Series champions. A perception of him not taking his job seriously enough could become damaging to the reputation he has with Mets fans.
8. Busy Day Driving Yesterday. Got to NC Last Night.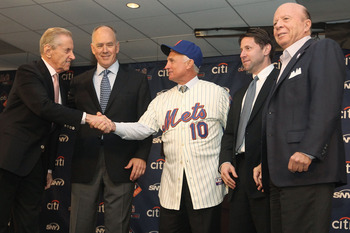 Chris McGrath/Getty Images
There is only so much space in each title and the entire tweet could not fit so here is the entire tweet:
"Busy day driving yesterday. Got to NC last night. Buddy must've enjoyed riding on the ski rack, because he didn't say anything."
It's nice that Alderson was updating everyone on his travels during his trip, but it really was not necessary for Mets fans to know all these irrelevant details. Furthermore, why is a dog riding on the ski rack? It's funny that Alderson even thought of doing this, but it also sounds cruel and demeaning to the dog itself.
The remark that Buddy "didn't say anything" illustrates this point even more, which shows how Alderson may not have wanted to bring the dog, but did so just Buddy wasn't lonely while he was in Florida for spring training.
7. After Talking with Seamus, Buddy Says He's Done with the Ski Rack.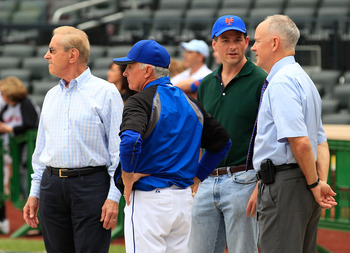 Paul Bereswill/Getty Images
Again, the full tweet couldn't fit into the title, so here is the full tweet:
"After talking with Seamus, Buddy says he's done with the ski rack. Will make room for him in the trunk."
As funny as this may sound in a weird way, there are two things that don't really make any sense with this tweet—first, who is Seamus? No one had ever heard of this Seamus person or creature, and no explanation was given previously.
Second, it's bad enough that a dog was riding on top of the ski rack. And Alderson then decides to put the dog in the trunk? That's just very cruel, and it's amazing that the animal cruelty organizations have not responded to Alderson's tweets. This is the kind of information that Alderson should never share because it could get him in serious trouble.
6. Should Be in PSL Tonight. Looking Forward to Seeing TC & Crew Tomorrow.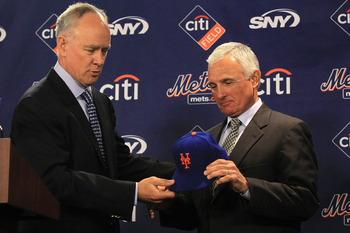 Chris McGrath/Getty Images
Here is the full tweet:
"Should be in PSL tonight. Looking forward to seeing TC & crew tomorrow. Buddy is riding comfortably in the backseat as he has the whole trip."
This tweet may be a bit more relevant to the Mets themselves, but the comment he made there about his dog, Buddy is really funny. First, he says Buddy was on the ski rack, and then put into the trunk. And now he says that Buddy was in the backseat of his car for the entire trip? Either something is missing, or this does not make any sense at all. Many viewers may have gotten very confused over this issue because of how contradicting this tweet is compared to the other tweets he made.
5. Getting Ready for Spring Training: Driving to FL but Haven't Left Yet.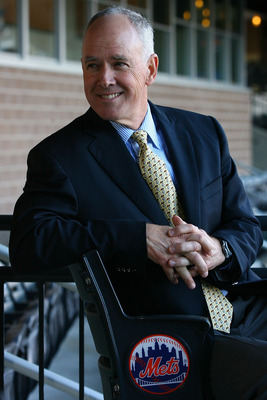 Andrew Burton/Getty Images
Here is the full tweet:
"Getting ready for Spring Training-Driving to FL but haven't left yet. Big fundraiser tonight for gas money. Also exploring PAC contribution."
This was Alderson's first ever tweet back on February 9. It seems like Alderson was exploring Twitter and getting to know the whole system and what not.
This was also the first of a few posts he has made about gas money, and how it relates to both the Mets and the current American economy. As a result, everyone could relate to this tweet because of the way gas prices have skyrocketed in recent years.
4. We're Driving to St. Lucie Because Our Dog (Buddy) Doesn't Like to Fly.
Chris McGrath/Getty Images
"We're driving to St. Lucie because our dog (Buddy) doesn't like to fly. His complaint: Where I sit, no lights and no stews."
This is a nice tweet from Alderson, despite some of the controversial statements he made about his dog in later tweets. It could also be a message that he is trying to save money by driving instead of flying. This is definitely one of the more amusing tweets made by Alderson.
3. Will Have to Drive Carefully on Trip.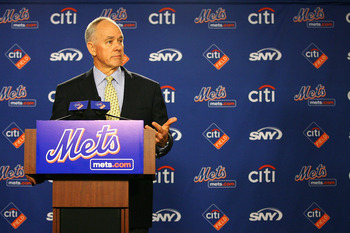 Andrew Burton/Getty Images
The full tweet is as follows:
"Will have to drive carefully on trip; Mets only reimburse for gas at a downhill rate. Will try to coast all the way to FL."
This tweet is somewhat of a follow up to the previous tweet that was ranked on this slideshow. Again, Alderson was poking fun at the Mets being rather stingy for gas reimbursements. After all, Alderson is the Mets' general manager, so it would only make sense if he got full reimbursements for the great job he has been doing, right?
2. Prepping for Trip. Bought 4 Like-New Tires at Chop Shop Across from Citi.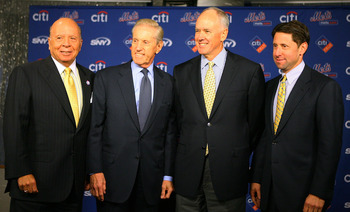 Andrew Burton/Getty Images
Here is the full tweet:
"Prepping for trip. Bought 4 like-new tires at chop shop across from Citi. He threw in free wiper fluid. Better than the Wheeler deal!"
This is one of his Alderson's best tweets so far because he acknowledges he did a great job with the Zack Wheeler trade, which is very true. Furthermore, it's funny that he states that he values the wiper fluid more than the Wheeler deal. The tweet was designed to be funny and it was.
1. Inspired by Jose and Joba, Got a Haircut for Charity.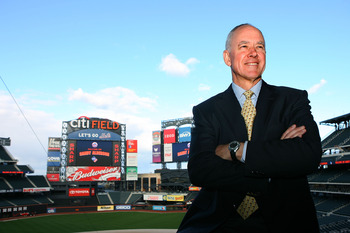 Andrew Burton/Getty Images
The number one tweet is:
"Inspired by Jose and Joba, got a haircut for charity, but @MLBNetwork wasn't interested. Barber 'donated' clippings to trash can on 84th Street."
This has been by far Alderson's best tweet because it poked fun at the widely publicized haircut former Met Jose Reyes got on the MLB Network set on live TV. The funny thing about this is that Alderson is clearly balding and most likely did not have that much hair to cut off, compared to Reyes, who had been growing dreadlocks since 2007.
Reyes' hair went to charity, but because Alderson had shorter gray clippings, they would not have been as popular as Reyes' long black dreadlocks. Thus, the trash can was exactly where Alderson's hair belonged, and he made a great joke out of it.
Keep Reading

New York Mets: Like this team?