NHL Trade Rumors: Where Will Roman Hamrlik End Up?
February 22, 2012

Justin K. Aller/Getty Images
Earlier this morning, rumors regarding the availability of Washington's Roman Hamrlik surfaced, suggesting that general manager George McPhee and the Capitals have become somewhat of a seller in the days leading up to the trade deadline.  
Over the summer, Hamrlik was signed to a two-year, $7 million deal and was supposed to bring stability to a Capitals blue line that was light on postseason experience. Instead, Hamrlik has been one of the Caps' most inconsistent and unreliable players on the back end, even being relegated to the press box as a healthy scratch on some nights.  
If the Caps are indeed attempting to move the 37-year-old rearguard, it signals an admission of fault on the part of McPhee, who now realizes he overpaid for the services of an aging defenseman who appears to be increasingly limited in the mobility department.  
Assuming McPhee is intent on parting ways with Hamrlik, who is on pace on for the worst offensive season of his career, there are a number of potential suitors in the market for a defensive defenseman. 
One possibility is the St. Louis Blues, who have reportedly been scouring the market for a stay-at-homer, but the remaining year on Hamrlik's contract worth $3.5 million is an expensive price tag for a player who isn't likely to play 20 minutes on a nightly basis.  
While the Blues do have the cap space to absorb Hamrlik's deal, it'd still be somewhat surprising if the Capitals were able to find a team willing to take on his cap hit without sending a player back in return.  
What remains unclear is what the Caps are hoping to receive in exchange for Hamrlik, as a number of other teams have been getting good value for veteran defensemen. Nashville parted ways with Blake Geoffrion and a second-round pick in order to get Hal Gill; Pavel Kubina fetched Tampa Bay prospect Jon Kalinski, a second-round pick and a fourth-rounder.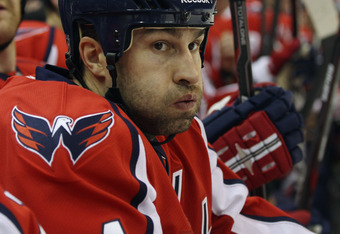 Bruce Bennett/Getty Images
Though Hamrlik has certainly underperformed this season, the Caps must be thinking that if Kubina and Gill each brought back returns of at least a prospect and a second-rounder, Hamrlik should be worth at least that to another team.  
Another club that could be interested in bringing in the former Olympic gold medal Winner and three-time All-Star is the New Jersey Devils. The Devils, currently without Adam Larsson and Henrik Tallinder and Kurtis Foster on the back end, have been linked to Johnny Oduya, but if the Jets are asking too much in return for the Swedish Olympian, they have the cap space to bring in an expensive veteran like Hamrlik.  
If New Jersey or St. Louis aren't interested in Hamrlik, one more general manager that may inquire about his availability is Peter Chiarelli, as the Bruins have just six defensemen on the roster with more than 10 games of NHL experience, which doesn't leave Boston with any margin for error if one of their top six goes down with an injury.  
At this stage, McPhee realizes that if the Caps are going to make the playoffs, it's unlikely that Hamrlik will play any kind of leading role in the process, which is why he's being scratched from tonight's game against Ottawa.  
Going forward, if the Caps get the kind of offers they're looking for, which will probably include a second-round pick and a mid-level prospect, Hamrlik will be on his way out of Washington prior to the Feb. 27 trade deadline.