NHL Trade Rumors: Zach Parise to Minnesota Wild Could Remind Fans of Gaborik
February 22, 2012

Bruce Bennett/Getty Images
Sunday, as one of the Hockey Day in America premier games on NBC, the Boston Bruins visited the Minnesota Wild. In the national spotlight, the Wild, led by goalie Niklas Backstrom had one of their best games of the season, collectively.
Backstrom, the embattled net-minder had a career-high 48 saves en route to a stunning 2-0 win over the reigning Stanley Cup Champions at home in St Paul. Wild fans were no doubt wondering where this level of performance had been all season, and why he chose to showcase his enigmatic talent on this big stage against one of the most complete teams in the league.
Keep in mind that for whatever reason, according to NBC Sports, Minnesota boasts a 9-1-1 record against them all time.
If you watched the game, you no doubt saw the second intermission piece on famed hockey powerhouse prep school, Shattuck-St. Mary's, in Faribault, Minnesota. Home to many NHL alumni such as Sidney Crosby, Ty Conklin, Jonathan Toews and Joe Corvo, as well as former actor Marlon Brando. But the alum most Minnesota Wild fans have had their eyes on for years is unrestricted-free-agent-to-be Zach Parise, who for whatever reason, still hasn't signed a long term extension with the New Jersey Devils.
The longer this bizarre dance goes on, the most hope and faith the Wild will have of actually bringing his elite services back home where they belong. Parise, whose father played in the 1970's for the old Minnesota North Stars, is a Minneapolis native and played junior hockey for the Elk River Elks, as he grew up in Elk River, home to many former NHLers.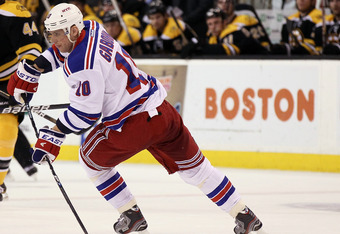 Elsa/Getty Images
These facts, combined with the fact he already spends his summers in Minnesota and recently bought a house—that we were told immediately to "not think anything of"—all contribute to the overwhelming rationale that Parise could soon be coming home when he hits free agency July 1, a date most Wild fans circle on calendars and have memorized by heart.
Parise could be the second coming of Marian Gaborik
Now, this is not the first time I've written on the hopeful reunion of Parise back home.. Many fans just expect it. Others like me know it would be a perfect fit. I know I've used this "Gaborik=Parise" parallel before with Dany Heatley, who has so far been an extreme disappointment after so much initial hype.
But in Parise's case, he's a home-state kid whose presence would sell tickets and get Xcel Energy Center's vibes back to the early days of the franchise where they sold out games on a nightly basis for seven consecutive years.
Is Parise a superstar like Gaborik is? No. Despite his medal-winning fame and Olympic credentials, along with his All-Star nods, I don't think he's in Gaborik's class—but he is that next rung down, and he's above Heatley, to give you some perspective.
So, if he's not a superstar, why all the fuss over some random Minnesota kid?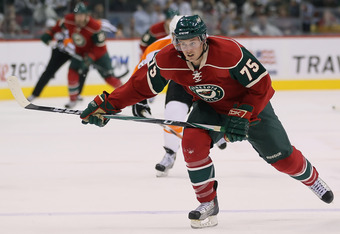 Jeff Gross/Getty Images
First off, unlike Gaborik, who was a moody player, Parise's a leader, and he does the little things to win that Wild fans expected of Heatley.
Next, he's probably the most accomplished Minnesotan currently playing in the NHL and one that still has youth on his side in which to actually get better.
Unlike Bloomington's Mark Parrish who we signed years ago and who was a flop—and whom we are still paying $928,000 for the next three seasons even though he hasn't been in the league for years—Parise shouldn't flame out, as we aren't getting him on the downside of his career.
Next, this roster has five Minnesotans: Fridley's Jared Palmer, Elk River's Nate Prosser—whom the team just signed to a 2-year extension—and Chad Rau, Virginia's Matt Cullen and Apple Valley's Mike Lundin. I am fairly confident that this is a franchise-high for Minnesotans at any one time, and that alone would give Parise a strong support network. Not to mention ease the pressure of playing at home since he wouldn't be doing it alone like Parrish essentially was.
Minnesota Wild forums: Endless debate, "More or less Minnesotans on the roster?"
If you ever visit the official Minnesota Wild message boards at www.wild.com, and stick around long enough, particularly though a losing streak, the annual debate is sure to come up about whether or not the team should go all-in and sign as many Minnesota-born players as they can in order to appease fans, but also to perhaps try and win with players who clearly know how to play the game.
I am always in the camp that says, "Yes, go all out and intentionally sign your own." Growing up in Minnesota gives them unique advantages that other players don't have.
There is a reason Minnesota has produced more players than any other state, with 216 NHLers over the years. According to an earlier comment made on VERSUS against the Pittsburgh Penguins this year, no state has more current NHL players than Minnesota's 38, either.
There is a reason Paul Martin, Tomas Vanek, Jordan Leopold, Erik Johnson, and Alex Goligoski aren't just good serviceable NHL players, but some of the best who go on to have very long careers. Its because they learn the fundamentals in Minnesota which are easily adaptable anywhere in the league.
As much as I am hoping Parise comes home, it would almost seem just as fitting if one day before their careers are over, each of the above don the green and white of the home club for at least a single season.
When the Wild lost Gaborik, they lost flash, swagger, scoring ability and All-Star hype, all of which Parise can return if he just comes home. He would give the team its best and most consistent chance at being the 40-goal scorer Gaborik was.
It's no coincidence that, since he left three years ago, the team has looked lost and lacked direction and has struggled without the playoffs since.
During the 2003 Western Conference Finals Stanley Cup run, former Vancouver Canucks General Manager, and Edina, Minnesota native, Brian Burke famously declared of the Wild fans who his team would go on to lose to in the semi-finals: "That's not a fan base, its a cult," to which many Wild fans proudly ran with as a badge of honor.
Well—come on home Zach, join the "cult." We are waiting for you with open arms ready to welcome back our native son.
After all, there has got to be a reason New Jersey hasn't shown you the same love we can and which has always been here.
Information and references from Wild.com, Hockey Reference.com, SB Nation, NHLnumbers.com, VERSUS, NBC Sports, ESPN.com, and the Minneapolis Star Tribune contributed to the content of this article.