Benson Henderson by Submission, Rampage Jackson by KO and More UFC 144 Calls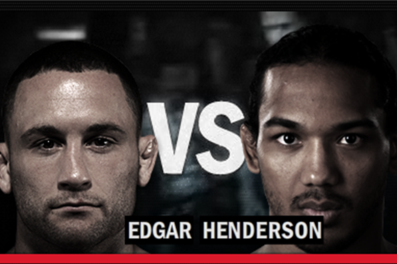 We're now only a few days away from UFC 144 "Edgar vs. Henderson." In the main event, Frankie Edgar defends his UFC lightweight championship against former WEC lightweight champion Benson Henderson.
The co-main event will also be an interesting matchup, as former UFC light heavyweight champion Quinton Jackson takes on Ultimate Fighter winner Ryan Bader. As is customary, here are my official "picks and predictions" post (covering who I think will win and why), now featuring UFC 144.
Frankie Edgar vs. Benson Henderson
I don't make this decision lightly, but I think Benson Henderson will be the next UFC lightweight champion. Henderson has looked amazing in the UFC, and he was amazing in the WEC.
Edgar is good at everything and great at making a game plan to beat his opponent, but Henderson is great at everything and pursues his opponents with the tenacity of a true champion. I think Henderson is going to wear down Edgar and eventually catch him, but knowing that Edgar's chin is too good, Henderson is going to use the opportunity to get a submission.
It's going to be a long, hard fight, but eventually Henderson is going to win it.
Henderson wins by submission in Round 4.
Quinton Jackson vs. Ryan Bader
Ryan Bader's only chance of winning this fight is to grab Quinton Jackson and hold on for as long as possible. Coming off a stoppage loss (his first stoppage loss since 2005), Jackson is going to come in looking for Bader's head.
My prediction: He's going to find it. Bader simply won't be able to keep up with Jackson, and he'll crumble under the pressure of Jackson's bombs.
Jackson wins by KO in Round 1.
Mark Hunt vs. Cheick Kongo
The first round of this fight is going to be all kinds of awesome. Both men are going to be throwing bombs, both in the form of punches and kicks, and neither man is going to give an inch.
Eventually though, some of the old problems Mark Hunt has shown in the past will catch up to him. His confidence will start to wane as Kongo keeps the pressure up, and his cardio will begin affecting Hunt since he threw so much in the first round. And finally, Kongo will catch Hunt and put him down for the count.
It won't be as easy as it used to be, but my prediction is that Mark Hunt gets dropped and stopped.
Kongo wins by TKO in Round 2.
Yoshihiro Akiyama vs. Jake Shields
This will be Akiyama's last stand. He could turn in one of his best performances in the UFC, or he could get taken down for three rounds. My prediction is…he's going down and staying down.
Jake Shields will come into this fight knowing he needs a dominant win, and that's exactly what he'll be fighting for. Akiyama won't be able to avoid the takedown for long, and since he's never been much of a puncher Shields can just absorb his shots until the takedown is complete.
Shields win by unanimous decision.
Yushin Okami vs. Tim Boetsch
This will be another fight where Yushin Okami shines. With a combination of precise and powerful punching, great cardio and the occasional takedown which leads to some well-timed ground and pound, Okami should be able to win this fight convincingly. I have nothing against Tim Boetsch, but he's simply out of his element and Okami is out of his league.
Okami wins by unanimous decision.
Hatsu Hioki vs. Bart Palaszewski
I think Palaszewski is too good and Hioki is too unready. Hioki had a lot of trouble against George Roop, and I personally felt that Roop should have won that fight.
And without any disrespect intended, I think Palaszewski is several levels above Roop. Palaszewski will put the pressure on Hioki, and Hioki will wilt under it.
Palaszewski wins by TKO in Round 2.
Anthony Pettis vs. Joe Lauzon
As much as I like Joe Lauzon, I think this will be Anthony Pettis' night. Faced with an opponent that wants to finish him just as badly as he wants to finish his opponent, Pettis will get the opportunity to shine in a way he's never been able to so far in the UFC.
This will be a fight where afterwards I can finally say "Anthony Pettis has arrived."
Anthony Pettis wins by unanimous decision.
Oliver Saenz, also known as PdW2kX, is a freelance journalist, opinion columnist, hardcore MMA fan, and lifelong video game nerd. For more news, views, previews, and reviews on all things Mixed Martial Arts as well as video games, be sure to visit FightGamesBlog.net.
This article is
What is the duplicate article?
Why is this article offensive?
Where is this article plagiarized from?
Why is this article poorly edited?