David Ortiz Joins the Growing Chorus of Players Ready to Move Past 2011
February 22, 2012

Jim Rogash/Getty Images
Josh Beckett, Clay Buchholz, Jon Lester and now David Ortiz. 
How many players need to speak out and discuss the collapse of the 2011?  How many times does the popular narrative that blamed the collapse on a few beers in the clubhouse need to be dismissed as a simple answer to a more complex question? 
Clearly the story won't die or even fade from prominence until the Red Sox of 2012 take the field. When that team does eventually start to play games that count, how will loyal Sox followers explain the 60 or so losses that would take place even in the event of an impressive 100-win season? 
In the time since the Boston Red Sox were established in the year 1908, the team has recorded 8,381 wins and 7,813 losses. Those 7,831 losses weren't all because of beer, were they? Was every member of the team sober through the 8,381 wins? 
It's getting a bit absurd, no? 
Josh Beckett was ripped by some in the New England media when he implied in an interview two weeks ago that the issues surrounding last year's team were as much about getting caught as the actions themselves. 
Now two weeks later, David Ortiz is basically echoing the same sentiment. 
"Not because of the beer or the chicken. The problem was when they did it," Ortiz said. "They came out and apologized. That means they're not going to do it again. For that, you need to turn the page. We're going to be thinking about the fried chicken and the beer that they had last September in March or February 2012? No. You're not going to solve any problems with that." - David Ortiz Boston Globe 2/22/12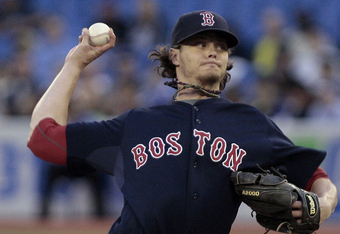 Abelimages/Getty Images
Is this getting tiring? Beckett, after taking heat in the media, adjusted his stance this past weekend when he made a tacit admission of responsibility for his role in the team's weak finish last season. 
"The bottom line is my last two starts, they just weren't that good,'' he said. "I'm not saying we didn't make mistakes because we made mistakes in the clubhouse, but the biggest mistakes I made was not pitching well vs. Baltimore. I was prepared to pitch every time I went out there. I just didn't execute pitches when I needed to.'' - Boston Globe 2/20/12
Beckett still seems to think that how he performed on the mound is more important than his actions on his off days. That's probably because they are. The words change, the tone can change too. After all, these aren't robots being interviewed, they're human beings.
None of them have ever claimed to be perfect and the manner in which they handle circumstances such as this will have its variances.
Clay Buchholz, who was injured for the entire second half of last season (funny how missing Buchholz is never blamed for a one-win difference in the standings), has echoed the sentiment that these clubhouse issues are entirely overblown.
"I think, still, if we had made the playoffs, it wouldn't have been that big a topic. There's got to be a reason for everything, a reason for us not being in the postseason. I think it was blown out of proportion a little bit.'' - Boston Globe 2/16/12
There is a common thread here. Yes, there were things going on in the clubhouse that probably shouldn't have gone on. Ironically enough, almost every player willing to comment on it seems to say that those clubhouse issues were not the cause of the collapse.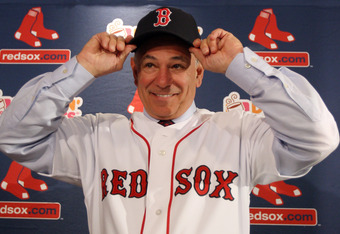 Elsa/Getty Images
Players sometimes don't play well. The Red Sox had a terrible slump at a terrible time, which coincided with another team within their division having a pretty good month. The end results are that the Red Sox finished their season with 90 wins on September 28th, 2011 and the Tampa Bay Rays finished their season with 91 wins.
That one-win difference completely changed the manner in which the 2011 season was defined. 
Had the Sox somehow gotten into the playoffs, where would the team be right now? Perhaps the dynamics within the clubhouse that many have been quick to blame for the team's collapse would still exist? Maybe this upcoming season would be far worse than the manner in which last season ended?
We'll never know, but we do know that the men who actually have been playing baseball at a fairly high level for quite a few years all seem to be saying the same thing. 
Perhaps it's time that people started believing them.