New York Giants Free Agency Flight Schedule: Brandon Jacobs Landing or Leaving?
February 22, 2012

Jeff Zelevansky/Getty Images
New York Giants running back Brandon Jacobs restructured his deal in 2011 so that the team could retain then-free agent running back Ahmad Bradshaw. If the Giants' continued cap woes are any indication, they may ask him to do so again. 
Jacobs went on record last week as saying he wouldn't mind re-restructuring his deal, "as long as it's fair."
"I just want everything to be fair," he said according to Ohm Youngmisuk of ESPN New York. "I feel like I put a lot of hard work and dedication into what I do as well and whatever their plans are to try to keep me around here, hopefully we can get it discussed and get things figured out because this is where I want to be."
The first thing that would have to be done is to afford Jacobs a $500,000 roster bonus in March; the next likely step would be to restructure Jacobs' deal. Brian McIntyre of Football Outsiders has the Giants dangerously close to the cap, and in need of a cap-cutting move to even have enough money for their rookies.
So should the Giants bring him back?
Depth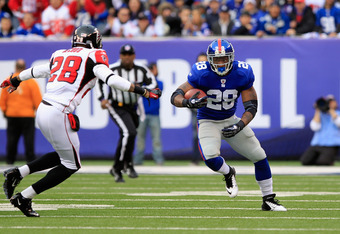 Chris Trotman/Getty Images
Although Jacobs hasn't been the beast he once was for the Giants, he's been a viable role playing back for them. He was not a big contributing factor in the team's postseason push, but he had a few solid performances when called upon to fill in for Bradshaw, namely against the Patriots and the Cowboys.
It never hurts to have a backup with whom the team has comfort putting the ball in their hands. The question is, do the Giants have that comfort?
Production/Ball Security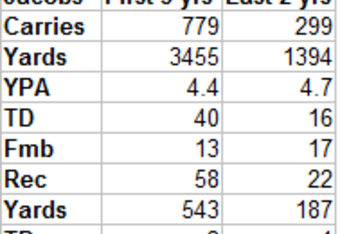 The problem with Jacobs isn't hard to see: He fumbles the ball an awful lot, especially recently. He's also bottled up too easily at times, but the Giants offensive line was a rag doll all season long; he can't take all the blame for being taken down behind the line so often.
That's hardly the only reason for it, though. His production was sporadic in 2011, but it has been for much of his career (53 career regular season games above 4 YPA, 47 below 4 YPA). 
Age
At the age of 30, you have to wonder how much longer Jacob's bruising style of play can hold up. Even if he didn't take so much pleasure in contact, it might be smart for the Giants to consider younger, fresher legs in their backfield.
Conclusion: Leaving
The Giants don't necessarily have to give him his roster bonus, and if they choose not to do so, they'll be off the hook for his $4.4 million salary in 2012. That would be the perfect opportunity for the Giants to part ways with the aging running back.