Los Angeles Lakers: Mike Brown and His Coaching Staff Are on Slippery Slope
February 22, 2012

Christian Petersen/Getty Images
Not since the Magic Johnson-led Lakers player revolution of 1981 that resulted in the firing of Paul Westhead has a Lakers team looked so close to throwing its coach under the bus.
Mike Brown, known as Mr. Potato Head in Cleveland, is working on a similar nickname in Los Angeles.
The numerous reports published the last two days about the Lakers "players only" meeting ignores that this week is probably the worst time on the schedule for the players to take a unity stand.
Upcoming games with the Mavericks and Thunder are likely to be losses unless the team has a heart and coach transplant before Wednesday night's game.
The Lakers have looked dispirited on the road, which is a sign that they are not responding to coaching nor are they playing for their coaches.
You can't just tell players to play hard. You have to motivate them.
It is no different in basketball than it is in any other profession. If you can't motivate your employees, they just don't work hard, they complain and ultimately start meeting among themselves. Sound like this Lakers team?
The team meeting after the Portland game evidenced the growing concern that Mike Brown and his staff are slipping down a slippery slope toward failure.
For example, on February 19, Bynum complained about a long shootaround before the Suns game when he really needed rest.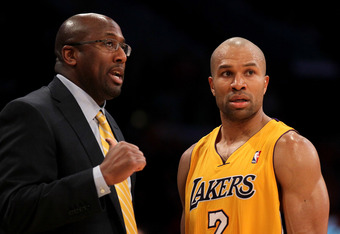 Stephen Dunn/Getty Images
Why did he openly complain? The general consensus in business is that employees openly complain when their private complaints fall on deaf ears.
But this was not the first time. Players complained about long shootarounds in early January that left players tired. This may be one of the reasons why the team played so poorly on the road in January.
Lakers fans have certainly noticed how tired and slow the team looks in road games. Are long, tiresome shootarounds one of the reasons why?
Fans could easily ignore these complaints as whining by players if it weren't coupled with other incidents such as Mr. Potato Head's public bickering with Metta World Peace over playing time and roles.
I doubt that fans agree with "World Disaster's" position, but the fact that the dispute was aired in public shows an open disregard for keeping issues in-house and open disrespect for the coaches. This is usually the result of frustration and signals a distaste for the way that Brown communicates with his players.
As one loyal Lakers fan pointed out to me recently, the fans only want World Peace to contribute in the same manner as Dennis Rodman did when he got too old to jump or score. Brown has World Peace standing on the three-point line on offense, where he cannot contribute to offensive rebounding. If World Peace cannot rebound, then what good is he?
It is too easy for some to say that Lakers players are having trouble adjusting to Mike Brown's coaching style. It is rumored that some players even bristle at Brown's heavy-handed approach, which is a sharp contrast to Phil Jackson's.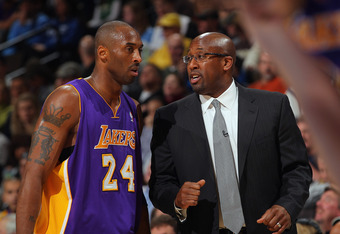 Doug Pensinger/Getty Images
It is now thirty-two games into the season, and this Lakers team shows little promise and no future.
Compare this lack of growth to college basketball, where teams have a limited number of hours a week to practice and are proficient in their team's offense within 10 games into the season. Fans and management must ask themselves, if this were a Coach K team, would the team be lost on offense for two months and 32 games into the season?
There is no excuse for how slowly the Lakers coaches have developed a cohesive offense without success. After watching professional basketball for nearly 60 years and advising on basketball issues with an owner for nearly 17 years, the current Lakers offense is a "riddle, wrapped in a mystery, inside an enigma" hidden deep inside of Mr. Potato Head's coaching brain.
This divide is punctuated by some players being upset about what they perceive to be an ever-changing rotation and the up-and-down distribution of minutes. Players need to know what their roles are to be mentally and physically prepared.
Lakers fans generally share the same concerns, wondering why the rotation and minutes distributed changes with every game. Often, fans can't wait to hear Brown's convoluted explanation in postgame interviews.
Brown often says that the coaches are still learning the players. Murphy and "World Disaster" played for Brown when he was an assistant with the Pacers. Certainly, after all these years of coaching against the Lakers, Brown has the book on Kobe, Gasol and others. There is no mystery about what they can and can't do.
If the Lakers shock their fans and win the next two games on the road against the defending NBA Champion and the odds-on favorite in the Western Conference to make the NBA Finals this year, their "players only" meeting will look like a stroke of genius.
If not, the "players only" meeting is the harbinger of bad things to come.
More than likely, the Lakers will lose the next two games on the road, leaving fans and the press to ponder during the All-Star break what the meeting was all about and why it didn't have any effect on the two losses.
As Benjamin Franklin said immediately after signing the Declaration of Independence, "We must all hang together, or assuredly we shall all hang separately."
Whether the Lakers can "hang together" will be a hot topic and closely scrutinized for the balance of the season.
With the trade deadline approaching and salary-cap issues throttling Lakers management, only Kobe Bryant is safe on this roster. Others may be hung out to dry either before the deadline or over the summer after the season is over.