NHL Trade Rumors: Winnipeg Jets: Are They Buyers? Are They Sellers?
February 22, 2012

Bruce Bennett/Getty Images
Are they buyers? Are they Sellers? Or… are they neither?
The NHL trade deadline is less than one week away, but what will the Winnipeg Jets do with such an important deadline looming?
The Jets are in the midst of a huge home stand, have recorded seven points in the last four games, and are on the brink of a playoff spot—all signs that point towards a team that will be buyers, right?
Wrong. Or at least for the Winnipeg Jets it is.
There are a few ways the Jets will have to look at this—the most important being their need to think realistic, and not do anything costly.
The Jets have a superb young core, one which blowing up for a crack at Rick Nash, Jeff Carter, or some other rumored superstar would only do more damage to the franchise in the long run.
Aside from that, the Jets still lack the talent to compete for a major playoff run, considering the lack of depth this team already possesses.
Simply put, the Jets are in no position to mortgage the future for a crack at a playoff run.  
Going into the season, a playoff run was unexpected, let alone being in the run for the division this late in the season.
However, we're less than a week from the trade deadline and the Jets are still here. Which means, they have to do something to support a playoff run, right?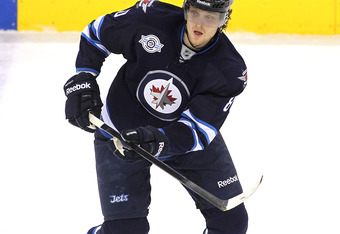 Marianne Helm/Getty Images
Well, that's for GM Kevin Cheveldayoff to decide, but the Jets' best bet may be to stay put and let this ride out.
Or, Cheveldayoff can pull off deals without mortgaging the future.
What do the Jets need? A goal-scoring sniper who can change the outcome in a matter of seconds. How do they acquire such a talent? The same way everyone else does—building from within. Scratch that off the list of needs for the them to fulfill in the coming week.
Don't expect to turn on your television set on February 27 and hear that the Jets just pulled of a blockbuster trade. In fact, it is likely the Jets may even stay put and do nothing.
However, I'd be surprised if Cheveldayoff didn't pull the trigger on at least one minor deal.
So, how should the Jets approach potential moves without jeopardizing the future?
They could use a forward who can contribute offensively, maybe a player who is having a down season and wouldn't take too much to acquire.
One possible move could be a change of scenery deal or a chance deal that would give a struggling player the chance to spark his game with a new team.
Obviously, I haven't named any names yet, but the Jets have more than a few of these struggling players. Case in point: Nik Antropov, Eric Fehr, and Antti Miettinen.
Another route they could take would involve draft picks. Without doing any long-term damage, the Jets could deal a second or third round pick to acquire underachieving talent or a UFA forward who can come in and help right away.
Ideally speaking, a Teemu Selanne type player (not necessarily Teemu himself, but a veteran who can come in and bring with him that veteran presence). If the Jets can acquire a Selanne-type player, it would do wonders for a playoff run, and it wouldn't hurt the team's future too much.
At this point, the Jets' draft picks should be expendable except for the first-round pick, unless the price is right. With a deep 2012 NHL draft this year, draft picks will probably be their best bargaining piece.
But if the Jets want to stay on course, keeping their draft picks would be ideal.
I don't think Cheveldayoff will be a busy man this week. Jets' fans should be prepared for no action at all.
But, whatever direction he decides to go in, I have no doubts it will be the right one.