Manchester United's Young English Stars Could Be Called Up for Holland Friendly
February 22, 2012

Ian Walton/Getty Images
Recent reports from Sky Sports have suggested that interim England manager Stuart Pearce could experiment with his squad selection in the friendly against Holland on Feb. 29.
Pearce has been handed the team for the upcoming friendly in the wake of Fabio Capello's surprise departure earlier this month. Pearce is the manager of the Under-21 side, so has a good knowledge of the younger players that the next England manager will have at his disposal. Will he drop some of the big names in order to blood some of the youngsters?
There will definitely be a few Manchester United players with their fingers crossed.
Pearce was the manager that took England to the Under-21 European Championships last summer—a squad which contained Danny Welbeck, Phil Jones (with Blackburn at the time), Chris Smalling and Tom Cleverley. Will these players be in Pearce's thoughts going into his squad selection on Thursday morning?
The pairing of Jones and Smalling were solid for England at the Under-21 European Championships, and Pearce holds both of them in very high regard. Having spent the last eight months training together, and spending more time on the pitch together, the partnership has grown and the two will no doubt have a great understanding of each other.
With John Terry out until April, Smalling and Jones' competition could be limited to the likes of Gary Cahill, Joleon Lescott and Phil Jagielka. These two could be England's next big defensive partnership, and Pearce could be keen to demonstrate this.
In their England careers so far, both players have been used out of position. Jones has been used at right-back on one occasion and twice at the centre of midfield, and Smalling has been used at right-back for both of his games for England. Could this be the chance for one or both of them to finally play their natural and favoured position for their country?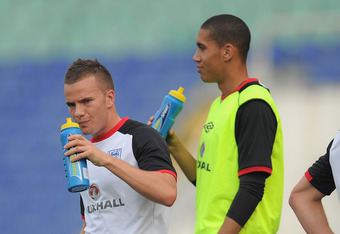 Michael Regan/Getty Images
Quizzed on the Jones and Smalling partnership during last summer's Under-21 tournament, Pearce said the following:
They've got a steely determination between the two of them. They want to defend, they're happy to get hit with the ball to keep it out the back of the net—and that's a real trait to have. Look at the likes of Vidic, and see how he enjoys defending. People don't like playing against him. I think these two have got a bit of that in them as well. 

[Jones] has a bit of old school and a bit of the modern player: he can do the ugly stuff but he also has the technique.

Sir Alex [Ferguson] isn't afraid to put the young players in and say, 'Go on then—let's see what you can do'. I went to a Champions League semi-final and watched Chris Smalling playing. If you had said to me last summer, 'Would he get the opportunity to play as many games as he has and as many high profile matches?' I would've said, 'No chance'. As long as the bigger clubs are prepared to take these youngsters and filter them into the side and give them their head and let them play, it's good and Manchester United have a reputation for doing that.
The duo have bright futures ahead of them, and a place together in the team that faces Holland would be another big milestone in their careers.
Jones is definitely a favourite pupil of Pearce's and in the past "Psycho" has touted Jones as a future Manchester United and England captain.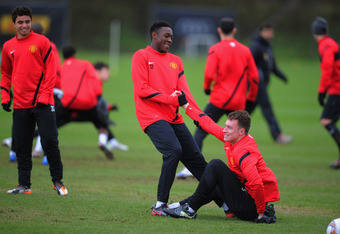 Michael Regan/Getty Images
Tom Cleverley was called up for England's September fixtures, but has yet to make his first England appearance. He was also called up for the original fixture between England and Holland that was forced off by the riots in London.
As United fans will know, Cleverley has only recently recovered from injury and has only made one appearance since his return—will Pearce still be considering him for the side?
Prior to his injury, Cleverley had established himself as a first-team player following very impressive performances in the preseason.
He recently declared himself happy with his fitness and admitted that his driving force toward the end of the season would be the possibility of an England call-up in the summer. With the likes of Tom Huddlestone and Jack Wilshere injured, Cleverley would be Pearce's obvious "inexperienced" option—could he get the nod over Steven Gerrard and Frank Lampard to partner Scott Parker?
Danny Welbeck being called up is a very likely option, with Jermaine Defoe, Andy Carroll and Peter Crouch not faring well in the EPL in recent months.
With Wayne Rooney suspended for the first few games of England's Euro 2012 campaign, Pearce will have to begin to experiment with different combinations up front for England. Welbeck has been playing very well for United recently, and has been looking increasingly confident as the weeks have gone on.
Could we see a couple of wild-card inclusions from the United squad? Ben Amos had a good showing against Stoke a couple of weeks back and is included in the current Under-21 squad, although the likes of Scott Carson and Paul Robinson would probably be considered before the United 'keeper.
Will Keane is also a current England Under-21 (and has two U-21 caps under his belt), but while United fans would love to see him called up to solidify his English status (he is also eligible for Republic of Ireland), it would be more than an outside chance.
Youngsters aside, Michael Carrick might see his fantastic form rewarded in the form of an England call-up. Ashley Young and Wayne Rooney (fitness pending) are pretty much definite inclusions.