Liverpool FC: Top 10 League Cup Moments in Reds History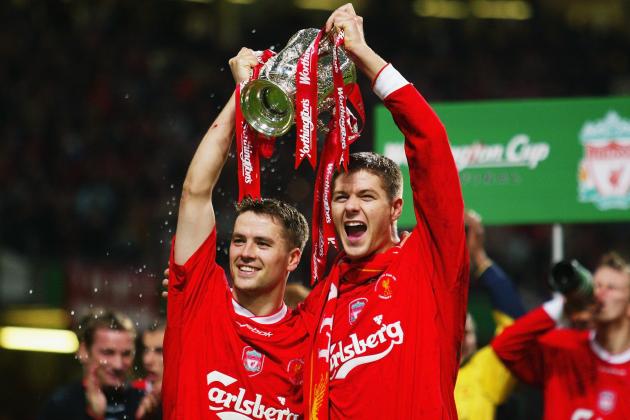 Phil Cole/Getty Images
Liverpool's last League Cup success came in 2003
In just a few days' time, Liverpool will be contesting the English League Cup (now termed the Carling Cup due to sponsorship arrangements) against Cardiff City at London's Wembley Stadium.
Liverpool have enjoyed considerable success in the League Cup over the years. As the record holders with seven wins, Kenny Dalglish has the chance to make it an illustrious eight on Sunday, and his Liverpool team are sure-fire favorites against Championship side Cardiff, who would become the first ever Welsh winners of the League Cup should they prevail.
So what are Liverpool's greatest League Cup moments in history?
Following my 10 predictions for the Cup final and Nabeel Khokhar's top-nine Wembley moments, Bleacher Report's League Cup Final coverage continues with Liverpool's top-10 League Cup moments, presented chronologically—and, as usual, if you feel I missed any important picks, please do have your say in the comments below.
Begin Slideshow

»
After the famous Bill Shankly era, which landed Liverpool three league championships, three Charity Shields, two FA Cups and a UEFA Cup, we find ourselves in 1981, seven years into Bob Paisley's reign.
Having won four league titles, two European Cups, four Charity Shields and a UEFA Cup, there was still one domestic trophy eluding Liverpool: the League Cup.
This was to change that year in the Villa Park final against West Ham United.
Alan Hansen, Liverpool's star defender, scored the winning goal in the 28th minute after Kenny Dalglish had opened the scoring.
Liverpool's love affair with the League Cup had well and truly begun.
Much like a striker whose goal drought is followed by a torrent of goals courtesy of that one crucial strike, Liverpool, it seemed, only needed that first League Cup to kick start a prolific few years.
A year after their first ever Cup win, Paisley's men were at it again.
Their opponents this time were Tottenham Hotspur, who were beaten 2-3 after extra time.
The scorers? A certain Ronnie Whelan (more on him next) and a certain, emerging Ian Rush.
Two in a row.
And after the brace came the hat trick.
In what would prove to be Paisley's last trophy of his legendary tenure at the Anfield hot seat, 1983's League Cup win was achieved against none other than Liverpool's archrivals, Manchester United.
Alan Kennedy opened the scoring at Wembley, while Ronnie Whelan, who had hit a brace the previous year, supplied a beautiful curling finish to bring the Cup back to Anfield again.
Three in the bag—there couldn't possibly be more on the horizon, could there?
Oh, but there could.
Joe Fagan took over after Bob Paisley retired, and Liverpool's success just kept on coming.
So relentless was the Liverpool charge towards silverware that they became the first ever English club to win three major competitions in the same season.
One of which was a phenomenal fourth League Cup in a row.
The final itself was goal-less, but the replay on March 28, 1984, ended 1-0 to the Reds.
Graeme Souness was the scorer of the winning goal, a moment that was nominated as one of the League Cup's greatest moments during the competition's 50-year celebrations.
After 1984's success, the League Cup temporarily fell out of love with Liverpool.
But that didn't stop the records flowing.
Or, for that matter, the goals.
On September 23, 1986, came one of the defining scorelines in English football history: Liverpool 10-0 Fulham.
Ian Rush (2), John Wark (2), Ronnie Whelan, Steve McMahon (4) and Steve Nicol were the scorers on a historical night.
A particular note in Fulham's matchday program in the second leg included this gem: "Should the aggregate score be level after 90 minutes, extra time will be played."
1993. Still no League Cup success, but still more League Cup records.
This time, the main culprit was a certain Robbie Fowler.
Having only made his first Liverpool start in the first leg against (who else but) Fulham, in which he of course scored, he found himself in the act again at Anfield for the second leg.
And he hit five goals, setting him on the way to cementing legendary status among Liverpool fans the world over.
Finally, 11 years after Joe Fagan's victory, Liverpool found themselves back in the final, this time with Roy Evans at the helm.
On April 2, 1995, Liverpool were back at Wembley, with Bolton as their obstacle to League Cup glory.
And they weren't to be denied.
Steve McManaman, fast earning a reputation as England's new wing hope, scored two goals in a 2-1 win for the Reds, which earned Liverpool a fifth League Cup win.
Unsurprisingly, the match has since been dubbed "The McManaman Final."
Gerard Houllier masterminded a wonderful treble 2000-2001 season for Liverpool, which included successes in the FA Cup, League Cup and UEFA Cup, as well as the Charity Shield and European Super Cup later that same year.
Unlike in previous slides, the focus this time is not on the final itself, but on the emphatic result that sent Liverpool on the way.
November 29, 2000, saw Robbie Fowler hit a hat trick en route to a wonderful 8-0 victory over Stoke City at the Britannia Stadium.
The victory got Liverpool into the quarterfinals, and they eventually finished the campaign with the Cup.
To date, Liverpool's last League Cup success came at the expense of Manchester United on March 2, 2003.
The 2-0 win for the Reds at Cardiff's Millennium Stadium was led by Liverpool and England's two newest darlings, Michael Owen and Steven Gerrard.
Gerrard got things underway in the 39th minute with a screamer that took a deflection off David Beckham, and Owen wrapped things up with a cool finish five minutes from the death.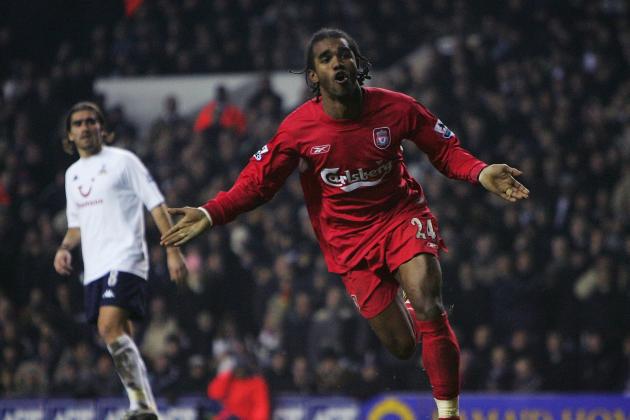 Mike Hewitt/Getty Images
Florent Sinama-Pongolle celebrates his goal
Rafa Benitez led Liverpool to a League Cup final in his first ever season in charge at Anfield, but an extra-time loss to Chelsea at the Millennium Stadium meant that Liverpool would stay stuck on seven League Cups.
Liverpool's run to the finals did feature one of the results of the season, though.
In the quarterfinals, Liverpool traveled to Tottenham and came away with a 4-3 penalty shootout win after normal time ended at a goal apiece.
The manner of the victory, however, cannot be understated.
Benitez's reserve side featured the likes of David Raven, Zak Whitbread, Antonio Nunez, Salif Diao, Darren Potter, Neil Mellor and Florent Sinama-Pongolle (Mark Smyth, John Welsh and Richie Partridge all made substitute appearances) against Tottenham's full-strength side.
Surely one of the more astounding Liverpool achievements in recent years.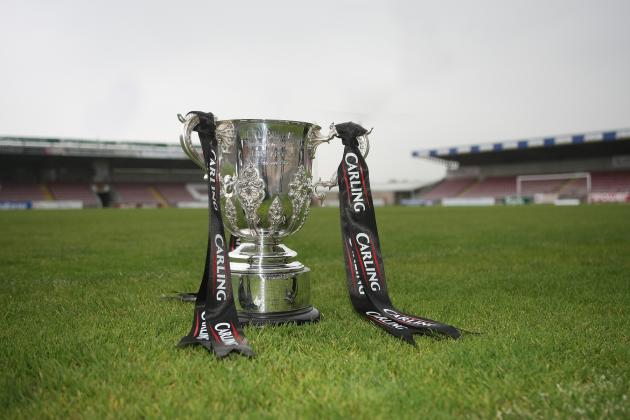 Pete Norton/Getty Images
The prize on Sunday