NBA Rumors: Top Reasons Why Jeremy Lin Would Never Date Kim Kardashian
February 22, 2012
Chris Trotman/Getty Images
Jeremy Lin has been a walking moniker since making the celebrated leap from an unknown to an entity much larger than his unassuming 6'3" 180 lb. frame—one seemingly larger than the towers that decorate New York's skyline, the city Lin now calls home.
The story has been aptly titled "Linsanity."
His playmaking, especially in the clutch, has been "Lincredible."
The out-of-nowhere dunk against the Washington Wizards was "Lintastic."
Lin's propensity for turning the ball over has him dubbed "The Big Apple Turnover."
And on and on and on.
But, and let me be very clear about this, Lin will never be known as "Kim Kardashian's Boyfriend."
Even that is too insane for Mr. Linsanity himself.
Rumors that recently began circulating about the two dating have since been vanquished by the Knicks' point guard. 
"Stuff about me dating Kim Kardashian, I mean, I have no idea where that came from," says Lin of the possibility. "No, I don't think I'm [Kim's] type."
Good call, Jeremy.
Notch that as another victory for Lin who is 8-2 on the hardwood since becoming a starter. He's a winner.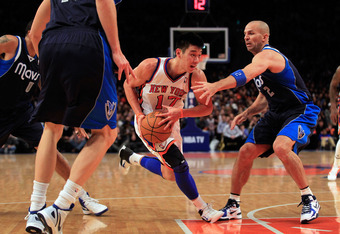 Chris Trotman/Getty Images
Just in case the spotlight-hungry vixen tries tempting the young man, here are some reasons (in no particular order) Lin will never give in. 
Reason: He's already slept on used furniture
Before Linsanity took over the world, Jeremy Lin was just another player fighting for a spot on an NBA roster. He had no guaranteed contract and spent nights sleeping on a couch in his brother's apartment. Lin eventually upgraded and now has his own, much cleaner place. There's no point in quickly backtracking.  
Kim Kardashian's love-life has been well publicized, even accessible on certain websites. She's had her fair share of suitors, and Lin is better off sleeping elsewhere. 
Reason: See Kris Humphries
Enough said. 
Reason: Plenty of fish in the sea that is New York City
Lin is now living in New York. That's like fishing in a freshly stocked lake. Catching Kardashian is the equivalent of snagging your hook on something and excitedly reeling it in, only to discover an empty soda can at the end of the line.  
The area has got to be loaded with quality women more qualified to court a Harvard grad. Which leads me to my next reason...
Reason: He's a Harvard grad
Lin is not the average basketball player. He graduated from Harvard University with a degree in economics and a 3.1 grade-point average.
Sure, the economy may be struggling, but that does not justify making this sort of mistake. No worries. Lin has the intelligence and, more importantly, the common sense to make the right decision.  
So, Knicks fans, you may breathe a sigh of relief in knowing that your star point guard is Kardashian-free.
Besides, there are more important issues at hand. Carmelo Anthony's return to the lineup. Lin's durability with a dramatic increase in minutes. A push for playoff seeding. The health of Baron Davis. An abundance of shooters but just one ball to share.
And on and on and on.