Philadelphia Eagles: Cullen Jenkins Reworked Deal a Win for Both Sides
February 22, 2012

Al Bello/Getty Images
The Philadelphia Eagles agreed to terms on a restructured contract with defensive tackle Cullen Jenkins Tuesday according to ESPN, a move that prevented the eighth-year veteran's possible release in a cost cutting move.
Jenkins, who tallied 40 tackles and 5.5 sacks a year ago in his first season in Philadelphia, posted an announcement on his Twitter page confirming the deal, saying:
Appreciate all the support and kind words from everyone. Exciting time for me and my family.
The Eagles also released a statement on the team's website, with general manager Howie Roseman saying:
We are very excited about having Cullen back on our football team. Cullen made an immediate impact for us this year on and off the field. We look forward to a great future together with him in an Eagles uniform.
Jenkins will still be paid the $5 million roster bonus he was due in March, but agreed to cut his base salary for 2012 by over $1 million and is now signed through 2014 instead of 2015, with the restructured contract providing the Eagles with some much-needed cap relief.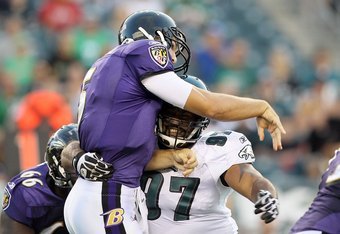 Jim McIsaac/Getty Images
In return for agreeing to the pay cut Jenkins' entire $1.5 million base salary for 2013 is now guaranteed, and the 2011 Pro Bowl alternate will now receive a bit more long-term job security, something the 31-year-old apparently had high on his list of priorities.
I've been around the league long enough and seen enough to understand what happens or the possibility that can happen. I knew going into the upcoming season and different people needing to be resigned and different moves needing to be made there was a possibility my number could be in the way of some of that, as high as it was. I knew the possibility was there.

Coming here last year, great team, great atmosphere -- I'm not one of those type of players that wants to bounce around or get as much as he can get. I wanted security, I wanted to be somewhere I liked, and I liked it here, and the opportunity presented itself and I was more than happy to turn this into more of a long-term deal.
Getting this deal reworked as quickly and painlessly as possible made a great deal of sense to both sides, as the Eagles certainly didn't want to be "forced" into considering releasing Jenkins given how well he played his last season, and Jenkins apparently had no great desire to be "forced" to peddle his wares again on the open market at this point in his career.
Now, with Jenkins squared away and some extra wiggle room under the salary cap, the Philadelphia Eagles can focus their attention on the NFL Scouting Combine, free agency and April's draft.
Oh, and re-signing wide receiver DeSean Jackson. Then there's that.