Philadelphia Eagles: A Strange Offseason Starts for the Birds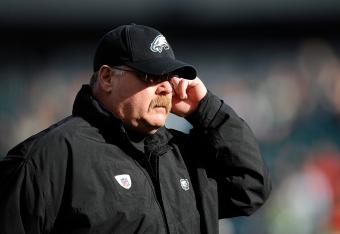 Patrick McDermott/Getty Images
This is no ordinary offseason for the Philadelphia Eagles. More often than not, the Eagles are a team coming off of a playoff appearance—thought to be in need of a tweak to get further the following year. They didn't make the playoffs in 2011, but the restructuring of Cullen Jenkins' contract is the first step toward 2012.
Now when a team misses the playoffs and loses eight of its first 12 games, the expectation is that major changes are needed. For this Eagles team though, that is really not the case. Their only real areas of need are at linebacker, safety, backup quarterback, backup running back and kick returner. Sadly, the first two positions on that list have been needs for third offseason already—entering the fourth.
What makes this offseason so strange for the Eagles is that there is more negativity around the franchise than ever before. Local fans and media are often expected to be more critical, especially in Philadelphia—but the Eagles became fodder for the national media for the first time this past season.
For the first time in his 13 seasons, fans at Lincoln Financial Field chanted for Andy Reid's job. Things got so bad that Jeffrey Lurie spoke to the media a full month before Andy Reid. Lurie exclaimed his dissatisfaction with the football team's performance—the head coach included—but he then affirmed that everything would remain the same.
When Andy Reid did finally talk to the media, he seemed to be a kinder, gentler and friendlier Andy Reid—which is just what Lurie said he hoped for. Only Reid ultimately said he took the time to evaluate his performance, and the job he did and could still do. The thing is that is basically what he always says.
General Manager Howie Roseman also came out, proclaiming his draft strategy has been flawed and yielded too-few impact players in the early rounds. He claimed that the team's strategy of picking lower-risk, lower-reward players may not be the way to go—and that his team has maybe reached too high on players to fill specific needs.
On one hand, there seems to be admittance that maybe the Eagles' decision-makers are capable of evaluating themselves in a critical way. Maybe they do feel that a philosophy other than their own can work.
This year is different. For the first time, with high expectations—the Eagles failed miserably. They feel the heat and they are ready to do whatever it takes to turn things around.
But how can anyone feel secure in knowing the Eagles will do anything any differently?
The buzz coming from the NovaCare Complex seems to be one of supreme confidence that 2011 was just a fluke. There also has to be a fear that for all of the talk of taking a serious look in the mirror, an eye will most likely look at the fact that the Eagles beat the Super Bowl-winning Giants with Vince Young in November.
The Eagles truly are closer than their record indicated, but the holes they need to fill are significant. The defense needs to add a veteran safety to help guide their two second-round picks. A physical, playmaking linebacker is needed and two would be more than welcome. Even if they stop there, it would probably be enough to turn the tides.
But will they actually do that?
The Eagles have always been one of the hardest organizations to figure out since Andy Reid took over in 1999, and it's hard to imagine that changing. With the need at linebacker so glaring and obvious—it seems inevitable that this would be the year they finally draft a linebacker with their first pick.
But the one certainty about the Eagles is that the more obvious something seems, the less likely they are to do it.
The next step on this tightrope of an offseason is how to handle the DeSean Jackson situation. It's hard to figure how exactly that will play out, and each step after that becomes increasingly more difficult to predict.
The Eagles don't need to do a lot to fix the personnel problems that ailed them last season, but nobody knows if they are actually willing to do it. Hopefully this offseason is different, but after 13 years it is hard to believe anything will actually change.
This article is
What is the duplicate article?
Why is this article offensive?
Where is this article plagiarized from?
Why is this article poorly edited?

Philadelphia Eagles: Like this team?