7 Players the Rams Should Be Watching Closely at the NFL Scouting Combine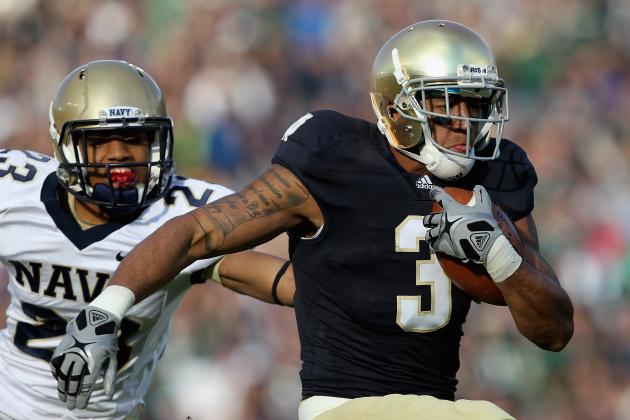 Jonathan Daniel/Getty Images

With the NFL Scouting Combine taking off this week and ending next Tuesday, coach Jeff Fisher and the St. Louis Rams will finally get a personal look at some of the top athletes entering the draft this April.
After a 2-14 disaster last season, the Rams will search for help at practically every position, which means the scouts will have to spread out and thoroughly analyze each of the 328 players invited to the event.
The NFL Combine will provide everyone with a more in-depth understanding of how various prospects are viewed in the eyes of the NFL.
At this point, mock drafts have basically guessed where various players rank. But now, NFL personnel will shed some light on the reputations of each player.
On top of that, fans will have a chance to watch their favorite college players perform one last time before the draft, allowing all of us to update our wish lists.
But as far as the Rams and their needs, here are seven players to keep an eye on...
Steven Gerwel is giving away a Rams jersey to one lucky reader, just follow him on Twitter @Steve_Ger before March 5th to enter.
Begin Slideshow

»
Justin Blackmon completely terrorized the Big XII Conference over the last two seasons, with 3,304 yards and an astonishing 38 touchdowns.
Regardless, some analysts are reluctant to mention Blackmon in the same breath as Larry Ftizgerald or A.J. Green due to his 6'1" height and questionable straight-line speed.
However, Sports Science did a segment on Blackmon that silenced concerns regarding his height.
Basically, he can go up and get the ball as effectively as some 6'4" receivers, which makes his height a moot point.
The one question he still needs to answer is the concern over his speed.
In 2011, Julio Jones was frequently mocked as the Rams' pick at No.14 overall, but once he ran a 4.39-second 40-yard dash at the combine, he was instantly considered out of reach for St. Louis.
He was eventually selected No.6 overall by Atlanta.
If Blackmon impresses with a 4.45-second or better 40-yard dash, then that could all but solidify him as a top five pick.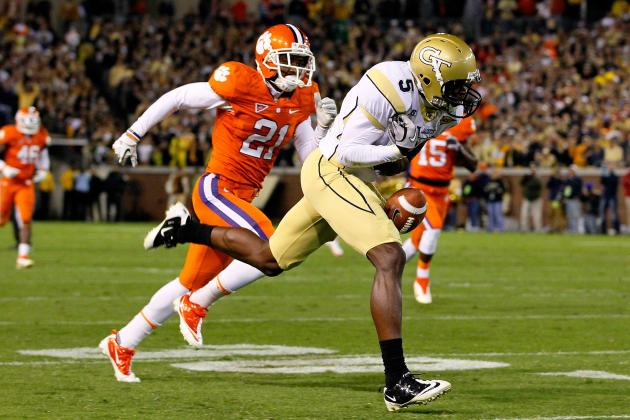 Kevin C. Cox/Getty Images

If the Rams are even remotely considering passing on Justin Blackmon with their top pick, then they'll surely be considering a variety of second- or third-round receivers.
At 6'5" and 206 pounds, Stephen Hill is one of the second-tier receivers that the Rams need to carefully watch this weekend.
Hill was not extremely productive during his collegiate career.
In fact, the best of his three years came in 2011 with just 820 yards and five touchdowns, which was considerably better than this next best season in 2010 (291 yards, three touchdowns).
There's no question that he's a raw talent, but the combine will give him a great opportunity to showcase his athleticism.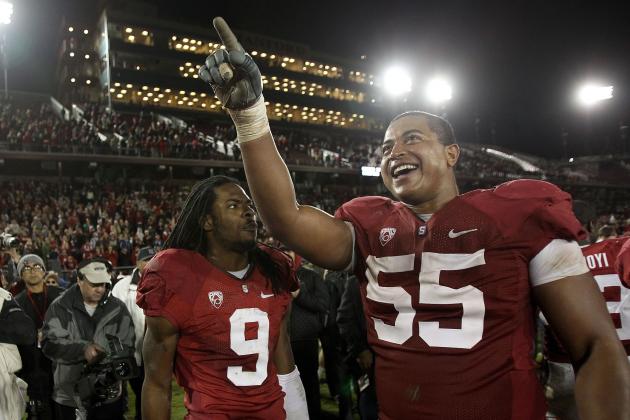 Ezra Shaw/Getty Images

If the Rams manage to auction off their No.2 overall pick for Cleveland's No.4 and No.22 picks, then there's a solid chance that the Rams will explore offensive line options with the latter pick.
Stanford's Jonathan Martin is a possible top 10 pick as it is, but if he does nothing to truly elevate his stock at the combine, then there's a slim chance that the Rams could grab him in the middle of the first-round.
If the Rams are lucky enough to face such a scenario, then they'd be getting remarkable value.
Martin is a pure left tackle, which would allow the Rams to slide Rodger Saffold to the right side. This would have the Rams completely set at offensive tackle for years to come.
However, if Martin excels at the combine, then he's a lock for the top 10 and the Rams would not be able to get him without using the No.4 overall pick (which is unlikely).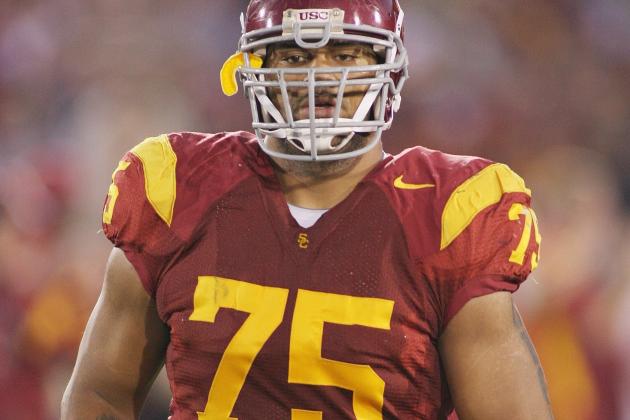 Jeff Golden/Getty Images

Justin Blackmon seems to be the consensus pick at No.2 overall, at least from the fan's point of view.
However, there's still a good chance that Matt Kalil will eventually be top pick for the Rams.
If Blackmon turns out to be a lesser prospect than last year's Julio Jones and A.J. Green, then Kalil would likely offer the team more overall value at No.2 overall.
At this point, Kalil is likely the top offensive lineman of his draft class.
If he explodes onto the scene at the combine and begins to generate extreme hype, then he could surpass Blackmon as the best option for the Rams.
However, if he struggles and is viewed as a lesser prospect than some recent tackles (Jake Long, Russell Okung, Joe Thomas), then he'll be an unattractive pick.
The last thing the Rams want is another Jason Smith on their hands.
So if they're going to draft another tackle, you better believe that they'll do their homework first.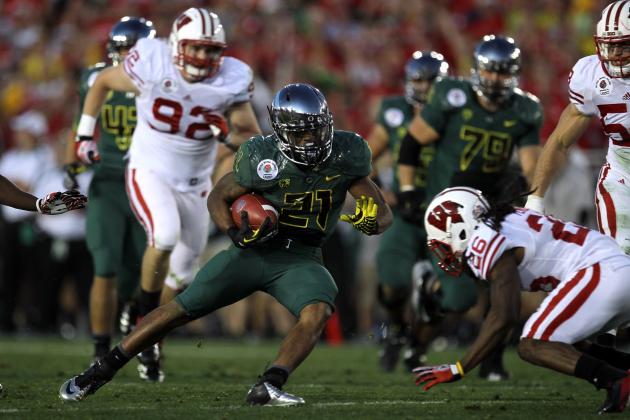 Stephen Dunn/Getty Images

LaMichael James would be more than welcome in the Rams' backfield as a third-down change of pace back behind Steven Jackson.
Rushing for 5,082 yards and 53 touchdowns in just three years tells us that James undoubtedly has speed on the field.
However, the combine will tell us how much speed he actually has.
Is he truly fast enough to take it to the house on any given play? Or will he juke a tackler or two at best, while rarely breaking through the secondary?
If James does not possess true burner speed, then he's not really worth the Rams' third-round pick, which is why he'll be an interesting prospect to watch at the combine.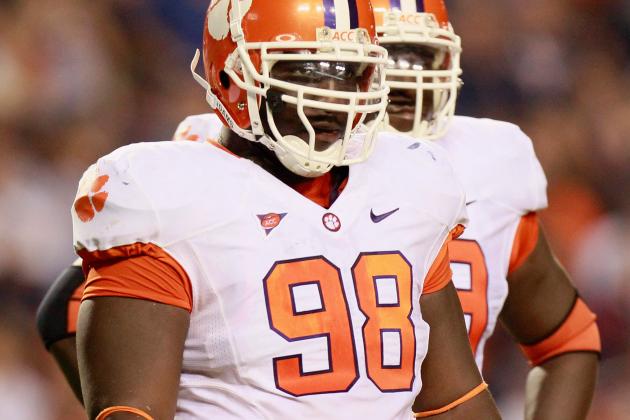 Kevin C. Cox/Getty Images

Out of the top defensive tackles in this year's draft class, Brandon Thompson is probably the one who has a shot at slipping to the Rams in the second-round.
Fletcher Cox (Mississippi State) and Jerel Worthy (Michigan State) both have remote chances of slipping to the Rams, but Thompson is the most realistic option.
At 6'2" and 310 pounds, Thompson is an ideal size for a 3-tech tackle in a 4-3 defense.
The Rams definitely need some help outside of Fred Robbins and Justin Bannan, so a solid workout by Thompson would make him an attractive second-round option.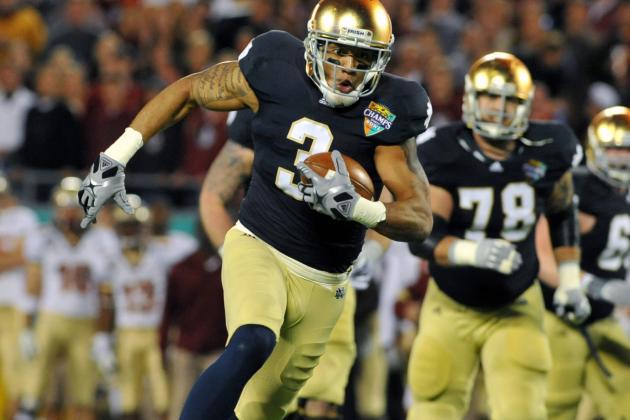 Al Messerschmidt/Getty Images

Michael Floyd has been Notre Dame's top offensive weapon in recent years with 2,967 yards and 30 touchdowns in just three seasons.
His production can't be denied, but his personality certainly comes into question due to a history of alcohol related troubles.
But even though he's a repeat offender, it's possible that his situation has been blown out of proportion since he's expected to be an "upstanding" Notre Dame student.
Regardless, there's little doubt that Floyd can get it done on the field.
He's not capable of single-handedly dominating a game like Justin Blackmon, but he's talented enough to earn himself a fair look at the combine.
Keep an eye on his 40-yard dash and vertical jump, because if he excels in those aspects then the Rams may target him late in the first-round.
Of course, that would require trading down with the Browns and avoiding Blackmon with the top pick.