MLB Free Agency: Early Look at the 20 Best Pitchers on the Market Next Winter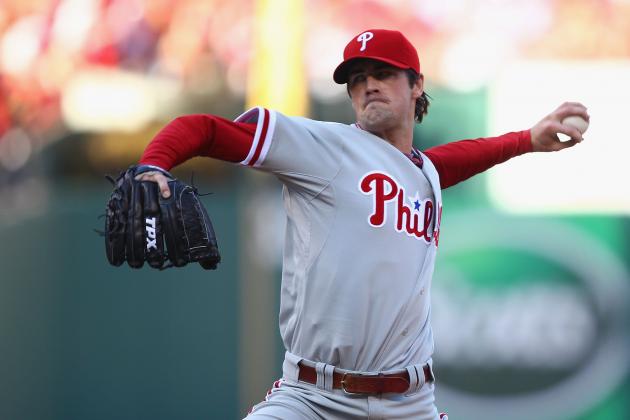 Dilip Vishwanat/Getty Images

It's never too early to look at next year's free agent class, is it?
With the 2012 season just around the corner, the time is now to take an obligatory look at who might be hitting the market this winter. These guys are in their contract years, meaning they could be in for career years in order to make themselves some more money.
Today, we'll be looking at the pitching crop of the 2013 free agent class.
Keep in mind that this list does not include pitchers with 2013 options. You will not find Dan Haren, James Shields or Joakim Soria on here.
This list will rank the 20 best pitcher who are certain to be free agents. Please note that they are in no particular order.
Begin Slideshow

»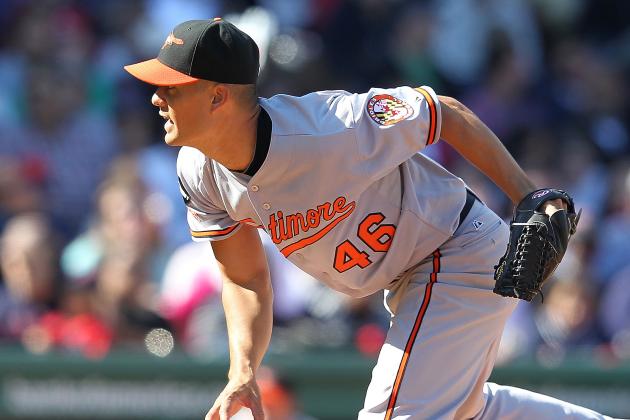 Jim Rogash/Getty Images

Age on Opening Day 2013: 34

2011 Stats: 9-17, 4.33 ERA, 4.48 FIP, 1.97 K/BB, 1.34 WHIP

Analysis: Jeremy Guthrie is certainly not a star, but he was the "ace" of the Baltimore Orioles last year, so that must speak some to his ability. In reality, he's probably a No. 3 at best, but he can gobble up innings, pitch fairly effectively and generally get the job done.
If he doesn't get shellacked too much with the Colorado Rockies this season, his value should remain intact for the next free agent cycle.
If not, he's a one-year contract kind of guy.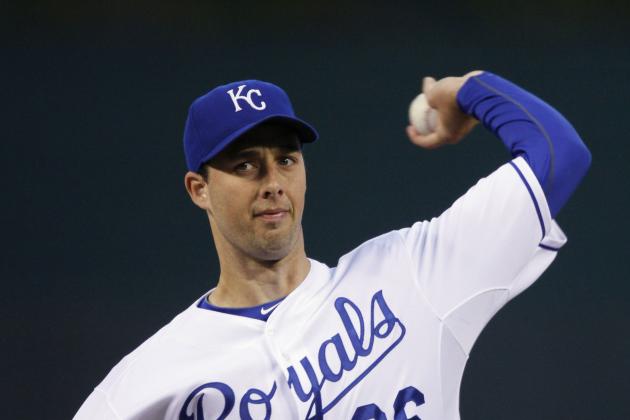 Ed Zurga/Getty Images

Age on Opening Day 2013: 31

2011 Stats: 6-16, 4.82 ERA, 4.10 FIP, 2.33 K/BB, 1.44 WHIP

Analysis: Jeff Francis is not going to cost a lot of money next winter. Regardless of his workload and production in Cincinnati this season, a guy with a career 4.78 earned run average just isn't going to garner a lot of attention. However, he isn't a bad pitcher. He has, after all, been on the Kansas City Royals and Colorado Rockies his entire career.
He's the type of guy who could go for a one-year contract and make for a nice No. 4 or No. 5 pitcher, but you never know. He may just surprise.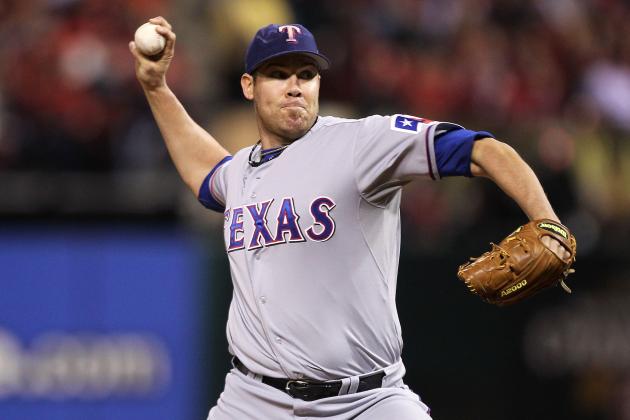 Ezra Shaw/Getty Images

Age on Opening Day 2013: 33

2011 Stats: 14-10, 4.40 ERA, 4.54 FIP, 3.02 K/BB, 1.21 WHIP

Analysis: Colby Lewis is a much better pitcher than his 4.40 earned run average. He's a classic workhorse, and isn't much more than a No. 3 starter on most teams. Still, with all the arms the Rangers have, they may have to part with him. He is a good control pitcher who is now two years removed from a 4.6-Fangraphs wins above replacement season season.
If he can get back to that level of production, he should draw a good amount of interest this winter.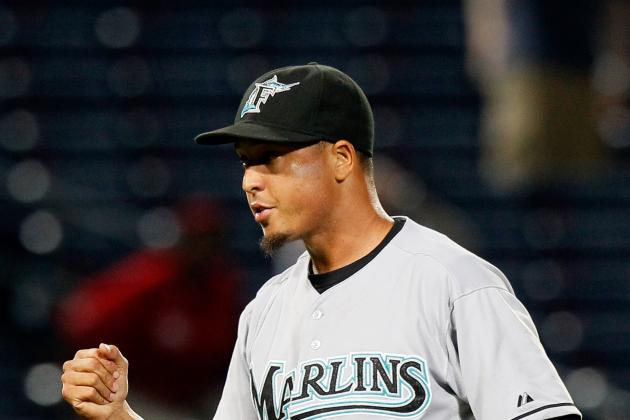 Kevin C. Cox/Getty Images

Age on Opening Day 2013: 29 (?)

2011 Stats: 1-4, 4.06 ERA, 36/42 saves, 2.62 K/BB, 1.21 WHIP

Analysis: Juan Carlos Oviedo (nee Leo Nunez) will relinquish his closing duties to Heath Bell in 2012, but the righty's role with the team in general remains in question. Regardless of what becomes of his season, Oviedo will be a free agent.
A relatively disappointing 2011 coupled with a lost job means that he will almost certainly make less money than he'd want.
However, a strong 2013 as potential closer for his new team may earn him a better long-term deal.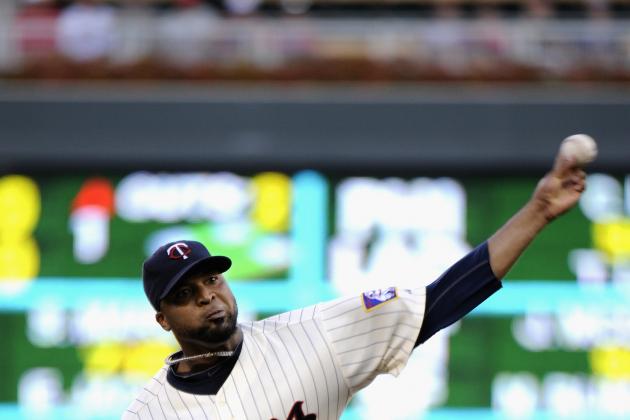 Hannah Foslien/Getty Images

Age on Opening Day 2013: 29

2011 Stats: 9-10, 5.09 ERA, 4.54 FIP, 1.49 K/BB, 1.49 WHIP

Analysis: Looking at Liriano's numbers from 2011, you might think that whatever value he had is now shot. I believe otherwise. Sometimes, you have to dig deeper than the numbers and ignore sample size for a minute. In 2011, Francisco Liriano threw a no-hitter.
It isn't easy to keep a MLB team hitless for nine innings.
While his lack of control in 2011 would suggest otherwise, Liriano still has plenty to offer.
He isn't going to be high-priced, and he's definitely an injury-risk. But he's the type of high-risk, high-reward free agent teams will gamble on for the right price. After all, he was a 6-fWAR pitcher in 2010.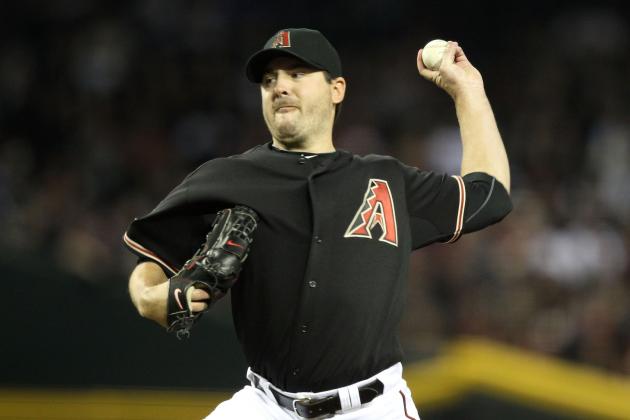 Christian Petersen/Getty Images

Age on Opening Day 2013: 32

2011 Stats: 12-13, 3.69 ERA, 4.78 FIP, 1.61 K/BB, 1.31 WHIP

Analysis: His numbers aren't pretty, and his value isn't proven, but if Joe Saunders is good for one thing, it's eating innings. He eats them like they're all-you-can-eat wings. He's started 30-plus games for four straight years now, pitched over 200 innings in the last two and has gone a combined 54-44 during that time.
He's no star pitcher, but for a team looking for reliability, Saunders is a great option.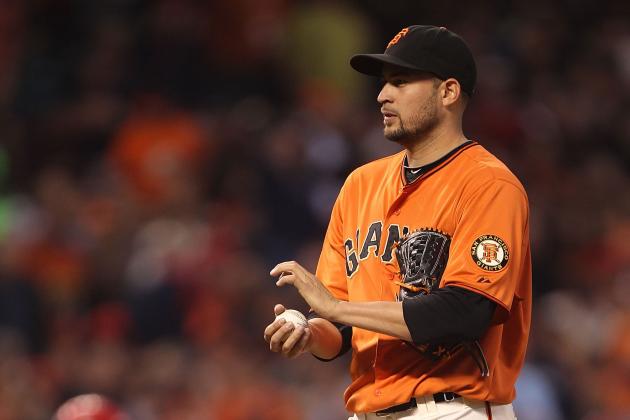 Jed Jacobsohn/Getty Images

Age on Opening Day 2013: 30

2011 Stats: 4-7, 4.26 ERA, 4.30 FIP, 1.55 K/BB, 1.44 WHIP

Analysis: Quite honestly, I'd say Sanchez and Francisco Liriano are comparable. They are both command-challenged lefties who have no-hitters under their belts. They both strike out a lot of hitters and walk a lot of hitters. Sanchez may or may not benefit from a change of scenery pitching this year in Kansas City. If he can return to his 2010 form, his value will increase drastically.
However, right now, team's personnel departments will be looking at the same stat line posted above, which is not pretty.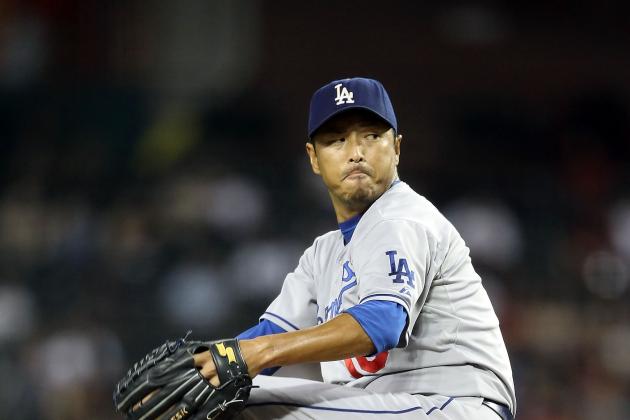 Christian Petersen/Getty Images

Age on Opening Day 2013: 38

2011 Stats: 13-16, 3.07 ERA, 3.78 FIP, 3.29 K/BB, 1.21 WHIP

Analysis: I was a huge fan of the Yankees' signing of Hiroki Kuroda for a few reasons. One, he needs to prove he can still pitch effectively in his late 30s. In that sense, the Yankees can expect a solid year out of Kuroda. Secondly, his signing was merely a stopgap until the 2013 free agent cycle.
The Yankees want Matt Cain, Cole Hamels, Zack Greinke or someone of that caliber.
Kuroda is a good pitcher. He isn't dazzling, and his numbers aren't pretty, but he gets the job done. He'll be a welcome addition to a team in need of proven production and a veteran presence.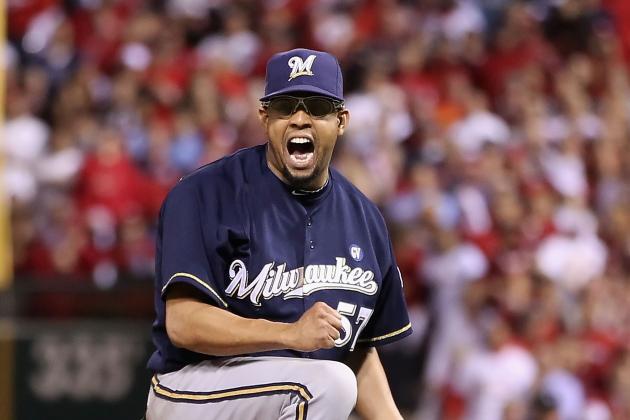 Christian Petersen/Getty Images

Age on Opening Day 2013: 31

2011 Stats: 6-2, 2.64 ERA, 23/29 saves, 17 holds, 3.04 K/BB, 1.19 WHIP

Analysis: It's no secret that Francisco Rodriguez wants to be a closer again. Unfortunately, that won't be happening in Milwaukee unless John Axford gets struck by lightning. The Brewers may shop him around during the season, but if he makes it to free agency, Rodriguez is still very much an attractive commodity.
K-Rod showed continued effectiveness in 2011, and has showed no signs of slowing down. He should have a healthy market of suitors.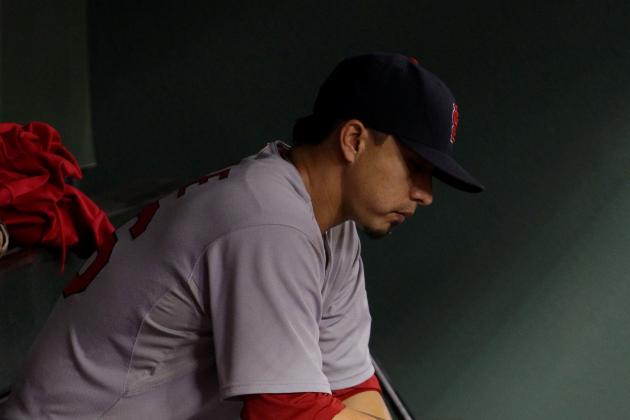 Doug Pensinger/Getty Images

Age on Opening Day 2013: 34

2011 Stats: 14-8, 3.39 ERA, 3.67 FIP, 2.64 K/BB, 1.19 WHIP

Analysis: Injury risk aside, Kyle Lohse is a very safe bet as far as starting pitchers go. He logs good innings, and though he's never been one to blow hitters away or post huge numbers, he has always had a job in the majors. He is a professional pitcher, a solid No. 3 or, at worst, No. 4.
This season will be critical for Lohse. If he can log back-to-back 30-start years, teams scared of his history of injuries might be reassured.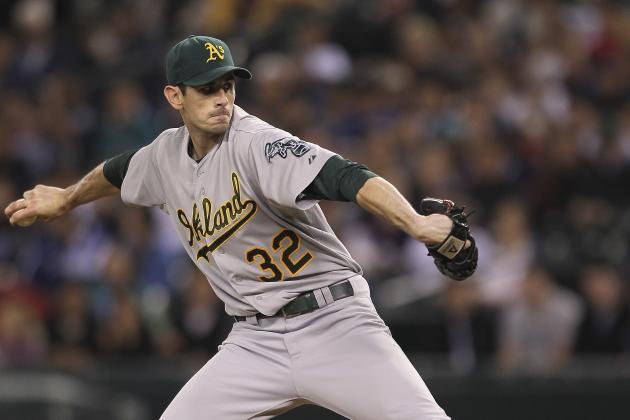 Otto Greule Jr/Getty Images

Age on Opening Day 2013: 29

2011 Stats: 9-9, 3.32 ERA, 2.86 FIP, 4.92 K/BB, 1.13 WHIP

Analysis: Brandon McCarthy is one of the most underrated pitchers in baseball, probably a direct result of pitching for the Oakland A's. He was one of the best control pitchers in the league last year, but he'll have to prove he can maintain something close to last year's strikeout-to-walk ratio for teams to take a serious look at giving him big money.
Long term, he's nothing more than a No. 3 starter, but unless he maintains last year's production in 2012, his value might plummet.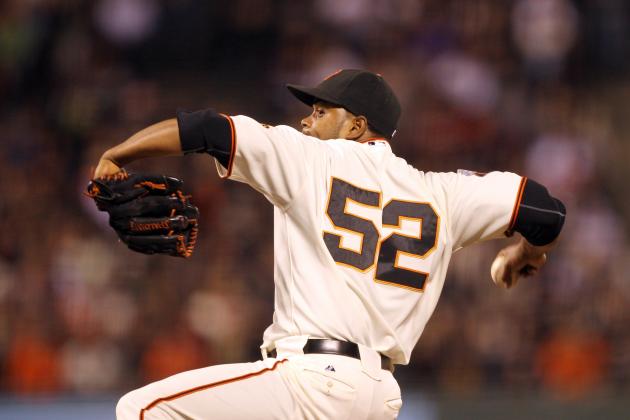 Ezra Shaw/Getty Images

Age on Opening Day 2013: 31

2011 Stats: 3-3, 2.62 ERA, 11 holds, 2.54 K/BB, 1.17 WHIP

Analysis: Now with the New York Mets, Ramon Ramirez has established himself as one of the best relievers in baseball. Since 2008, he has had at least 66 appearances and no higher than a 2.99 earned run average each year. He's consistent and effective, the two best qualities a free agent reliever can have.
While relievers typically don't get long-term contracts, Ramirez may be an exception. Depending on how he pitches for the Mets this year, he could be due for a big payday.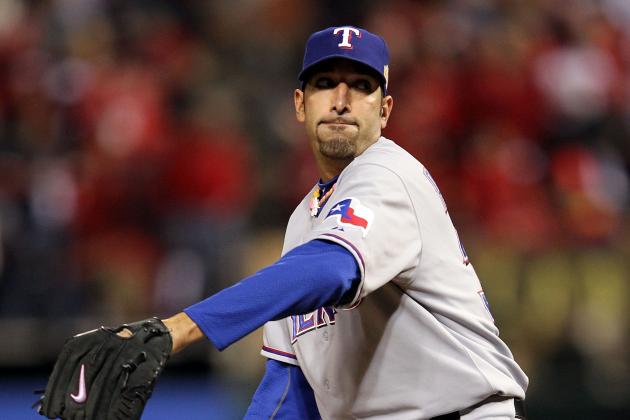 Jamie Squire/Getty Images

Age on Opening Day 2013: 34

2011 Stats: 5-4, 1.47 ERA, 32 holds, 5.29 K/BB, 0.79 WHIP

Analysis: Mike Adams' video game-ish stats from 2011 illustrate just how dominant of a reliever he is. Because he was so well-hidden in the San Diego Padres bullpen behind Heath Bell, not many people knew of Adams until he was traded to Texas last year.
Now, he is well-known as one of baseball's best non-closer relievers. His 70 holds in the last two years speak well to that.
If the Rangers want to retain him, they're probably more than capable. But if Adams has a 2012 season anything like last year, Texas will have to pay top dollar to do so.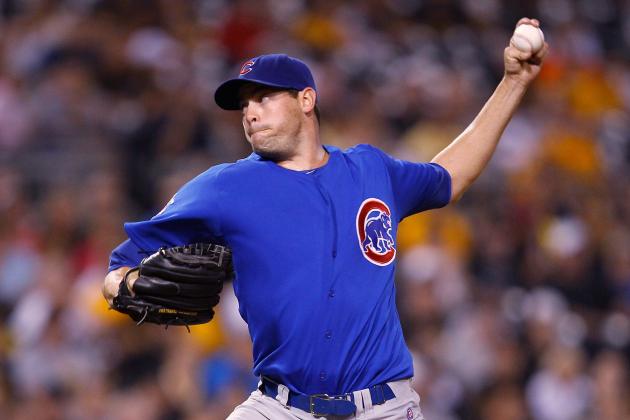 Jared Wickerham/Getty Images

Age on Opening Day 2013: 30

2011 Stats: 6-6, 2.26 ERA, 34 holds, 4.65 K/BB, 1.10 WHIP

Analysis: Between 2010 and 2011, Sean Marshall might have been a top-10 reliever in baseball. He was ridiculously effective with the Chicago Cubs, which is why it baffles me why the Cubs would let him go. Regardless, the Cincinnati Reds have him for at least 2012, after which they'll have to compete with the big boys to sign Marshall.
He isn't a closer, but he is almost as valuable. A true shutdown middle reliever is hard to come by in this day, but Marshall is just that.
After this season, I fully expect him to be one of the hottest non-starters in the pitching market.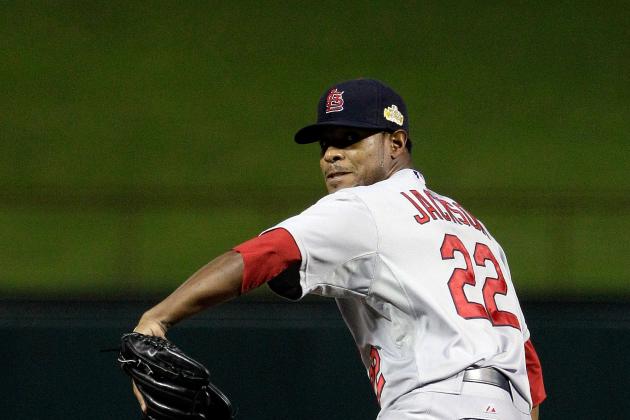 Pool/Getty Images

Age on Opening Day 2013: 29

2011 Stats: 12-9, 3.79 ERA, 3.55 FIP, 2.39 K/BB, 1.44 WHIP

Analysis: Edwin Jackson has never been and never will be a top-of-the-rotation pitcher. He is, however, a durable and reliable No. 3 pitcher who has become a three- to four-fWAR contributor now that he has harnessed his control.
His strikeout-to-walk ratio has increased steadily over the last three years, but, in terms of production, Jackson is probably close to his plateau.
A lot of the demand for him will depend on how he pitches for the Washington Nationals this year. A great year could convince a team to throw pretty solid money at him.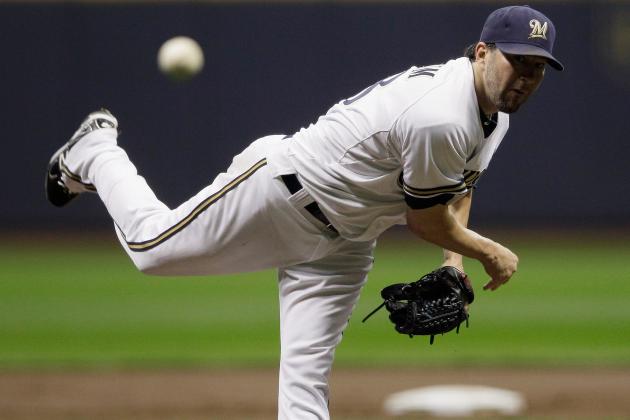 Pool/Getty Images

Age on Opening Day 2013: 31

2011 Stats: 13-7, 3.54 ERA, 3.73 FIP, 2.77 K/BB, 1.16 WHIP

Analysis: The most remarkable thing about Shawn Marcum is that he put together nearly identical seasons in 2010 and 2011 in two very different leagues for two teams. In 2010, he was 13-8 with a 3.64 earned run average for the Toronto Blue Jays. The problem with him is that two years of solid production might not be enough to call him a hot commodity.
However, three years in a row might do just that. He's a 2.5- to 3.5-fWAR pitcher.
There will be some demand for him, but if Zack Greinke leaves the Milwaukee Brewers, they'll probably hold on to Marcum.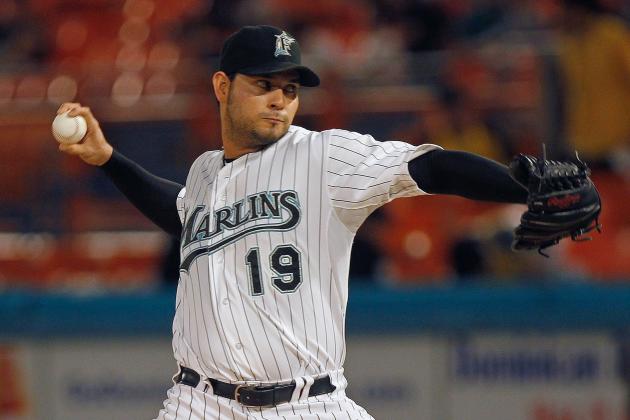 Mike Ehrmann/Getty Images

Age on Opening Day 2013: 29

2011 Stats: 8-9, 3.67 ERA, 3.35 FIP, 3.16 K/BB, 1.28 WHIP

Analysis: You can mark Anibal Sanchez down as a pitcher who needs a very good 2012 in order to earn a big pay check in 2013. Don't get me wrong—he is a very talented pitcher. He was much better last year than his 8-9 record. However, a similar year this year could scare teams away.
With the improved Florida Marlins lineup, I'd expect Sanchez to have a much better record.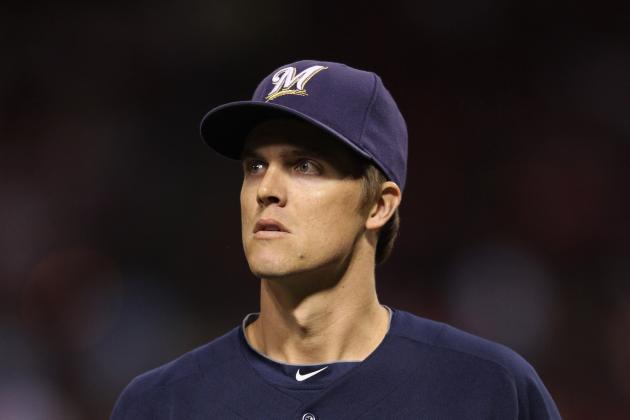 Jamie Squire/Getty Images

Age on Opening Day 2013: 29

2011 Stats: 16-6, 3.83 ERA, 2.98 FIP, 4.47 K/BB, 1.20 WHIP

Analysis: Milwaukee's ace has established himself as a solid starting pitcher. Although he isn't someone to build a staff around at this point, he's a viable No. 1 or No. 2 on almost any MLB team. He will never be a nine-WAR pitcher like he was in 2009, but he's usually been a better pitcher than his earned run average.
Almost any team with money and a need for starting pitching will be in the running for Greinke.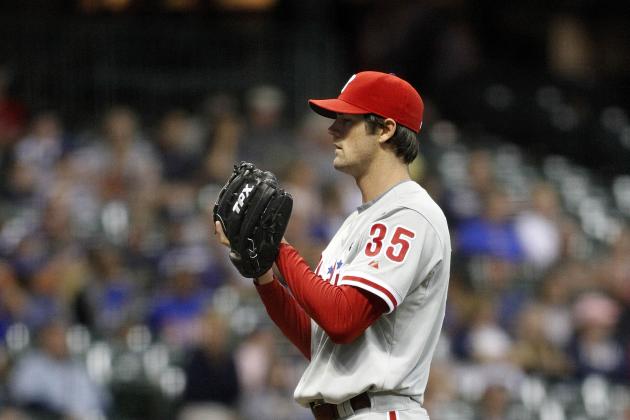 Mark Hirsch/Getty Images

Age on Opening Day 2013: 29

2011 Stats: 14-9, 2.79 ERA, 3.05 FIP, 4.41 K/BB, 0.99 WHIP

Analysis: If one thing stands out about Cole Hamels, it's his consistency. The Philadelphia Phillies lefty has started at least 32 games for four straight years, and his numbers have not deviated significantly in any of those years. 2011 was his best year to date, and there's no reason to believe he will cease to be a 3.5- to 4.5-fWAR pitcher for the next several years.
He's going to be chased hard, but the Phillies' will to keep their rotation together might be enough to keep him in the City of Brotherly Love.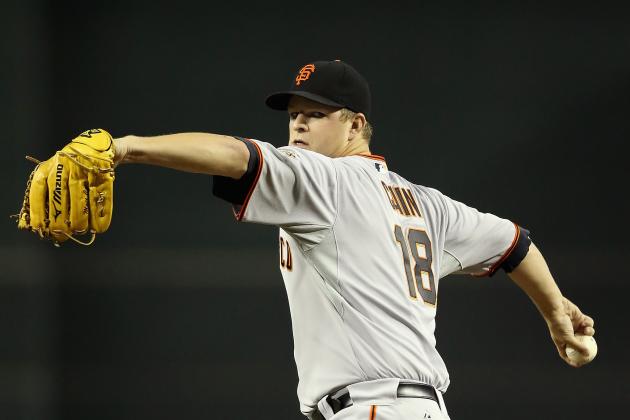 Christian Petersen/Getty Images

Age on Opening Day 2013: 28

2011 Stats: 12-11, 2.88 ERA, 2.91 FIP, 2.84 K/BB, 1.08 WHIP

Analysis: The co-ace of one of baseball's best pitching staffs, Matt Cain will be one of the most highly-coveted free agents of the offseason. Although the San Francisco Giants will probably be seen as favorites to re-sign him, big-money teams like the Yankees will almost certainly try and scoop him up.
Cain is extremely effective, durable and perhaps one of the safest bets on the market.