Alabama Football: 5 Players Poised to Be Next Year's Biggest Studs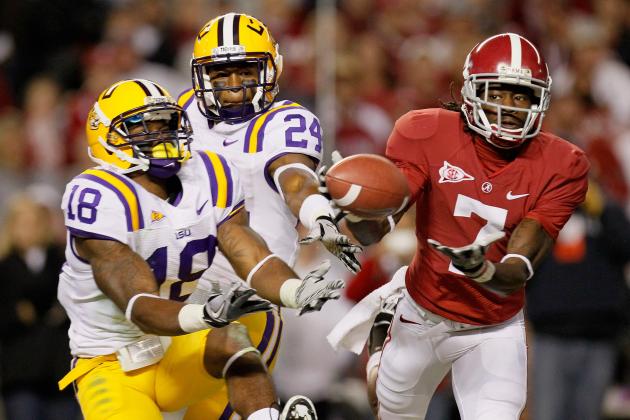 Kevin C. Cox/Getty Images

Most players at the Capstone turn into studs, but there are always a few guys that stand out just a little more. Alabama has several guys primed to become stars that haven't quite gotten the playing time just yet.
These are some players that have shown flashes of brilliance whose best days are yet to come. These words could be said of any player on the roster, but a few of them have potential that seems to stand out a little more.
Here's a look at five players who will get their time to shine next year and make the most of their opportunities.
Begin Slideshow

»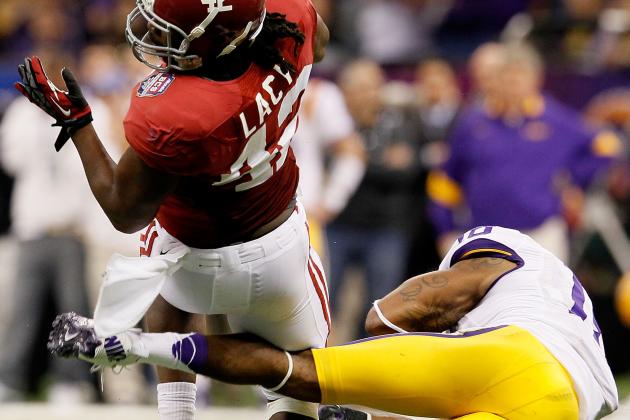 Ronald Martinez/Getty Images

Running Back, 6'1", 220 lbs.
The "Circle Button," Eddie Lacy, has been a force to be reckoned with for the past two years as a backup. His spin move has left opponents and fans alike dazzled.
A nagging turf toe in 2011 and third-string duties in 2010 have not allowed us to see his full potential, but he will come out swinging in 2012.
In 2010, Lacy compiled 406 rushing yards on 56 carries—good for a 7.25 yards-per-carry average. He also had six rushing touchdowns, the same as Trent Richardson that year.
During his injury-plagued 2011 campaign, he rushed for 674 yards on 95 attempts with a 7.09 average and seven touchdowns.
If he's healthy and remains healthy in 2012, he will be the Tide's featured back, and 'Bama just might send a third running back in four years to New York as a Heisman finalist.
The photo featured shows Eddie Lacy in a precarious position, but he's actually just executing his deadly spin move. At one moment he looks like he's falling backwards and a split second later, he's barreling head-first into a defender.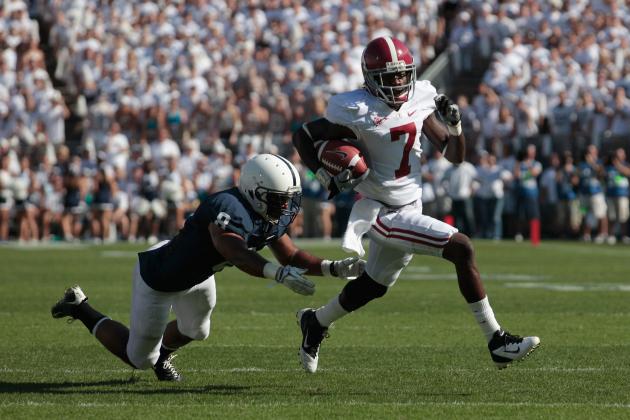 Rob Carr/Getty Images

Wide Receiver, 6'1", 175 lbs.
Kenny Bell is a bit light, but he tipped the scales at 175 pounds almost a year ago. It's safe to assume he's packed on a few more pounds.
Bell's late-season splash plays with a 26-yard screen pass in the BCS title game and a flea flicker touchdown in the Iron Bowl made him look like a promising up-and-coming receiver.
He's got a really good shot at becoming one of McCarron's top-three targets, or possibly more.
With limited playing time he hauled in 17 passes in 2011 for 255 yards. That is an average of 15 yards per catch.
'Bama loves to use the screen pass, and the team exploits opponents that can't stop it. Kenny Bell looks like the prime candidate to take the screen passes that have been lacking since Julio Jones left.
Bell, like Eddie Lacy, Landon Collins and several others, was plucked right out of Les Miles backyard in Louisiana.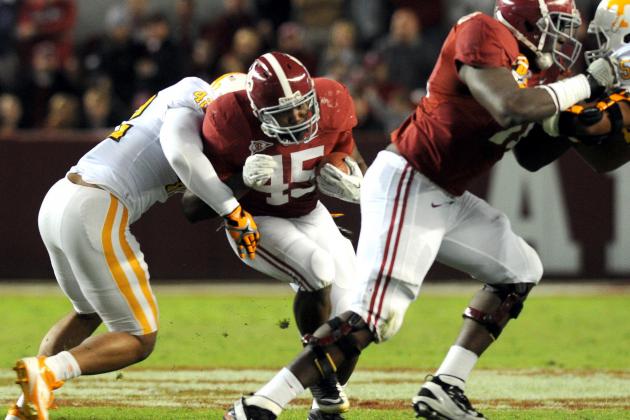 Cyrus Kouandjio (No. 71).
Left Tackle, 6'6", 322 lbs.
Assuming Cyrus Kouandjio recovered well from his knee surgery, he will most certainly be taking over duties at left tackle as Barrett Jones moves to center, a switch that I'm positive will occur.
Kouandjio's strength and footwork are already considered elite among college left tackles. The only thing he needs to do now is master his knowledge of SEC defenses.
Cyrus Kouandjio is going to manhandle would-be pass-rushers all year in 2012, and the Tide will be running the ball behind him quite often.
Everyone knows that he's a stud in the making, but he'll prove it in 2012.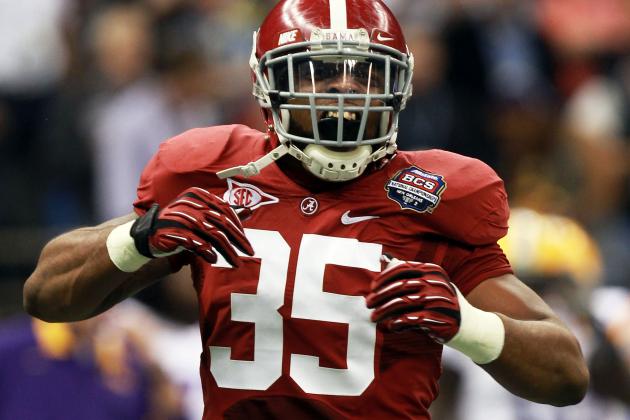 Ronald Martinez/Getty Images

Middle Linebacker, 6'3", 245 lbs.
Nico Johnson has quietly been making a name for himself since becoming a solid contributor in 2009 when he replaced an injured Dont'a Hightower.
He's never been the featured linebacker—he was always in the shadow of someone else, including Rolando McClain, Dont'a Hightower and Courtney Upshaw.
He split defensive downs almost equally in 2011 when fellow linebacker C.J. Mosley was healthy. Mosley played passing downs and Johnson played the run.
The Tide has a lot of talent coming up through the ranks, but Johnson will be one of the most seasoned linebackers after contributing heavily for three seasons—two of which resulted in the Coaches' Trophy.
He will get the most playing time he's ever seen in 2012 and could possibly double his 107 total career tackles, especially as the defense won't be forcing as many three-and-outs.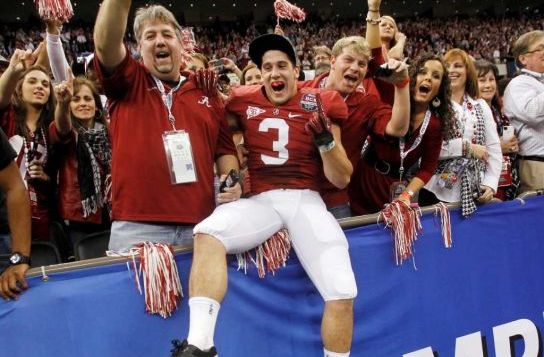 Safety, 6'1", 217 lbs.
There are a lot of fans like myself who are more excited about Vinnie Sunseri than any other player on the field.
The guy plays with the speed and athleticism of a safety but with the brutality of a middle linebacker, which is what he played in high school.
He seems to be the most likely candidate to take over for departing safety Mark Barron. He'll have some growing pains, but he will certainly soften the loss of Barron, a possible first-round NFL Draft pick.
Sunseri doesn't have the leaping ability that Barron has, but few guys do. What he does have is elite instincts and the ability to lay the wood better than Bob Vila.