NFL Free Agency 2012: 3 Reasons the Buccaneers Must Pursue WR Vincent Jackson
Al Messerschmidt/Getty Images
It's hard to deny the fact that the 2011 season was hard to watch for most Tampa Bay Buccaneers fans.
The team went 4-12 and while the defense was last in points allowed last season, the offense also saw regressions from both their quarterback and go-to receiver.
Josh Freeman has to play better if the Bucs are going to have any chance of turning the offense around next season. But the best way to help him play better is to get him another weapon.
Mike Williams took a step backward this last season and no other receiver on the team was able to truly make up for the falloff.
Although there are a number of highly touted receivers in this year's free-agent class, some of them just might find themselves obligated to stick around their old cities for one more year via the franchise tag this offseason.
Rumored to escape the franchise tag this time around, Vincent Jackson of the San Diego Chargers just might be the guy who the Bucs look to when free agency officially begins March 13.
Mark Dominik Is Ready to Make a Move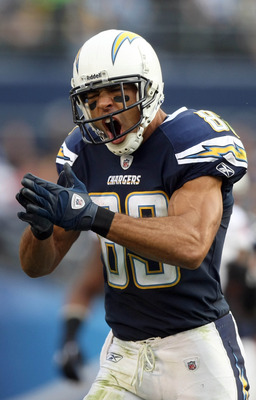 Donald Miralle/Getty Images
We all know that Vincent Jackson has been looking for that long-term contract since his holdout during the 2010 season.
With general manager Mark Dominik looking to be "more active" in this year's free agency and having the money to back up that claim, the team should not fear the prospect of signing a long-term deal for big-time money if it's for a game-changer like Jackson.
There's an obvious risk when it comes to signing a player who has had legal, contractual and injury problems in the not-so-distant past. But unlike the recent experiment with Albert Haynesworth, when he's on the field, Jackson is a star NFL player who gets the job done.
With the wide receiver spot being a major concern surrounding the team next season, the Buccaneers can't be afraid to spend that big pile of cash they've compiled.
Jackson could be the guy to spark the team's offense should he part ways with San Diego.
Mike Williams Is Not a No. 1 Receiver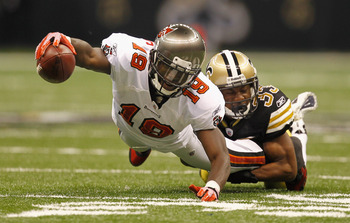 Streeter Lecka/Getty Images
Mike Williams surely lead some people to believe that he could become a No. 1 receiving option after his rookie season in 2010.
With 964 receiving yards and 11 touchdowns that year, Williams was looking like a major steal from a draft that saw him go in the fourth round.
Although he caught the same amount of passes in 2011, Williams had just three scores all year long—the same amount he had through the first four games his rookie season.
Sliding Williams down to the No. 2 receiving spot would show him easier defensive assignments, more open looks and would allow him to learn behind a No. 1 receiver for the first time in his NFL career.
Josh Freeman Needs a Bigger Target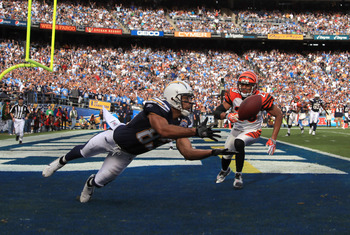 Donald Miralle/Getty Images
At 6'5", 230-pounds, Vincent Jackson would be one of the biggest targets for Josh Freeman next season.
But we're not just talking physical prowess here.
Jackson would be a bigger target in the sense that he is absolutely a No. 1 receiving option.
Over the past four years, Jackson has had three seasons with over 1,000 yards receiving and had it not been for a 2010 showing that had him making appearances in only five games, he could have been looking at making next season his fifth straight.
It's possible that Mike Williams' struggles spawned from Josh Freeman's troubles throughout the season; but if that's the case, it shows how he and Jackson are on completely different levels at this point in their respective careers.
Despite Philip Rivers putting together one of his worst seasons in 2011, Jackson had another solid season even with his quarterback's flaws.
Finishing with his lowest completion percentage since 2007, Rivers ended the season with a career-worst 20 interceptions. Yet nine touchdown tosses still ended up in the hands of Jackson, his No. 1 receiver.
The addition of Jackson to the Bucs would not only add a definitive go-to receiver to Tampa Bay's roster, but it would give Freeman a target who could help him return to the level at which he was playing back in 2010.
Keep Reading

Tampa Bay Buccaneers: Like this team?