Super Rugby: Blues vs. Crusaders: Positional Breakdown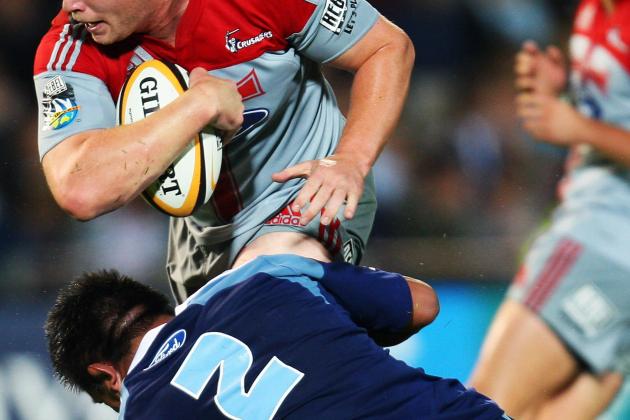 Phil Walter/Getty Images

Blues: 1. Tom McCartney 2. Keven Mealamu 3. Charlie Faumuina
Tom McCartney will be getting the start at loosehead in Woodcock's absence. While he may seem undersized, he showed in last year's ITM Cup that he is capable of holding his own against bigger props, partly due to his incredible strength (hence the nickname Freak).
Captain Keven has been an outstanding performer for the Blues for years, having played 124 games for the franchise. In the last meeting, Mealamu was almost perfect, throwing the ball well at the lineouts, fielding nearly all of the kickoffs and even scoring the game-winning try with minutes remaining.
The former flanker has a very high work rate, punishing defense and is guaranteed to gain metres at every pick-and-go.
Faumuina has been improving with every year with his powerful scrummaging and mobility. He is beginning to resemble his former teammate, John Afoa. Just watch this beautiful sidestep from last year's game.
With Afoa off to Ulster, Faumuina will look to make the most of his starting opportunity to maybe even push for a black jersey.
Crusaders: 1. Wyatt Crockett 2. Quentin MacDonald 3. Ben Franks
Wyatt Crockett was viewed to be an unlucky omission from last year's World Cup squad. Last year's Steinlager Super Rugby Player of the Year will be looking to firmly establish himself as Tony Woodcock's successor.
He resembles Woodcock in a lot of ways, with great scrummaging and a nose for the try line. While Woodcock is becoming more injury prone, Crockett continues to improve by the year.
Corey Flynn's recovery from a toe injury means that Tasman hooker Quentin MacDonald will be starting. He had regular game time last year and proved to be a solid backup, which is important due to Flynn's regular injury problems.
Versatile prop Ben Franks will start instead of his brother Owen in a surprising turn of events. While he is a great scrummager, he doesn't bring the defensive game of younger brother. But the fact that he will be starting against a regular hooker may have influenced Blackadder's decision to leave Owen on the bench.
Verdict
Faumuina and Crockett will be a good matchup at scrum-time due to their constant improvements. But on the other side, while McCartney is an incredibly strong player himself, Franks is bigger and stronger and has more experience playing prop. The Blues' front row will be better in the loose, but the Crusaders should have an advantage at scrum-time.
Advantage: Crusaders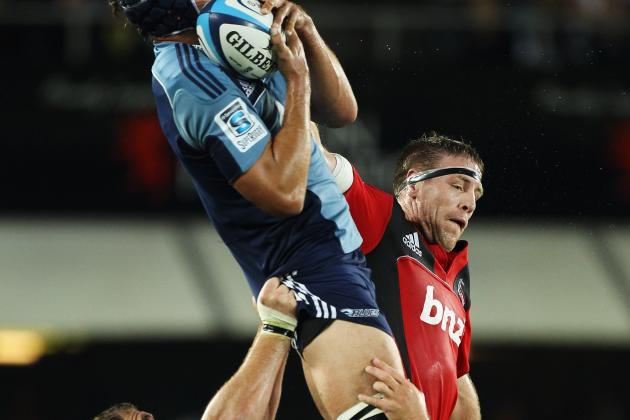 Hannah Johnston/Getty Images

Blues: 4. Anthony Boric 5. Ali Williams
The All Black pairing of Anthony Boric is one that rarely gets to play together due to injuries. Boric was unlucky to not get much game time at the World Cup due to the play of other locks in the All Blacks.
After bulking up, he is no longer a liability in the scrums and brings physicality to go with his mobility. He is also great in the line-outs.
Ali Williams was clearly not back to his old form at the World Cup. He is still a great line-out winner and a decent ball runner, but his handling skills have gone down, and he is fairly soft at the breakdown. But increased game time may help him return to how he was before.
Crusaders: 4. Tom Donnelly 5. Sam Whitelock
The Crusaders answer the Blues' second row with an All Black pairing of their own. Tom Donnelly moves up from the Deep South and will look to regain his All Blacks starting berth.
The mobile lock is not only a great line-out winner but also a great scrummager. He has some big shoes to fill after Brad Thorn's departure.
His partner, Sam Whitelock, is an impressive youngster with a high work rate, great line-out ability and ball-winning capabilities. He had a problem with missed tackles last year, but he is still growing and has a lot of upside.
Verdict
This will be a tight matchup in the air and in the open field, with the Blues having a slight advantage in the air and the Crusaders having an advantage at the breakdown.
All these locks are mobile and have test experience. But Whitelock's continued improvements and Williams' ball security issues may be the difference in this matchup.
Advantage: Crusaders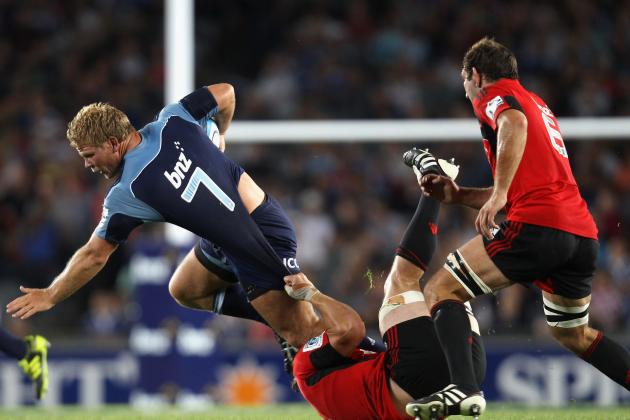 Phil Walter/Getty Images

Blues: 6. Chris Lowrey 7. Daniel Braid 8. Jerome Kaino
2009's Blues Rookie of the Year Chris Lowrey has not lived up to expectation in the past couple of years due to injury and conditioning issues.
In preseason, however, he showed great improvements and may once again be the force at the breakdown that he was in his first year with the Blues.
Daniel Braid gets the nod over his younger brother due to Luke's recovery from offseason surgery. The former All Black is a turnover magnet with great open-field running.
He has the added pressure of his brother Luke, who had an impressive season last year and must play well in order to retain the 7 jersey.
Last year's New Zealand Player of the Year Jerome Kaino will look to continue his outstanding form from last year. He finally found some consistency and was physical on both sides of the ball.
Although better known as a blindside, he has played a lot of number 8 in the past and brings hard hitting with punishing ball running.
Crusaders: 6. George Whitelock 7. Matt Todd 8. Kieran Read
Since receiving his lone All Black cap three years ago, George Whitelock has fallen behind in the Crusaders' loose forward ladder. The eldest of the Whitelock clan is still a solid flanker, but like his opposite, Lowrey, he hasn't made many improvements over the past couple of seasons.
At openside is the impressive Matt Todd, who will be playing in place of the still recovering Richie McCaw. Todd is an absolute pest at the breakdown with decent ball-running ability. He may even be the next in line for that black 7 jersey.
Kieran Read had injury problems last year, but the man who has been called a future All Black captain will be leading from the number 8 position.
He is a great ball runner and does not miss many tackles. A former Player of the Year winner himself, he will be facing a stern challenge from Jerome Kaino.
Verdict
On paper they appear evenly matched, with Todd having the slight edge over Braid and Kaino having a very slight edge over Read. Both trios are very physical, and their battle at the breakdown should be interesting.
Advantage: Even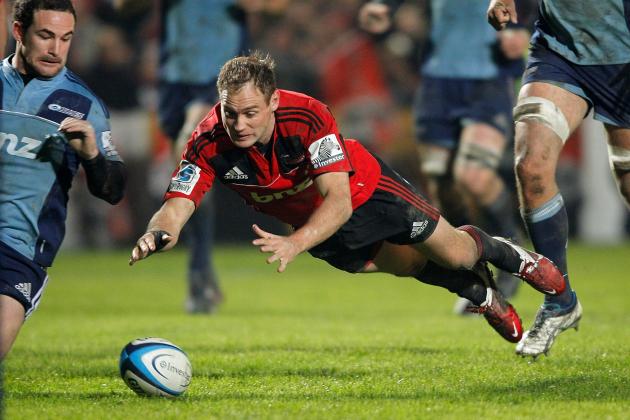 Martin Hunter/Getty Images

Blues: 9. Alby Mathewson 10. Michael Hobbs
In another surprising turn, Piri Weepu has been left out of the starting lineup completely. Lam has cited his conditioning as the reason.
Mathewson, however, is no slouch himself. He is very fast and capable of making great runs from the back of the ruck. His passing could do with a bit of an accuracy boost, however.
Michael Hobbs' impressive preseason has led to his chance to start in the first game of the season. The Wellingtonian managed to beat All Black Piri Weepu and Auckland's own rising star Gareth Anscombe. He showed flashes of brilliance over the past couple of years and could be a deciding factor in the game.
Crusaders: 9. Andy Ellis 10. Tyler Bleyendaal
World Cup winning halfback Andy Ellis gets the start for the Crusaders. With Kahn Fotuali'i gone, he should get more starting time for the Crusaders this year.
He gets the ball out of the rucks quickly and runs the ball well. His problem though, is his habit of running the ball out like a five-eighth too often.
A former Under-20 Player of the Year, Tyler Bleyendaal will be making his Super Rugby debut in Dan Carter's absence.
He has played well for Canterbury but will be receiving a baptism of fire against the talented Blues. How he reacts to the faster pace of Super Rugby will determine his play.
Verdict
The halfbacks are evenly matched, but Hobbs gets the nod over Bleyendaal due to experience. Bleyendaal may turn out to be better in the future, but in his first game the pace may get to him.
Advantage: Blues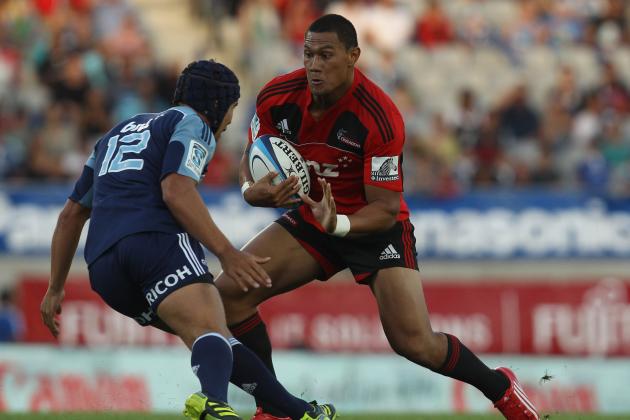 Phil Walter/Getty Images

Blues: 12. Benson Stanley 13. Rene Ranger
Benson Stanley is often underrated because he is not the flashiest of backs. He does not break the line regularly or have a dazzling sidestep.
But what he does bring is great defense. The man knows how to bring down the shoulder; just ask George Smith.
Offensively, he doesn't produce many highlights, but he is a great distributor who helps the ball move along the backline.
Ranger was one of the most exciting players of last year's season. He can run through you or around you and defends hard. For a back, he is also great at the breakdown and occasionally wins ball for his team.
If he can keep the mental mistakes down, he is near unstoppable.
Crusaders: 12. Ryan Crotty 13. Robbie Fruean
Crotty has been an outstanding player for Canterbury over the years. The departure of Sonny Bill Williams means he gets to be a starter once more.
He is a solid runner who has represented the Junior All Blacks and has been an integral part of the four-time provincial champions, Canterbury
Fruean is the most powerful midfielder in Super Rugby today. It takes multiple players to take him down, and he is always a threat to not just break the line, but destroy it.
What lets him down though, is his work rate in defense. That is what kept him out of All Black contention. If he can remedy those issues, with his offensive power, he could become one of the best centres in the world.
Verdict
The Blues pairing features more well-rounded players with test experience. Stanley and Ranger together can match their opponents in ball running and have great defensive work to go with it.
Advantage: Blues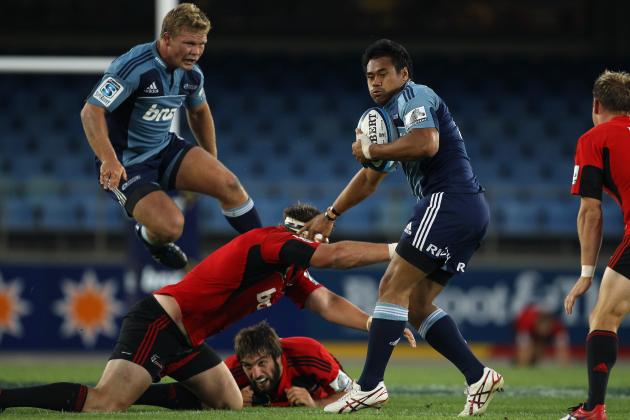 Hannah Johnston/Getty Images

Blues: 11. Rudi Wulf 14. David Raikuna 15. Isaia Toeava
Rudi Wulf makes his return to the Blues after a couple years abroad. He is a dangerous attacker with underrated defense.
The Blues missed him in the past couple of years, especially with Rokocoko's decline. How he readjusts to Super Rugby, however, remains to be seen.
Counties product David Raikuna will be making his Super Rugby debut. The Fijian has represented New Zealand in Sevens and played well for North Harbour last year. He managed to beat Sherwin Stowers for this position and has a chance to prove that he deserves it.
Fullback Isaia Toeava has had a chip on his shoulder since he was selected for the All Blacks as a teenager. His sometimes lazy tackling and play under pressure are what draws the critics.
At Super Rugby level however, his skills as a counter-attacker and occasional linebreaker mask those deficiencies.
Crusaders: 11. Israel Dagg 14. Sean Maitland 15. Tom Marshall
Israel Dagg is one of the best fullbacks in the world, but that doesn't mean he can't play on the wing. He still has the speed and agility to play well from that position.
He showed that when he came on the wing against the Springboks a couple of years ago. Guildford's suspension was also a factor in his selection here.
On the other side is one of last year's top try scorers, Sean Maitland. Maitland is a great finisher who has been a solid performer for the Crusaders over the past few years.
He was unlucky to miss out on an All Blacks spot due to the fact that it was a World Cup Year, but it's hard to see his performance dropping much more.
Tom Marshall played well last year at fullback in Israel Dagg's absence and will be starting there again. He better play well on defense against a Blues team with serious breakaway speed.
Verdict
While it's hard to go against Israel Dagg, who brings the potential to make plays from anywhere on the park, against Rudi Wulf who brings defensive ability with slippery running and a counter-attacker like Toeava, the Blues have more experience in the back. They also have better distributors in the centres and will probably get more ball.
Advantage: Blues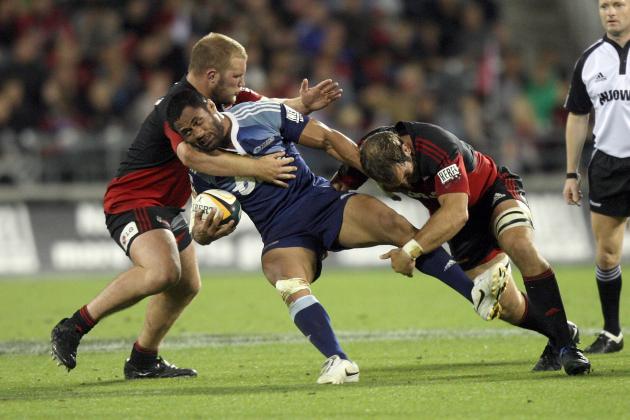 Marty Melville/Getty Images

Blues: 16. Pauliasi Manu 17. Tevita Mailau 18. Brad Mika 19. Luke Braid 20. Piri Weepu 21. Hadleigh Parkes 22. Sherwin Stowers
The Blues did a great job last year of using impact subs late in games. Piri Weepu is perfect for that tactic, having made a name for himself as an impact sub over the past few years for the All Blacks.
Mika and Braid can ensure that the forward pack loses little physicality, and Stowers impressed last year in his few appearances for the Blues.
Crusaders: 16. Corey Flynn 17. Owen Franks 18. Luke Romano 19. Luke Whitelock 20. Willie Heinz 21. Patrick Osborne 22. Adam Whitelock
Owen Franks will literally look to make an impact once he comes on, and Flynn's experience could prove handy late in the game if Mealamu comes off.
Luke Whitelock is an intriguing prospect, having captained the Baby Blacks. But the youngest member of the Whitelock clan may have his hands full against the Blues' loose forwards.
Verdict
While Franks may be the best player on either bench, the Blues have much more experience on theirs. Mika and Braid can ensure there is little drop off from the forwards after substitution, and Weepu has made a living out of coming in late in games.
Advantage: Blues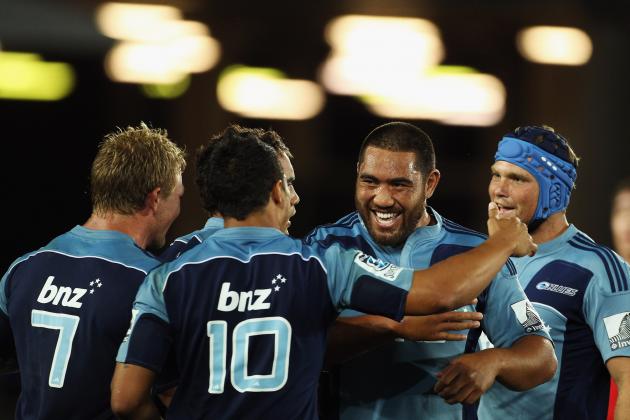 Hannah Johnston/Getty Images

Unless the Blues have an early season meltdown as opposed to a late season one, the game should be theirs.
They have firepower at every level of the starting XV and home-field advantage. The Crusaders lack three of their top players whereas the Blues are only missing one. As the game progresses, the Blues' bench gives them more options to keep the pace high.
The second matchup may go differently, but this early on in the competition, talent determines much of the play as chemistry starts to build, and the Blues have the edge on that.
Advantage: Blues